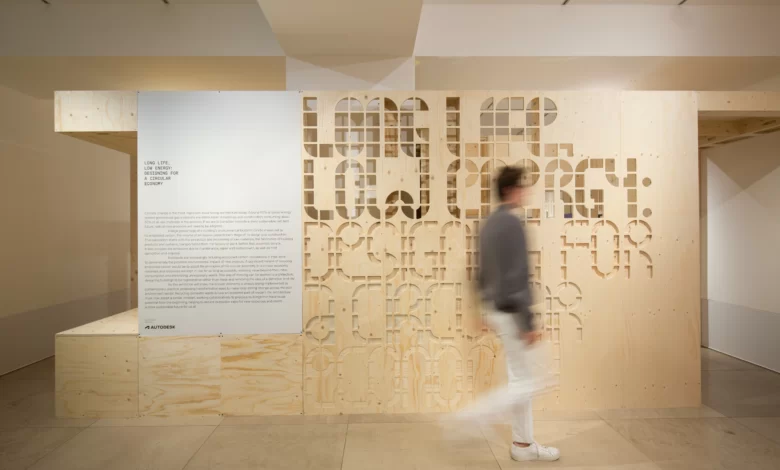 The Royal Institute of British Architects (RIBA) has today announced the launch of Long Life, Low Energy: Designing for a Circular Economy at its Mann Island building on Liverpool's historic waterfront.
The free exhibition opened on Friday 27 October and marks the revival of RIBA North – a world-class architecture centre that has been closed since the pandemic – and the official start of a new partnership between RIBA North and Tate Liverpool.
The exhibition, the first in partnership with Tate Liverpool, explores how 'circular economy' principles will be critical to minimising the environmental impact of building construction, maintenance and demolition – which currently accounts for around 40% of global carbon emissions.
With 50,000 buildings demolished in the UK each year and construction sites generating 63% of all UK waste, the exhibition examines the history and culture of demolition. It reveals how architects and designers are innovating to reuse materials and repurpose existing buildings – and the ways in which future technologies might help navigate the climate emergency.
Having previously been hosted at RIBA's London building, the relaunched exhibition will showcase the inspiring work of architects in the North of England, including the transformation of Manchester's Murray Mills – the world's oldest steam-powered cotton mill – into a thriving neighbourhood of apartments (by Feilden Clegg Bradley Studios) and the re-modelling of the Liverpool's Grade II Listed Andrew Carnegie Library to provide a childcare facility and community hub (by OMI Architects).
The Tate Liverpool + RIBA North partnership will see Tate joining RIBA North at its Mann Island building from 27 October 2023 while its own Royal Albert Dock building is temporarily closed for redevelopment, due to be completed in autumn 2025.
The two organisations will collaborate to deliver a programme of temporary exhibitions, family activity, public talks and other events inspired by the unique collections held by RIBA and Tate. The programme will focus on art, architecture and environment. Alongside this, the venue will also have a shop and café run by Tate, providing a complete visitor experience.
From 27 October visitors will also be able to view a series of short films featuring the six exceptional buildings shortlisted for this year's RIBA Stirling Prize – the highest accolade in architecture. The films offer insight into the design of the nominated projects which all offer thoughtful and creative responses to complex societal challenges.
Chief Executive of RIBA, Valerie Vaughan-Dick, said:
"We are delighted to be reopening the doors of RIBA North to visitors, reestablishing the building as a world-class centre for anyone interested in architecture and design. This exhibition – the first of several that our partnership with Tate Liverpool will produce – delivers an incredibly important and timely message. With the climate emergency an increasingly present threat, ideas and innovations that minimise the environmental impact of our built environment are more vital than ever.
Drawing on our extensive collections, Long Life, Low Energy provides a snapshot of where we are now and a glimpse into a more hopeful future. It showcases the pioneering work of architects who are already leading the charge, utilising circular economy principles to reuse and upgrade existing buildings. This includes wonderful examples of projects in the North West that we hope will open conversations and inspire a new generation of climate-literate designers."
Partner at Feilden Clegg Bradley Studios, Hugo Marrack, said:
"Working with the character and structure of existing buildings not only keeps our history alive, but is the most sustainable approach we can take to development.  
Murrays' Mills is the oldest surviving steam-powered cotton mill in the world, part of Manchester's former industrial and now thriving residential Ancoats neighbourhood. In bringing it back into use, we wove together old fabric, new uses and new buildings, establishing a subtle but resilient intervention in the City. Through conservation and retrofit, we have the opportunity to keep buildings like these and the stories they tell as part of our culture, as well as keeping our carbon impact low."
A spokesperson for OMI Architects, said:
"We are delighted to be able to showcase The Old Library at this year's RIBA Long Life, Low Energy exhibition. The project shines a light on the opportunities which exist in harnessing community led vision and creative repurposing.  The resulting building is an active, sustainable, community hub and childcare facility within the revitalised and much-loved Grade II Listed Andrew Carnegie Library."