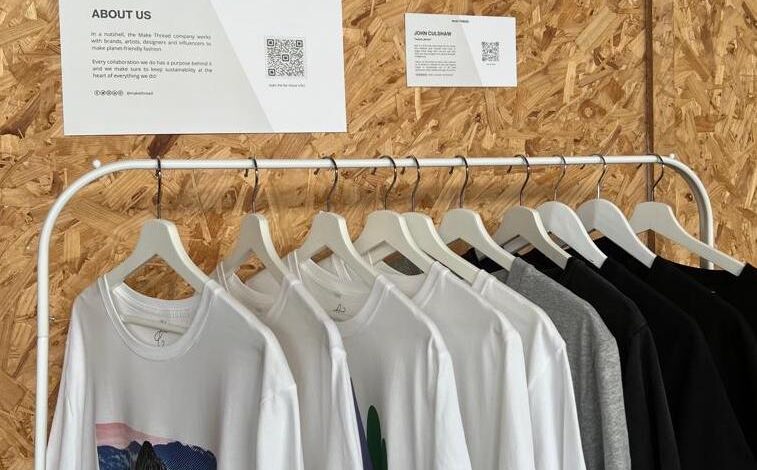 Make Thread has recently collaborated with Liverpool's most iconic artists such as Neil Keating, John Culshaw, Jazz Stan, and May Illustrates to make their art into sustainable fashion. So, to celebrate this collaboration, they have launched an exclusive pop-up shop and art exhibition in 92 Degrees cafe where the designs will be available to buy.
ARTISTS!
Neil Keating, Jazz Stan, John Culshaw & May Illustrates.
The iconic artists have provided us with art across our beautiful city, from the Baltic Market, the iconic Liverpool sign, and the amazing murals around the Baltic Triangle. The four artists are now turning their paintbrushes to sustainable wearable art in an exclusive collaboration with Make Thread.
Each artist has designed their own t-shirt with a unique narrative behind their designs. The limited-edition t-shirts will be available to purchase on-demand from the Make Thread website at £28 each.
POP-UP!
To celebrate the launch, Make Thread has teamed up with 92 Degrees coffee shop on Jamaica Street, for its very first pop-up and art exhibition in the city. It will showcase their work along with their t-shirts allowing people to shop and appreciate the local artwork whilst having a coffee, working remotely and being in between meetings! 
For the first time in Liverpool, customers can physically touch and see the quality of Make Thread's t-shirts in person and using a QR code located on the walls around 92 Degrees, shop on-demand. The pop-up, inclusive of the t-shirts and artists' artwork, will be available for the public to see until 31 July 2022.
Make Thread, 92 Degrees, and the iconic Liverpool artists encourage the local community to visit the exhibition to support the local artists in their latest wearable art venture.
ABOUT MAKE THREAD
Make Thread is a sustainable online marketplace, they collaborate with independents, small businesses, brands, local artists, and designers to create their own fashion line without any risk involved. This is achieved through a print-on-demand process that allows people to get creative and make fashion without the financial outlay, stock holding, or harming the planet. 
Make Thread intends to carry on with its mission of collaborating with the local Liverpool community to help local businesses and people thrive.