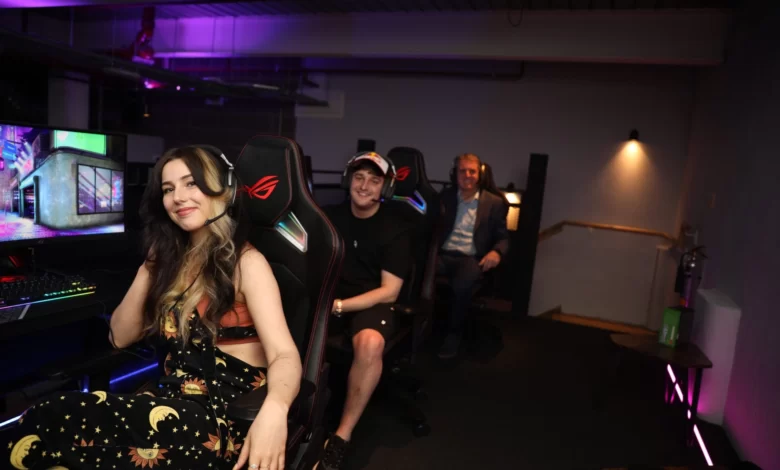 Stars of the esports world joined Liverpool tech leaders, educators and gaming societies at the official opening of the city's first dedicated esports and gaming venue, leveltap.
World leading esports player, Liverpool's own Jukeyz was joined by fellow Scousers, FNATIC Twitch streamer, Kayleigh Wordley and super streamer Luke Dutch, at the event, which was also supported by Liverpool City Region Mayor, Steve Rotheram.
leveltap on Hanover Street in Liverpool ONE provides a base for gaming and esports spectating, as well as the hosting and broadcasting of live events from around the world.
Across two levels, as well as a bar, dining area and lounge, leveltap features 10 console stations, all containing a Nintendo Switch and either a PS5 or an Xbox Series X, along with two racing simulators and 20 PCs. A mezzanine level has been designed for streamers and competing teams from which their gameplay can be broadcast onto projectors and TVs around the venue, with a lower level arena seating more than 100 people.
leveltap has been launched by Adam Rydings and Callum Wilson. Adam said: "With leveltap we've created a community hub united by a shared love of gaming, from casual gamers to aspiring professionals and content creators. The fusion of a social atmosphere with a sports bar, LAN centre, split screen sofa-style gaming, retro and racing sim arcade, events space and esports arena sets our concept apart.
"With the support of ASUS and their Republic of Gamers' line of tech, and Ebuyer's skilled PC builders at AphaSync, we've been able to create a best in class gaming space for the region's developing community and which we believe will help put the city on the worldwide esports map."
Callum added: "Gaming is more than just a hobby, it's also a platform for personal growth, teamwork, and creativity. So, our aim is also to collaborate with schools, colleges, universities and organisations to provide educational workshops, career guidance, and mentoring programmes to nurture the next generation of gaming, streaming and content creation talent."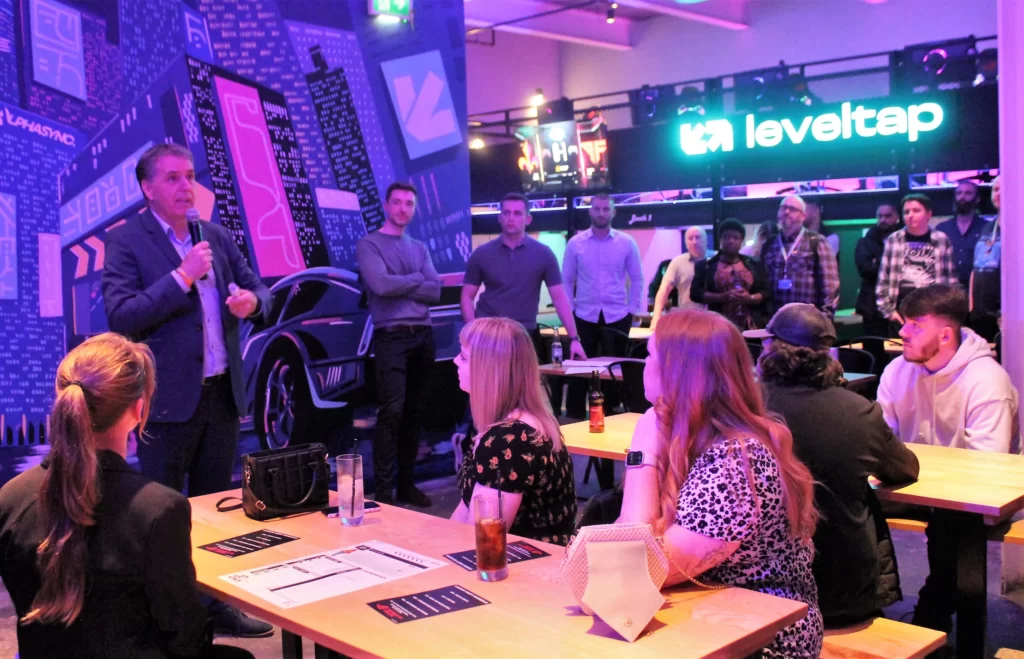 Many of Liverpool's leading game developers attended the launch including Avalanche, Ripstone, Fallen Planet, Milky Tea and Playstation alongside tech educators from the University of Liverpool, Liverpool John Moores University, City of Liverpool College and SAE Institute.
Liverpool LEP's Creative and Digital board were also out in force to support the new enterprise at which Mayor Steve Rotheram spoke outlining plans and proposals to support Liverpool city region's tech sector including STEM education programmes to encourage more female representation.
leveltap's guests were able to choose from a vast games library and test their skills, take part in a Racing Sims fastest lap challenge and watch Liam 'Jukeyz' James and Kayleigh Wordley show why they are so well known in the vast global gaming community.
Kayleigh said: "leveltap seems to be a place where people who might find it intimidating or too expensive to access the gaming world can more easily have a go and learn, especially women for whom it seems there are more barriers. It's important that these opportunities are not just in London and leveltap provides that – a great big space with great food and drink for the city, the region and the North West."
Jukeyz said: "Being from Liverpool I felt we desperately needed a place like leveltap and of the many gaming bars I have been to across the UK this is the best and coolest I have been in."
Leveltap has been welcomed by Liverpool ONE. Rob Deacon, Senior Asset Manager at Grosvenor, said: "leveltap's debut venue is yet another unique opening at Liverpool ONE that provides further reasons to visit or extend a trip to the destination. Bringing a standalone Esports venue to the city for the first time, the launch of leveltap reaffirms Liverpool ONE's position as the UK's leading retail and entertainment destination and we are thrilled to be the location of choice for such a landmark moment in leveltap's journey."
leveltap was fitted out and delivered by Liverpool-based The Momentum Group with menus designed by Liverpool's Lucky Penny Group.