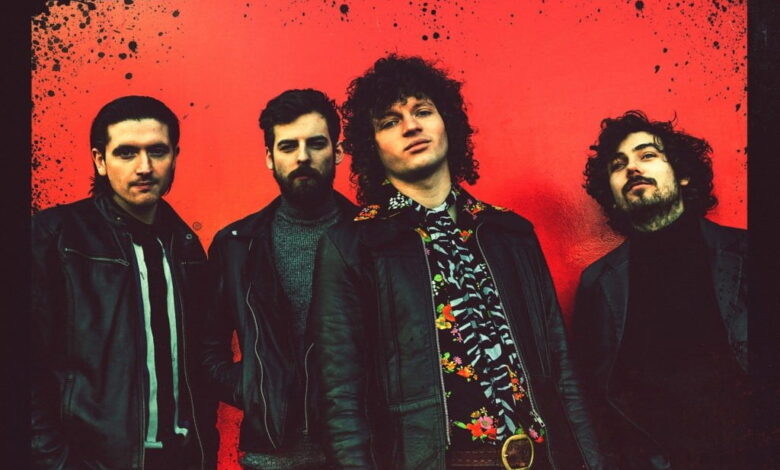 The debut LP from Little Triggers has all the markings of an anthemic rock album just waiting to burst open. With the fingerprints of Al Grove firmly pressing and pushing this band's talent to thrive, the group have came off the back of success over in France and China with over 18 months of touring experience alongside artists such as Iggy Pop, it's quickly allowing the musicianship of the group to shine through.
A wonderful blend of punk, classic rock, blues and indie in all the right places, it feels like the LP's vibe is just as comfortable in Classic Rock magazine as it is at a blues festival. A bold example is no more evident than in their opening track, Giving Me Up, a roaring vision of a fast-paced ride through the workings of a punk rock song, incorporating a mix of many musical genres without the mess. At only 3″18 this crams in a lot and indicates the tone for the rest of the album perfectly.
The title track, Loaded Gun with a display of soaring vocals from lead singer Tom Hamilton, alongside unforgiving guitar riffs with that classic crunchy blues sound. Easy to brand this a blues number, you'd be wrong to assume it's depth and musicality, with swirling and emotive lows building into energetic highs with impressive playing from the rhythm section to deliver the message.
Run Away Baby and Silly Cigarettes were two impressively catchy songs from the whole album, placed in the 2nd half aiming to deliver a momentum driven final push to the end, where they produced a storytelling quality to the lyrics, reminiscent of Alex Turner's descriptive dialogs. To listen to an album in it's entirety is a lost trait, however, with the classic rock anchor that is held at Little Triggers core, this is surely an album that shows of the journey of genres and moods, encapsulating their quality and rawness that is rarely found in Punk Rock.
Loaded Gun is released on 24 May and you can keep track of the band via their Facebook page here.
Michael Fell