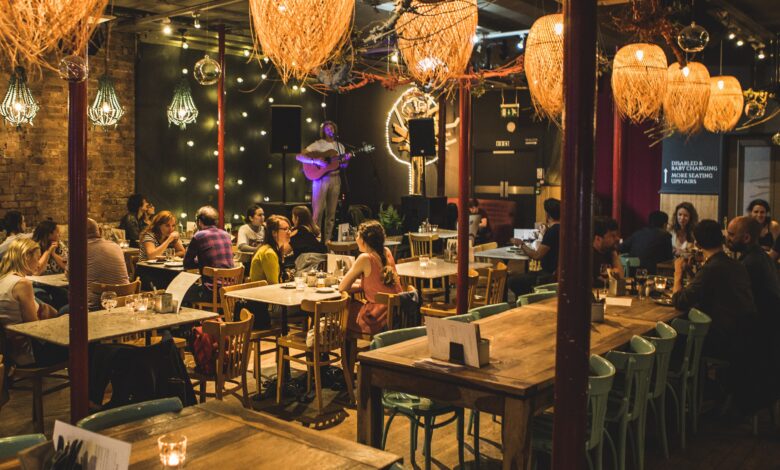 Let's face it. It's not just beginning to look a lot like Christmas – it actually is Christmas!
The shops are heaving with seasonal gifts, homes across the city are bringing the deccies down from the loft and children are excitedly writing out their present lists for Santa.
And over at LEAF and OH ME OH MY, the intimate and beautiful venues have got the festive season ready to go. From the newly announced Santa's Tea Parties and Children's Christmas Biscuit Decorating to Festive Wreath Making and from three-courses of Xmas feasting to truly delicious Pudding Clubs, December has never looked – or tasted – so good. 
First off, and listed last but certainly not least, there are two New Year's Eve events at OH ME OH MY. The just announced Disco Afternoon Tea is a very much family-friendly affair with delicious food and drink and the perfect place to unwind before the big countdown starts. And speaking of countdowns, OH ME OH MY then hosts a more adults-only gathering, with its New Year's Eve Darling, It Wouldn't Be A Party Without You featuring a live band and plentiful celebrations toward and past midnight. Tickets are £20 per person for the evening event from 8.30 pm to 2 am.
With LEAF's Breakfast With Santa events sold out, the brand new Santa's Tea Party afternoons offer a wonderful post school festive experience at Smithdown Road on Monday 5 December and West Kirby on Monday 12 December. Enjoy a mince pie and mulled wine whilst children tuck into a delicious hot chocolate with marshmallows and some decorate-their-own gingerbread. Santa will visit each table in turn and will also provide a little gift for all children. Child tickets are £12 and adults £9.
Then next up, Christmas Wreath Workshop at Bold St on Tues 6 December with Karen McGrath will show guests how to make a unique moss-based wreath using a range of festive foliage and natural decoration. All materials are provided with guidance through each step to create something truly stunning. Tickets £55 per person.
Then staying at Bold St, the Festive Makers' Market is bringing together over 20 independent designers, creatives and artisans and all of their enchanting goodies. Just in time for last-minute Christmas gifts, inspirations and stocking fillers and with live music from Mike Blue. From 3 pm on Wednesday 14 December and free entry.
Over in West Kirby, on Friday 16 December from 6 pm LEAF Presents It's Christmas! This evening is perfect for a small business or club currently planning their Christmas celebrations and are still looking for the ideal place to celebrate with a special festive soirée. Tickets are £49.95 per person and include: canapes and welcome drink on arrival / three course festive dinner / DJ and disco. Please email [email protected] to book.
Then also at West Kirby, there's a double date of afternoon Children's Christmas Biscuit Decorating. Young ones can get creative using colourful icing and sprinkles. Once they have finished they can enjoy one of their creations accompanied by a delicious hot chocolates. Suitable for ages 3-10 years and on Tuesday 20th December, 3.30-4.30 pm and Friday 23rd December, 10 am-11 am. Tickets £8 + £1 booking fee.
And bookings are still being taken for LEAF's sumptuous three-course feasting menu.  Available at Bold Street, Smithdown Road and West Kirby, it features classic dishes for everyone to enjoy, from cauliflower soup to baked chorizo & chicken terrine; Galantine of turkey filled with dried fruit & chestnut seasoning to a festive nut roast with a combination of root vegetables; and baked New York Biscoff cheesecake to Christmas pudding with brandy sauce.
And finally, December's Pudding Clubs will offer all of the usual lashings of sweet-toothed rapture with five delicious dishes carefully paired with complementary loose-leaf teas from LEAF's extensive collection – it's five courses of sensorial delectation.  And being Christmas, expect some suitably festive invention too on each plate. Wednesday 14 Dec at West Kirby and Thursday 15 Dec at LEAF Bold St.
All The Festive Events at LEAF and OH ME OH MY
Breakfast With Santa – Sat 3 Dec at LEAF Bold Street and Sunday 4 Dec at OH ME OH MY
Santa's Tea Party – Monday 5 Dec at LEAF Smithdown Road and Monday 12 Dec at LEAF West Kirby 
Christmas Wreath Workshop – Tuesday 6 Dec at LEAF Bold Street
Festive Makers' Market – Wednesday 14 Dec at LEAF Bold Street 
Pudding Clubs – Wednesday 14 Dec at West Kirby and Thursday 15 Dec at LEAF Bold St
LEAF Presents: It's Christmas! – Friday December 16 at LEAF, West Kirby
Children's Christmas Biscuit Decorating – Tuesday 20 and Friday 23 December at LEAF, West Kirby
Disco Afternoon Tea – Saturday 31 (afternoon) Dec at OH ME OH MY
Darling, It Wouldn't Be A Party Without You – Saturday 3t Dec (from 8.30pm) at OH ME OH MY
Further festive information and tickets can be found at www.thisisleaf.co.uk and www.ohmeohmyliverpool.co.uk