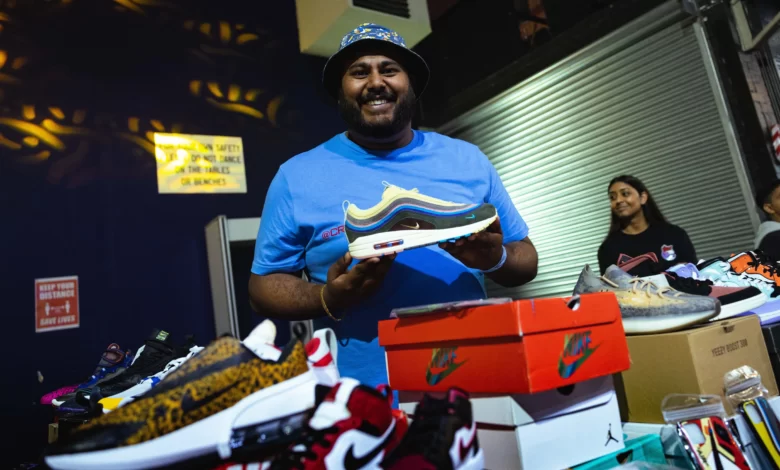 Laces Out! Trainer Festival, the ultimate gathering for sneaker enthusiasts, has just announced its relocation to a larger and more spacious venue, the ACC Exhibition Centre at Kings Dock Liverpool. The highly anticipated event on Saturday 17 June promises an even bigger and better experience for attendees and makes this year's date one of the biggest in Europe.
Moving Laces Out! to the ACC Exhibition Centre is fueled by the overwhelming response from previous years for a bigger location. The new venue offers ample space to accommodate the extra visitors whilst offering an impressive lineup of traders and sneaker brands.
Rob May, Laces Out!'s founder, explains: "We're proudly now one of the longest running and largest trainer festivals in Europe with our move to the ACC Exhibition Centre and it's nice to have built that in Liverpool. UK trainer culture continues to grow unabated, ranging from casual enthusiasts to people who dedicate their lives collecting some of the rarest sneakers out there. We have cultivated a loyal following who come from all over the UK to buy, trade, and just generally link up with like-minded people, as well as developing our wider programme at each Laces Out! around guest speakers, music and culture. Our 9th year is going to be one to remember."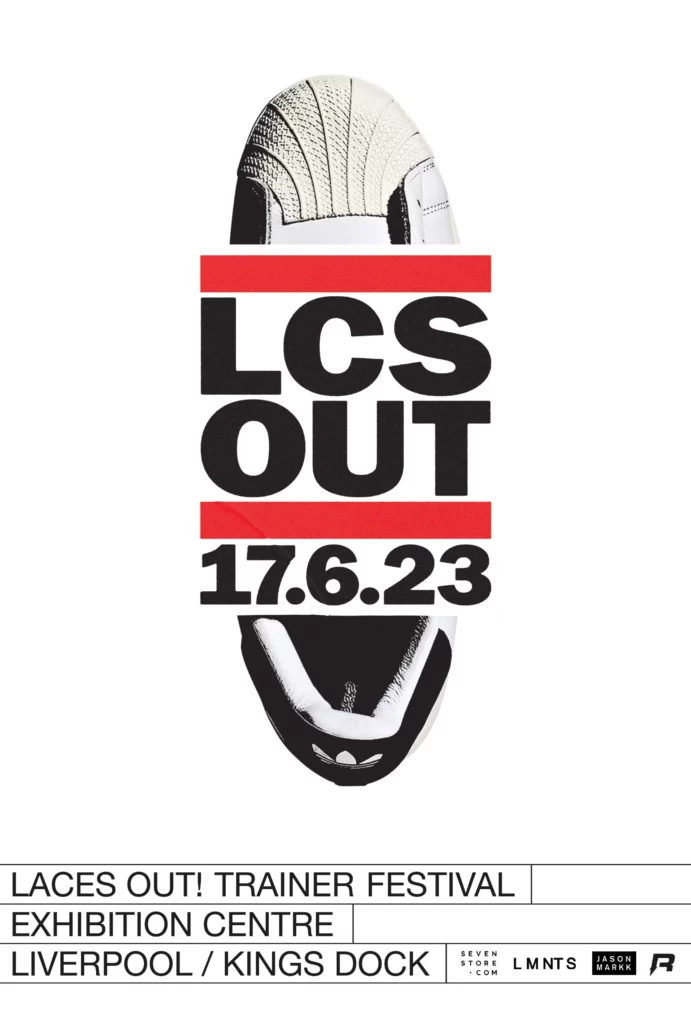 This 9th anniversary edition of Laces Out! Trainer Festival has double the number of traders compared to previous events. Sneakerheads can expect an unparalleled selection of rare and exclusive trainers, limited editions, and sought-after collaborations. With an expanded trader lineup, attendees will have an incredible opportunity to explore a vast array of footwear options and connect with fellow enthusiasts from around the world.
The event promises much more than just sneaker shopping. Laces Out! attendees can immerse themselves in sneaker culture, engage in insightful conversations, and gain valuable knowledge from industry insiders. The day will feature live music performances, guest appearances by renowned sneaker experts, panel discussions and exciting giveaways.
Guests include renowned photographer Lawrence Watson, who caught the early days of hip-hop culture in NYC in the 1980s capturing Run DMC, Public Enemy and LL Cool J, and has worked with many iconic artists including New Order, Grace Jones and Pet Shop Boys. Earlier this month, some of this work featured as part of Beyond The Streets London, a graffiti and street art exhibition at Saatchi London commissioned by Adidas Originals.
The ACC Exhibition Centre, situated in the vibrant Kings Dock area of Liverpool, provides an ideal backdrop for Laces Out! Trainer Festival. Its spacious halls, state-of-the-art facilities, and convenient location are ideal for attendees, traders, and exhibitors alike. Laces Out! has established itself as a premier event in the sneaker community, attracting thousands of enthusiasts year after year. The move represents an exciting milestone for the festival ahead of its 10th anniversary next year.
General admission tickets and VIP packages for Saturday 17 June offering exclusive gift bags from official partner Jason Markk include free cleaning products, stickers, pin badges and more. Other partners of the event include Liverpool based retailer Seven Store who will be hosting some activity instore straight after the event. LMNTS and Reprimo brand will also be in attendance, showcasing some of their newest unseen products to the Liverpool audience.
Finally, there's an after party at 24 Kitchen Street celebrating 50 Years of Hip-Hop with DJ Mr Thing, Konny Kon (Children of Zeus) and more guests to be announced, taking place from 8pm.
Laces Out! Trainer Festival
Saturday 17 June 2023
ACC Exhibition Centre, King's Dock, Port of Liverpool, Kings Dock St, Liverpool, L3 4FP
Midday – 5pm
Tickets from £10.00 + £1.00 booking fee
Info and tickets: https://lacesout.co.uk/