If you ever get the chance to chat to John Hollingsworth, it is time well spent. Either cycling around town, or holding court at Avenue HQ, John is a reservoir of knowledge, anecdote and practical philosophy. He started out in A&R with the famous Cherry Red label, and quickly moved to WEA in 1984. But the draw of the visual image, and its potentiality, saw John establishing a video production company with Douglas Hart (Jesus & The Mary Chain) and working with industry heavyweights as Primal Scream, Stone Roses and Paul Weller. And he soon realised that he was just as talented, if not more so, than the photographers the Majors sent down to set to cover the video shoots. Encouragement also came from his friend Anton Corbjin, which isn't the worst mentor to have….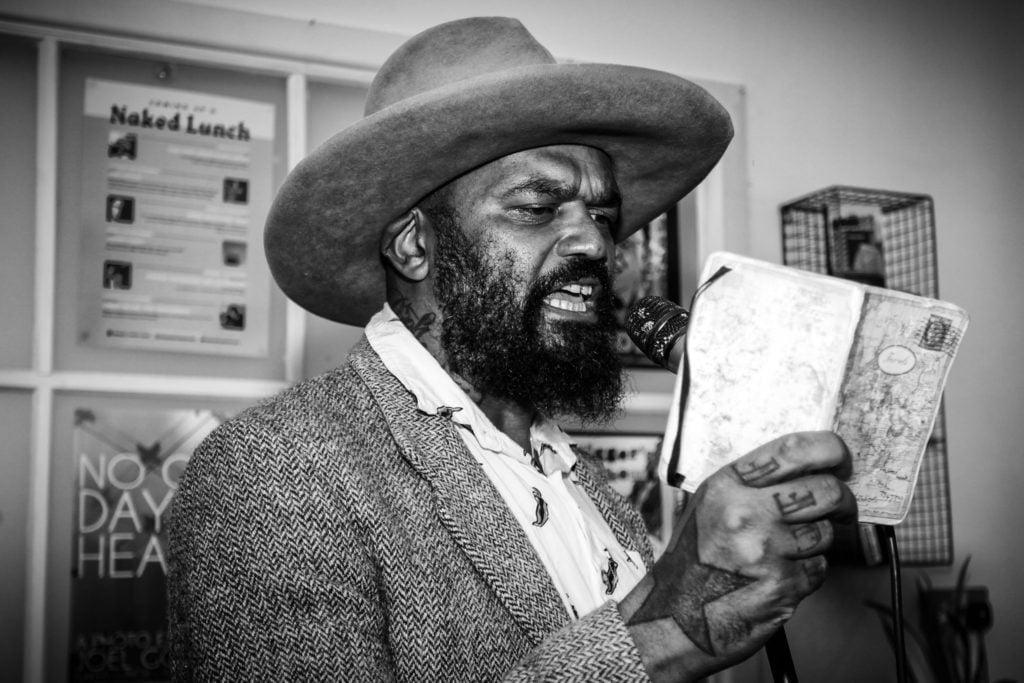 Fast forward to his private view held at the Naked Lunch Cafe, where the giant prints of his work prove to be the very best advertisement for the man's talent. With John floating through the crowd, chatting, snapping and laughing, its all a very cool atmosphere. He even has a make-shift area for him to take spontaneous pictures of guests. His night is augmented by the considerable talents of Liverpool poet Cassius and The Racket frontman Callum Codd, who each perform short sets. Cassius cuts an imposing and elegant figure, and his tonal delivery of his poems adds a weighty significance – "I drifted fast, and off it took, The vivid past, alive, it shook…" Callum Codd provides the perfect counterpoint to Cassius cerebral approach, with his here and now observations of millennial angst "I just don't understand why your watching me..". His songs translate perfectly from their usual raw power into this intimate acoustic setting.
But the night belongs to John. His portraits capture the very essence of his subjects personality, the black and white studies especially display a glacial knowingness that truly engages the observer. Whilst chatting at the bar, he informed me of an interesting observation: that we have lost touch with the art of photography, which is quite ironic as we seem to be taking more photos than ever before. They have become ubiquitous, yet we cannot see the wood for the trees. But this man can. Obviously.
To find out more about John visit his official website.
Steve Kinrade