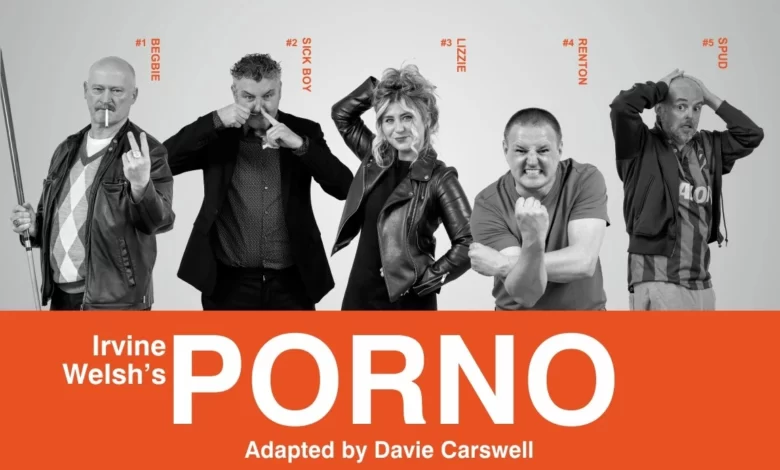 A new stage adaptation of Irvine Welsh's Porno is coming to Liverpool's Olympia this October, follows a sell-out run at last year's Edinburgh Festival Fringe.
Fifteen years after Trainspotting, what has become of Renton, Sickboy, Begbie & Spud? Disturbing, shocking & extremely funny. Contains swearing, sexual language, debauchery, drug use and even more swearing. As if you'd expect anything else.
Irvine Welsh's Porno is a full-length stage adaptation of the novel by the same name, which sold out one of the largest Pleasance venues for a month long run at Edinburgh Fringe in 2022, earning rave reviews from audiences and critics alike.
After a three-show run at the King's Theatre in Glasgow, the production visits three Northwest venues this autumn, Liverpool Olympia on 5 October and Sale Waterside (Manchester) on 7 October, forming part of a UK tour. The producer has also just announced a transfer to London's West End, playing for a season at the Arts Theatre from 29 October 2023.
Mark Renton hasn't been back to Leith since… well, since he robbed his pals and f*cked off to Amsterdam. Life has been… good? But there's always been something missing. How will Sickboy, Begbie & Spud react to the return of Renton? Have they all settled down and become respectable members of society? Did they choose life? Of course, they f*cking didn't!
With an acclaimed cast of Scott Kyle (Outlander, Kilo Two Bravo, The Angel's Share) as Renton, James McAnerney (Outlander, NEDs, Taggart, Rebus, Nightsleeper) as Sickboy, Jasmine Main (The Nest, Scot Squad, BAFTA Scotland Award Nominee) as Lizzie, Chris Gavin (Days That Shook The World, Starcaster) as Begbie, Kevin Murphy as Spud and Jim Brown as Knox. Porno is written and produced by the award-winning Davie Carswell and directed by Jonty Cameron.
Davie Carswell explained: "After a fantastic run at Edinburgh Fringe last year, it's time to take the show on the road, stopping off in three venues across the Northwest to bring the show to Irvine Welsh fans. The adaptation follows the novel as closely as possible. We've used plenty of Irvine's writing verbatim to give it a really authentic script. I loved T2, but it wasn't Porno.
"The show deals with reaching a certain age and reflecting on what you've achieved, or not as the case may be. As you can expect from characters created by Irvine Welsh, the play will include sexual themes, drugs, and a lot of swearing. As if you'd expect anything else.
"I am really excited to see the reaction of the northwest audiences prior to our West End run and hope audiences will enjoy the ride."
Irvine Welsh's Porno
5 October 2023
Liverpool Olympia
Tickets