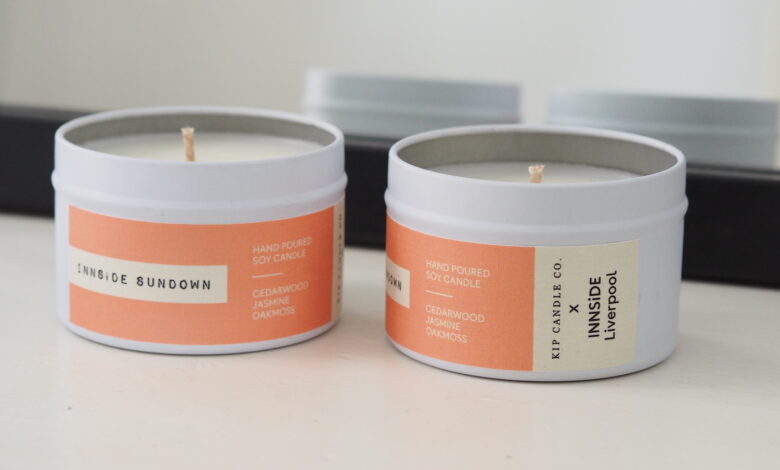 INNSiDE Liverpool, part of Meliá Hotels International, has collaborated with Liverpool-based independent KIP Candle Co.
KIP Candle Co. have created a diffuser and beautiful bespoke fragrance for INNSiDE Liverpool's largest suite, 'Docklands, The Condo'. INNSiDE Sundown is an earthy and relaxing fragrance celebrating the magic of golden hour, the sun setting across the city and the winding down of the day.
KIP Candle Co. was born out of Anna Passey and Kyle Pryor's passion for travel. Everywhere they went they would collect beautiful smelling candles and incense to bring back to relive their adventures in their home.
This limited Diffuser has been created especially for INNSiDE Liverpool for the exclusive and recently renamed Docklands The Condo suite, for guests to enjoy whilst taking in the stunning views of the Liverpool skyline, for a moment of calm and reflection.
The partnership with KIP Candle forms part of INNSiDE's #StayCurious ethos – ensuring each guest's stay is enriched with locally inspired experiences. Guests staying at the hotel can take a little piece of their stay home with them, as INNSiDE Sundown Mini Travel Candle and Large Luxury Candles are available to purchase at the hotel kiosk.
Garry Fortune, Director of Operations INNSiDE – UK North, said: "INNSiDE by Melia is a lifestyle brand and our hotels are designed to appeal to those with curious minds who want more than a trip but the opportunity to discover something more from the area they are visiting. Experiencing the luxury scents of Kip Candles whilst staying in our Docklands, The Condo Suite is a great way to do that. You can connect with the city knowing it is a great local brand whilst disconnecting in the tranquility of the Suite!"'
Founder of KIP Candle Co, Anna Passey, said: "We are so excited to be collaborating with INNSiDE by Melia. Since INNSiDE Liverpool opened we have been frequent visitors, so we were thrilled to get the opportunity to create a bespoke fragrance for their Condo suite."
To book a stay at INNSiDE Liverpool's Docklands The Condo please visit www.innside.com/liverpool