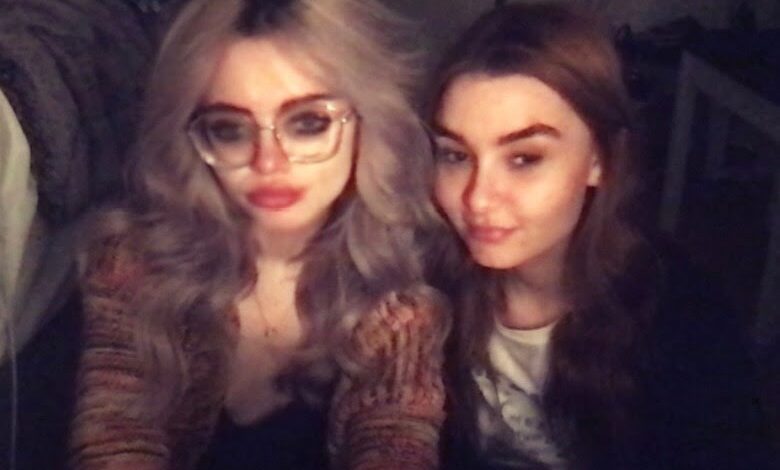 Lady and the Dies are a young female DIY synth duo from Liverpool. Having released two singles already since February, these girls are determined to pave their way onto the Liverpool music scene and beyond. Whatever That Means and Villain show a clear direction in which the duo's music is heading, and despite being produced solely in a bedroom, the tracks are high quality and show a high level of skill that both band members possess. This is a really exciting start for the 17 year olds, and we can only see them going from strength to strength. 
We had a chat with Alex and Lara of Lady and the Dies about their influences, musical journey, and what it's like working as DIY artists.
Liverpool Noise: Having recently made your debut on the Liverpool music scene, can you introduce yourselves to the Liverpool Noise readers? What has your musical journey been so far and how did Lady and the Dies come about?
Lady and the Dies: Our names are Alex and Lara, we're 17 (almost 18) years old and we're so glad you like our stuff so far. We met a couple of years ago at the tender age of 14, and at first we absolutely despised each other, then found out we both had a mutual appreciation for Tenacious D and the rest was history. We have been playing music since we were both really young and we had joked about forming a duo for a long time, then it suddenly became less of a joke as you can tell!
LN: Purely out of curiosity, is there a story behind your name, Lady and the Dies?
LatD: When we first started thinking of band names, we were scared of it sounding extremely random band name generator or just being ungoogleable. We still have the notes folder with some fallen soldiers of band names, including certified hood classics such as Martian Band or Bad Gorilla. We had the brief idea of naming ourselves after a random famous figure such as Brad and The Pitts (don't ask), we sifted through finding a famous figure by searching who's wax figures are in Madame Tussauds online, we saw Princess Diana and thought about the name The Lady Di's, but we've always been a big fan of names like Nick Cave and The Bad Seeds because they work really well so The Lady Di's snowballed into Lady and the Di's. Then we realised we'd just get called Lady and The Dies anyway and then that was that.
Lady and the Dies – Whatever That Means
LN: We're really loving your first two singles, Whatever That Means and Villain, at Liverpool Noise! You describe your music as dark synth pop, which is evident in these two tracks. What inspired you to create this type of music and who are your influences?
LatD: We've always been interested in the DIY music scene of the late 2000s to early 2010s, the type of electronic music you'd hear at a house show somewhere sick during that time. We love unpolished but not unfinished music because it has more of a realness to it than proper professional production. There's definitely a few people whose sound we have taken inspiration from bit by bit, some of the more well known ones being early MGMT, Suicide, DyE and Das Kabinette. The feel of certain albums really sticks out to us such as The Magnetic Fields Distortion album – we love the grittiness of it and how it's so distinct from all their other work (which we also love). Sometimes it's the imagery that goes behind an album like the self titled Dead Man's Bones album which has quite a halloweenish quality to it without being ridiculously gimmicky.
LN: You seem to be a real DIY group; writing, composing, recording and mastering your music by yourselves in your bedroom. Tell us a bit about your process of creating and releasing music independently. 
LatD: [Lara]: Yeah, completely DIY, everything is done within the four walls of Alex's bedroom. She is definitely the brains of the outfit. 
[Alex]: It's great making the type of music that we do ourselves because the DIY nature of it is practically the backbone of what we're trying to achieve sonically, we have full creative control and everything is a learning curve for me when I'm producing the songs. I work completely through trial and error, take Villain for example, I made the beat using a gun sound effect as a project for school then I realised I could develop it, I sat with it for a couple of hours and then Villain was born being my solo song (Lara's solo song is coming soon), but this method strengthens my ability as a producer because I always end up stumbling across something I wasn't meant to do but think "oh well at least I know how to achieve that sort of noise now". 
With that being said, we also don't have the funds to work anywhere other than studio Alex's bedroom so if any kind rich people would like to hear Lady and the Dies in high definition, we will email you our bank details, THANKS.
Lady and the Dies – Villain
LN: We're certainly looking forward to catching you guys live in the future. Do you have any live performances in the pipeline? And what can we expect from a Lady and the Dies live show?
LatD: We have a lot in store for Lady and The Dies shows, think gorilla suits, on horseback, jousting – just what everybody wants to see at the Arts Club. But seriously we do have a lot planned for our live shows, we were conscious of people automatically not being proper into it because we aren't a traditional four piece band, but that's the beauty of electronic music and it seems to be the perfect time for a group like us to come onto the scene as people are more open to different types of performances and we promise to bring the energy, so fear not!
LN: At just 17 you have musically made an exciting start to your careers. Where would you like to be this time next year?
LatD: Even though we're just starting out, our first release Whatever That Means only came out at the end of February, we really want to continue on the path that we're going – there's so much more to come very soon. Our favourite tracks haven't been released yet, and we can't wait for everyone to hear them and hopefully enjoy all of them as much as we do. We are also excited to show the more experimental side of Lady and The Dies, we thought Whatever That Means and Villain were solid first releases to ease everyone in before we start doing weird shit. For us, this time next year would look like a well-rounded body of work under our belt and definitely have performed a good few shows. Of course, we also hope we'll have amassed some people who are ready and waiting to see what we're up to next.
LN: What's next for Lady and the Dies?
LatD: World domination.
Follow Lady and the Dies on Instagram for updates and stream their latest releases here.
Rach Hankin