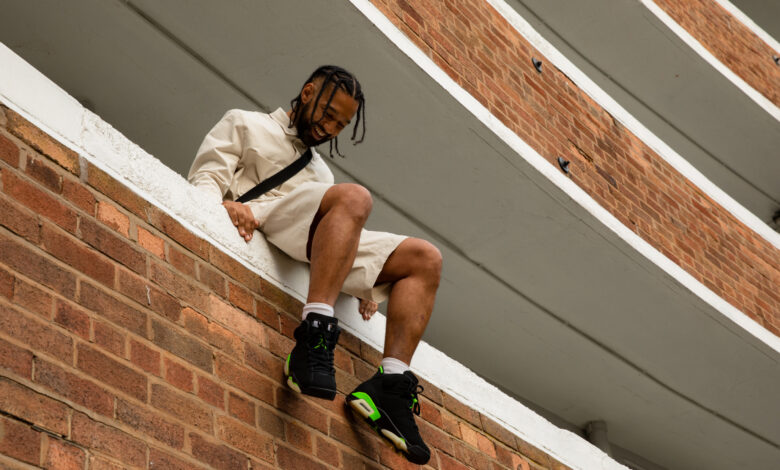 Music
In Conversation – KOF
Liverpool artist KOF has been showing off his soulful hip-hop skills for over a decade, but his most recent venture sees him releasing a new mobile game. Following a similar structure to games like Temple Run, the app was released to promote his latest single 'Grace'. As it stands, players can collect coins in different vehicles while listening to the track, but KOF has plans to expand the game going forward.
Liverpool Noise sat down with KOF to discuss the game and its future.
Liverpool Noise: So how did the track 'Grace' come about?
KOF: I started recording it just after the first lockdown and I wrote it in a few different sections over a period of a few months. It's literally just about me re-entering into the situation of releasing music, because I used to release a lot of music and do a lot of shows. It's like a neo-soul, lo-fi hip hop kind of track. With it being my first release back, I wanted to go super hard with all the content regarding the single.
LN: Was the track recorded with live instruments or was it mixed with samples?
K: With this song, it's a bunch of samples in terms of the saxophone, but we've done a live version that we're about to drop in the next week actually, with all live instruments.
LN: Where did the idea for Grace The Game come from?
K: It sparked from something totally different. When I was thinking about a music video for this song, the original spark came from the TV show Squid Game. There's a scene where they're pulling in a rope like tug-of-war and it ends with them lying on the floor and the camera pans across the top of them. I thought it would be dope to shoot a music video with the camera at the top and I'd be in all different positions as the camera moves along. So, I started filming it and the more I looked back at the footage, I was thinking 'I don't know if that's gonna work or be cool enough'. So I was scouring through Google and found some images of animated worlds, like square 3D renders of different worlds and I said to one of the editors that works with me that we should make an animated video with me as a real person and then a 3D animated version in this kind of world. We were making the music video and as I was watching it, I thought it reminded me of Fortnite or one of the games my nephew would play and that it would be sick to make a game out of this. Then I thought, why not?
LN: Was the video game aspect more of a promotional tool, or something you may be a little more passionate about?
K: Primarily, it was just to be something cool as an extra marketing tool because I've never seen any artist ever do something like that for a single release. That's what it initially was, but the feedback and the response to the game has been so good, that I've decided to continue it on to help out my other releases going forward. I do enjoy playing video games, like, I'd play GTA when I was much younger, but now I don't have as much time. It's not necessarily something I see myself going down, and even now when people ask me if I'm going to start making loads of video games and that, in my mind, I'm not really. Music is my main passion, but I'm falling into that world. Who knows, within a year or two, we'll see how good the next one goes and then we'll see how it goes from there. It's definitely something I'm excited about.
LN: You mentioned the feedback to the game. What has that been like?
It's been really good. One of the initial issues that I had was, because I've been sitting on this game for a couple of months, I was getting super nervous that someone was going to come out and do the same thing before me. The general feedback seems to be that people are really loving it. When I play it, I notice that there are some kinks or things that I'll upgrade and work on by the next release, but we've already tackled all those problems. But the feedback's been amazing, people are saying it's a really addictive game and that they're getting frustrated because they can't get the amount of coins they need to unlock certain aspects of the game.
LN: What other kinds of ideas do you have to expand your music, other than video games?
K: I'm worried about giving ideas away before they come out. I'm really cautious of that kind of stuff, but to give you one idea, I want to be able to give a 4D experience of a live performance, which could range from different staging setups or ways to tap into the different senses that people have. If you were hearing impaired, how could I bring one of my live shows to you? If you were visually impaired, how could I bring a version of my live show to you also. There's different things I've been thinking about.
LN: Is there anything else you're working on at the moment and can we expect another single soon?
K: My next release is called 'Something In The Water'. I've shot a music video for it, which is totally different to Grace, but I've started to make the game a lot bigger. Now there's 4 levels and we've started making some short video clips in between the different levels.
Listen out for the release of 'Something In The Water' soon, or click here to listen to Grace or download the game.