The Baltic Triangle is probably the fastest growing and trendiest area in Liverpool and even though you can often find me around the vintage shops; having brunch or a drink; every time I go it surprises me with something new!  A few months ago, I bumped into Steve Bayley, one of the artists based there, and this is how I discovered Hub Art Studios. Thank goodness! Because this place really is a hidden gem. As soon as I saw it I felt I had to tell everyone about it.
Based in Cains Brewery Village, next to Tusk, last Saturday I visited the studio one more time. Since 2016, an independent collective of ten local artists share this raw space to create and showcase their work. What I particularly love about this place is that it is open to the public and a warm welcome is always guaranteed.
During my visit, I had the opportunity to speak to different artists and take in some of their work.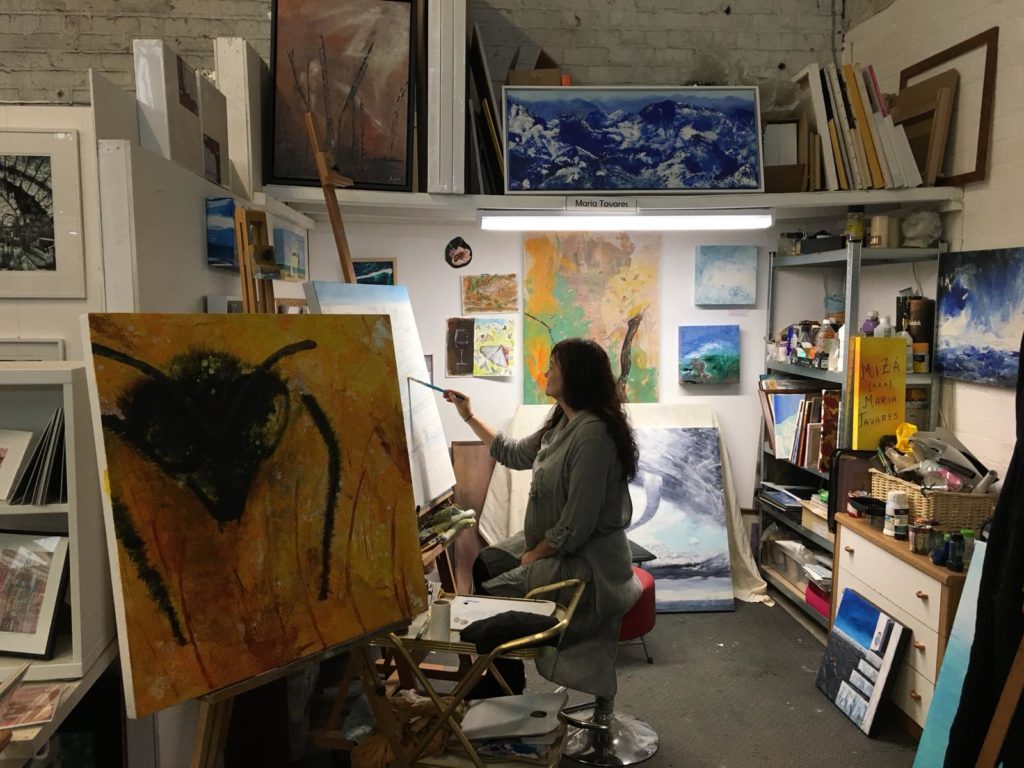 Maria Tavares
Maria 'Miza' Tavares is a Portuguese visual artist. Her impressive artwork is inspired by nature and landscapes (climate change, endangered animals, forest fires, etc.) and has been exhibited around the world. Apart from creating unique pieces of art for sale and exhibition, Miza is also an art teacher. She delivers workshops and lessons in Tate Liverpool and Hub Studios, amongst others. If you are interested, her next workshop 'Painting with Acrylics' will take place on the 26th of February in the studio.
Also, how cool does a 'painting holiday' sound? Miza organises them every autumn in Portugal's Algarve. A great opportunity to develop your skills whilst enjoying the sunshine and learning from Miza's demonstrations. Get in touch if you are interested!
Website: https://www.mizatavares.com/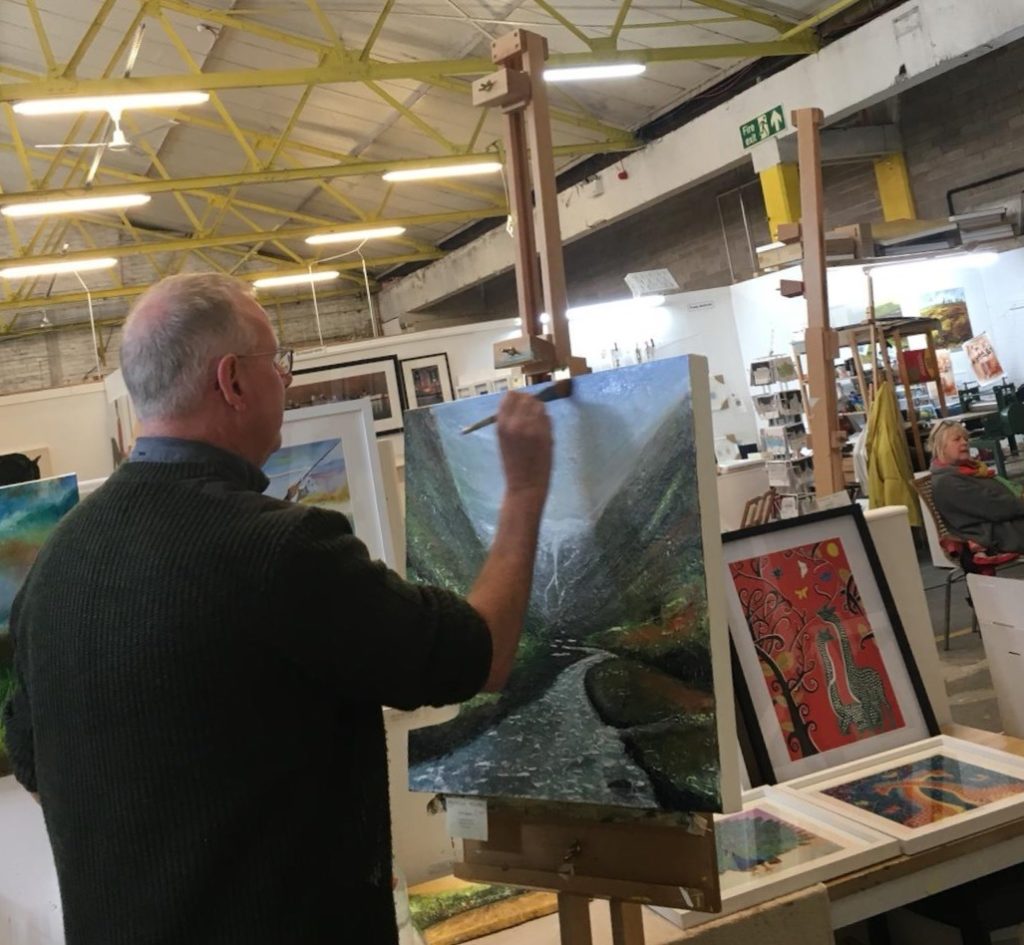 Steve Bayley
Steve is an artist who produces art in a variety of styles, including fantasy and portraitbut when in the studio he spends most of  his time working on expressionist and abstract landscapes. He likes to work with inks and acrylics, although he does produce work in pastel, charcoal and watercolour. At the time of my visit he was  working on a painting of the Norwegian Fjords, which he visited last year during his holidays. His paintings of Spanish cottages really struck a chord with me!
Website: https://www.stevebayleyart.co.uk/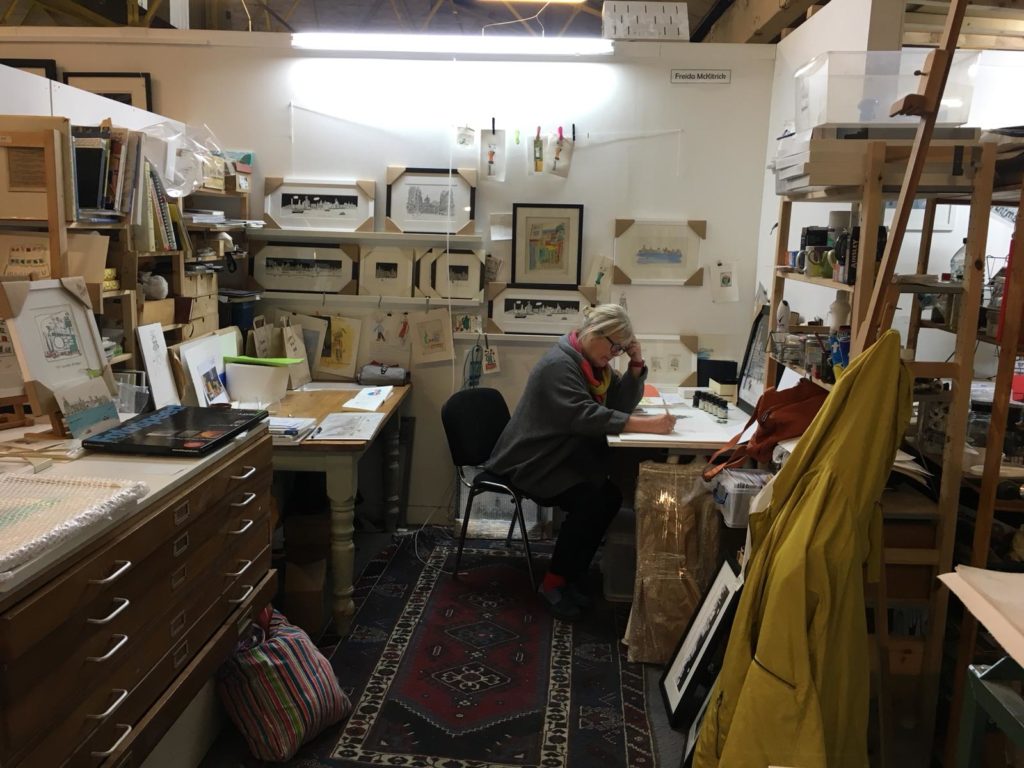 Freida McKitrick
I had seen some of Freida's Liverpool pen and ink drawings before, and I felt very lucky when I saw her working in her studio. Her own version of the Liverbirds is just fab! She sells prints and original illustrations; has created merchandise for Liverpool Capital of Culture and for the Giants Spectacular. She also does commissions of buildings, wedding venues or churches if you are interested. Her Liverpool themed Christmas bauble is a must have in every Scouser's Christmas tree!
Website: https://www.freidamckitrick.co.uk/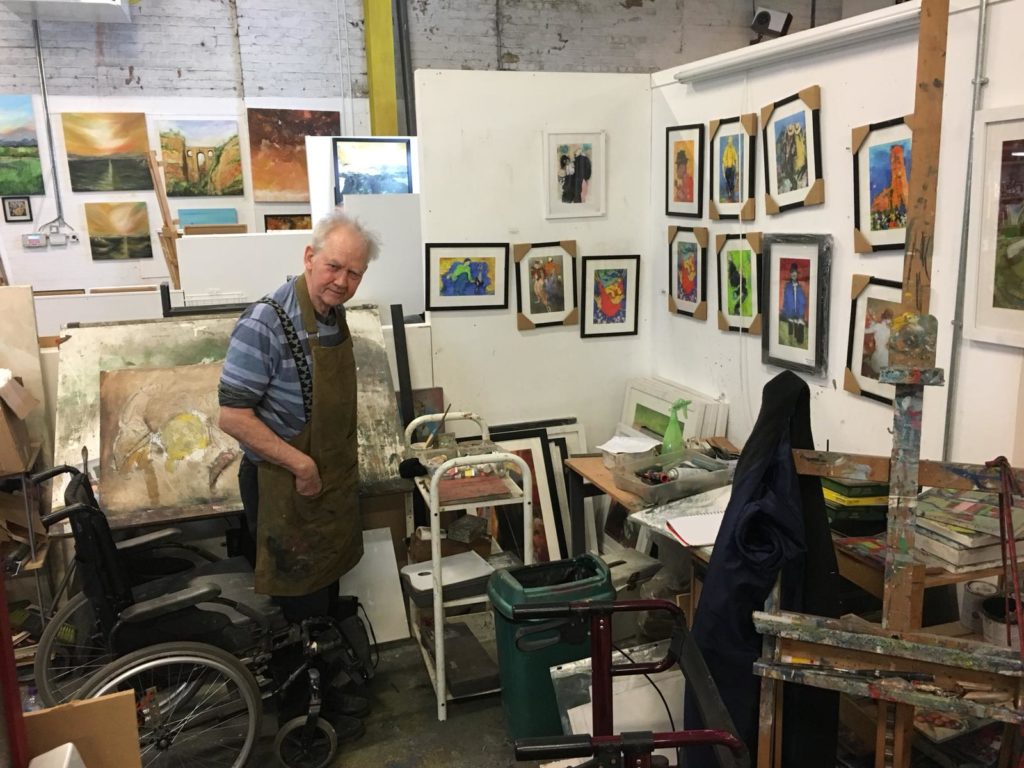 Pete Cameron
After our chat, Frieda introduced me to Pete, the last artist in the studio I spoke to before the end of my visit. They have shared the same studio for eleven years. Pete is a very special self-taught pastel artist with Parkinson's disease. The motion of the street life characters in his paintings is impressive; they seem to dance out of the canvas! He told me this is a very deliberate way of painting, he may not be able to move as much as he'd like, so he makes sure that his characters do! His personality and humour truly captured my heart. If you pop into the studio, his cards are worth a look!

The work of these artists has been exhibited in many different places around the North West and beyond. At the moment, you can see some of their pieces in the Atkinson Gallery in Southport. Also, they are getting ready for different events such as LightNight Liverpool on the 17th of May; a 'Pictures for Presents' open weekend on the 23rd and 24th of November; and even a Summer Sale!
You can find  this fabulous studio at the heart of Liverpool's creative industry. The artists love to have visitors. They don't have formal opening hours but as long as there's an artist in residence you are welcome to call in and say hello. Pop in next time you're in the Baltic, you'll be surprised!  
For further information about Hub Art Studios and all its artists visit www.hubstudios2.co.uk
Maria Querol Fortuño