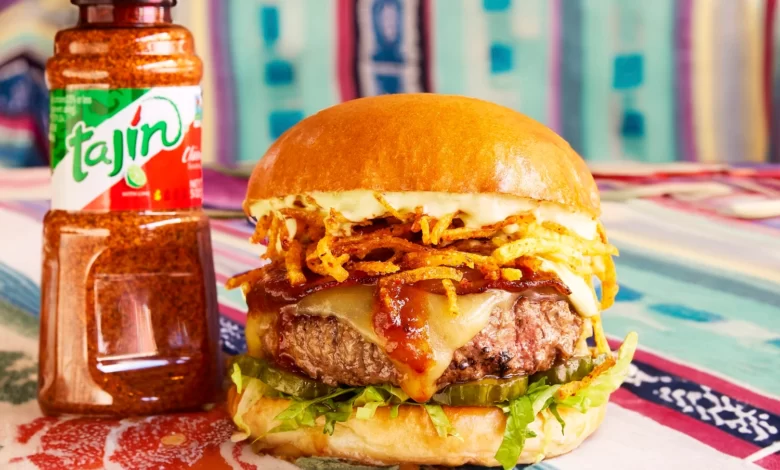 With summer almost over, Honest Burgers has created a lively new limited-edition special to spice up September for its diners.
The Mexico Burger is a new collaboration with chilli-lime seasoning specialists TAJÍN creating a burger build that embodies all the vibrant colours and culinary richness of one of the world's best loved cuisines. 
Available now to order across all its nationwide restaurants until 2 October, the monthly special features Honest beef dripping with classic avocado sour cream mayo which has been spiked with tangy TAJÍN flavour and chipotle sauce for extra smoky depth. The burger build is then topped with bacon and Monterey Jack cheese, along with TAJÍN spiced Mexican shoestring fries, lettuce and pickles. 
Established in 1985, TAJÍN is a Mexican chilli-lime seasoning that adds flavour to anything from fresh fruit to margarita rims. As well as being a massive hit in the United States, TAJÍN (pronounced tah-heen) has built a cult following on the UK street food scene making Honest Burgers new collab extra exciting.
Adam Layton, Honest Burgers, Head of Food, said: "TAJÍN is still relatively undiscovered in the UK but in Mexico, and much of the States, it's an everyday essential. It's a Mexican chilli-lime seasoning that livens up almost anything. Every Mexican street food cart will have a big bottle of the stuff to add a punch to fresh fruit, micheladas and crisps. It's very addictive on shoestring fries and will no doubt be a sure fire hit with our diners throughout September." 
Eduardo Gomez, Mexgrocer Tajin importers, Director, added: "We are really excited for this collaboration. Honest Burgers is a brand we really respect as they have grown and maintained quality throughout the years. We think it is a great partnership and the mayo with TAJÍN is absolutely delicious – we can't wait for you all to try it!" 
The Mexico Burger will be available at all 41 Honest Burgers' restaurants and via Uber Eats or click & collect from 5 September – 2 October. 
The burger is priced at £14.50, served with homemade rosemary salted chips for dine-ins and collection or £15.50 with a side when ordered via Uber Eats.
For more information on Honest Burgers visit www.honestburgers.co.uk