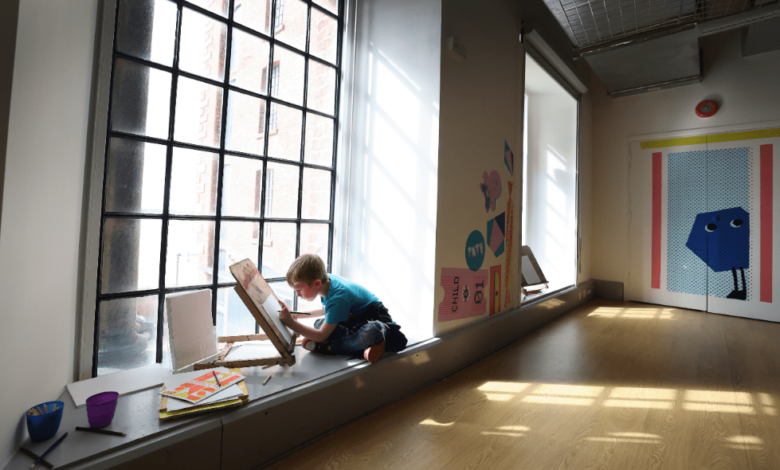 A visit to Tate Liverpool is the perfect way for children and families to explore the Royal Albert Dock this Easter. 
New free collections display Journeys through the Tate Collection features artworks inspired by the gallery's surroundings on the Royal Albert Dock, the history of Liverpool, and its connection to the rest of the world. Hew Locke's Armada 2019 hangs in the gallery; a flotilla of forty-five boats, ships and other maritime vessels suspended from the ceiling, each decorated with plastic figures, nets, jewels, and other materials. 
Other works include Anish Kapoor's colourful and abstract sculpture As if to Celebrate, I Discovered a Mountain Blooming with Red Flowers 1981, and Piet Mondrian's iconic Composition with Yellow, Blue and Red 1937-42.
Alongside these new collection displays, free daily drop-in sessions Creation Stations: Join our Journey provide creative activities for families of all ages. Children will be encouraged to be gallery explorers and find out about art works together. 
In the Clore Studio, they can play and create art inspired by the works on display in Journeys through the Tate Collection, using a range of interactive techniques such as collage, stamping, drawing and sculpture. The adjoining Family Room provides a quiet space to play or take a break from the gallery, complete with beanbags, sketchbooks, and a selection of children's storybooks.
On Level 1 of the gallery, Ideas Depot brings together a range of artworks from the Tate Collection which has been curated with primary school children across Liverpool. This display encourages visitors to make their own connections between the works on display based on their own experiences and ideas, perfect for inspiring and engaging young minds.
If journeying through the gallery works up an appetite, the Tate Liverpool café has a selection of teas, coffees, cakes, sandwiches, and hot food available to enjoy. This half-term, a special kids food offer entails the choice of a ham and cheddar or cheddar sandwich, served with either an apple, pom bears, or a fruit yoyo for £5.95. Visitors can relax and enjoy a bright and cheerful space with views out to the Royal Albert Dock, adorned with vibrant maritime flags created by Sir Peter Blake.
Tate Liverpool Creation Station: Join our Journey
Clore Studio, Level 1
9 – 24 April 2022
11.00 – 17.00
FREE, drop in, limited places
Creative activities for families of all ages.
Visit Tate Liverpool's Creation Station this holiday and have fun creating art, inspired by the new display – Journeys through the Tate Collection. Become Gallery Explorers and find out about art works together. Then enjoy play and creative activities in the Clore Studio.
Here are a few ways to get creative:
I See the Sea: Rip, tear, snip and stick paper to create an amazing sea tile for our communal artwork.
Dear Home: Pick up a postcard, draw a picture of your home and then write a message to someone who lives there. Take your postcard with you or add it to our Dear Home display.
Build a boat: Use our handy guide to make an origami boat. Decorate your boat and add it to our flotilla. 
Printed Patterns: create your own stamper and use it to make a fantastic print to take home.
Shadows in my Net: Create a fantastic net sculpture. Can you make a shadow when you hold it up to the light and draw it on our shadow wall?
For more information about Tate Liverpool, their exhibitions and events visit https://www.tate.org.uk/visit/tate-liverpool