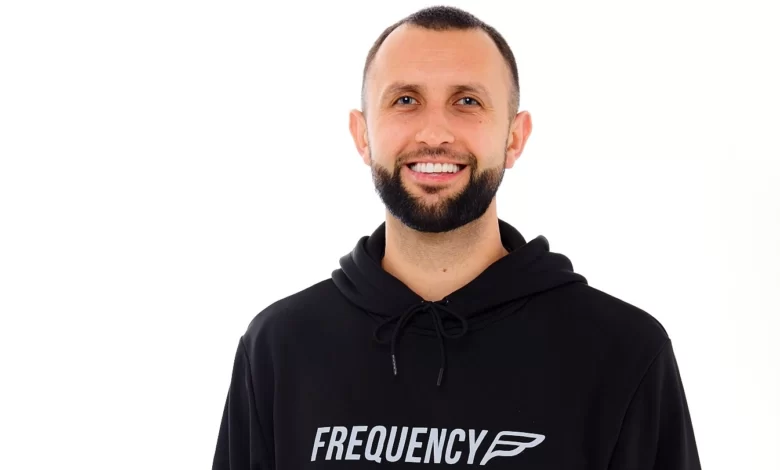 Liverpool News
Liverpool Father-of-Two Who Created A Fitness Clothing Brand, Frequency Fitness, Sees Sales Soaring As He Attracts Three Local Partners
A father-of-two, who created an activewear brand from scratch during lockdown, has gone on to enjoy extraordinary success.
Hasan Zamir created Frequency Fitness in September 2021 after it initially started out as a workwear clothing brand in 2020.
Starting the activewear brand with just one t-shirt in five colours, Hasan, with the help of his partner Megan, has since created an entire mens and boys range with over 10 different items in over 40 different colours.
Currently a full time self-employed courier driver, Hasan, 30, was inspired to launch his own activewear brand after struggling to find matching 'dad and lad' outfits for himself and his son Elias, 3.
Spotting a gap in the market, Hasan got to work on creating styles that are vibrant and colourful, with Frequency Fitness placing a strong emphasis on positivity and motivation, with the team passionate about raising awareness and supporting both mental and physical health.
Frequency Fitness' clothing has been named after inspirational words including the TRANSFORM t-shirt collection, FOCUS t-shirt collection, HUMBLE hoodies, TRUST t-shirt collection, BRAVE beanie hats, FEARLESS windbreakers, TRIUMPH tracksuits and COURAGE caps, to name a few.
Frequency Fitness sizes range from 2-3 years up to 13-14, and XS to 3XL meaning they have something for all ages.
Through supporting a number of local up and coming athletes including FCC and Cage Warriors Middleweight World Champion Mick Stanton and FCC Bantamweight Champion Raphael Uchegbu, as well as the increasing number of adults and children in Liverpool now wearing FrequencyFitness, Hasan recently attracted some interest from three local partners.
The partners felt that by coming on board, they could offer some financial support, a strong network and social media presence which will help Hasan take what started as a vision during lockdown to one day becoming one of the biggest sportswear brands worldwide, to the next level.
Former professional boxing world champion turned TV star Tony Bellew, 20-year-old social media sensation and content creator StillRyan who boasts over 13m likes on TikTok, and former MMA fighter and co-founder of personal-development centre Awake Liverpool's Mark Scanlon have all come on board with Frequency Fitness to partner with Hasan.
Hasan explained: "Frequency Fitness has come such a long way in less than two years and I'm really proud of everything we, as a family, have achieved. From choosing the styles and colours with our three-year-old son and five-year-old daughter, to packing each and every parcel and at one point hand delivering every parcel, to looking after the website and marketing, we do it all together.
"Having Tony, Mark and Ryan as part of the Frequency Fitness family is incredible and we're confident we now have everything we need as a team to drive the brand forward, tap into new audiences and utilise each other's skills, experience and knowledge."
Tony Bellew added: "Myself, Mark and Ryan were all inspired by Hasan's entrepreneurial spirit and work ethic, with Frequency Fitness being born from an initial idea. With Hasan's drive, hardwork and determination, he's created a really successful activewear brand with a great purpose, and we're excited and grateful to be in a position to offer our support.
"Life with a young family can be challenging, especially on the back of the pandemic and in the current financial climate so it's fantastic to see where Hasan has taken Frequency Fitness so far whilst working full-time and raising two kids. As partners, we'll be providing new ideas to assist in the evolution of Frequency Fitness ensuring it becomes a huge success."
Ryan Hall, also known as StillRyan, added: "We're really excited for the future of Frequency Fitness and to connect with a broad audience including a younger demographic of which I'm really familiar with in Liverpool; we want to bring back bright, colourful clothing, making it cool, and help to guide young people away from all of the dark coloured clothing and street gang culture."