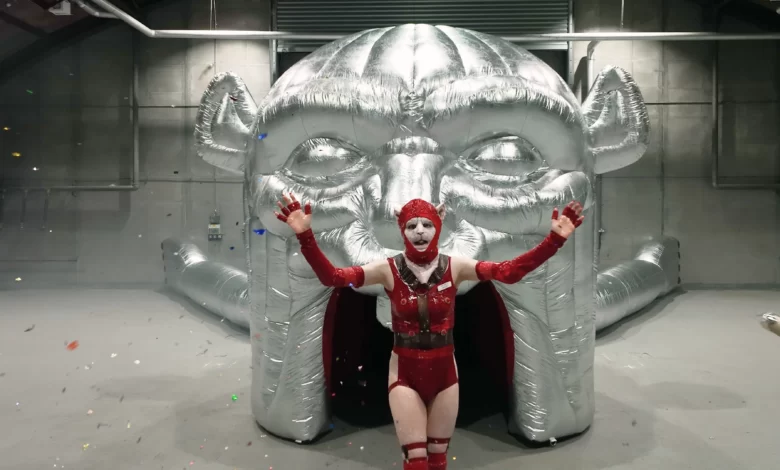 From 20 October 2023 – 28 January 2024, FACT presents two major solo shows by artists Jenkin van Zyl and Uma Breakdown. The artists' works look to defy the nature of conventional heroic narratives.
Through processes of retelling and reenactment they open up possibilities for centering the overlooked, the queer, and the monstrous. Their works offer glimpses into the transitory joy of building new communities, while also reflecting on the cyclical nature of time. The opening of both exhibitions marks the celebrations of FACT's 20th anniversary.
Jenkin van Zyl unveils his most expansive and ambitious exhibition to date. Spanning FACT's ground floor galleries, the installation extends van Zyl's latest film work Surrender (2023), with new sculptural elements. Visitors can explore van Zyl's large-scale immersive environments, including an energy-drink lined trophy room, and experience the film from a ballroom setting found within the domed stomach of a giant inflatable metallic rat.
Inside the ballroom, Surrender plays on an endless loop as visitors follow the experience of GRACE. After checking into the P.E.E.P love hotel, GRACE, along with other paired couples, begins to compete in a series of tournaments that play with the limitations and expansiveness of the body. Fuelled by an endless stream of energy drinks, it's unclear whether GRACE's drive to participate emerges from an insatiable yearning or from a desire for escapism, community, oblivion or victory.
Van Zyl's hallucinatory film conflates this 'rat race' with the 'rat king', a lethal and rare natural phenomenon where the tails of rats become fused together. The work questions notions of individuality and collectivity, exploring how community-building can foster belonging, allyship, and resistance, despite neoliberal frameworks often inducing competition for survival. Dense with references to queer club culture, cinema, and the dance marathons of the 1930's Great Depression, Surrender draws viewers into an unstable world where suffering and defiance become spectacles for entertainment.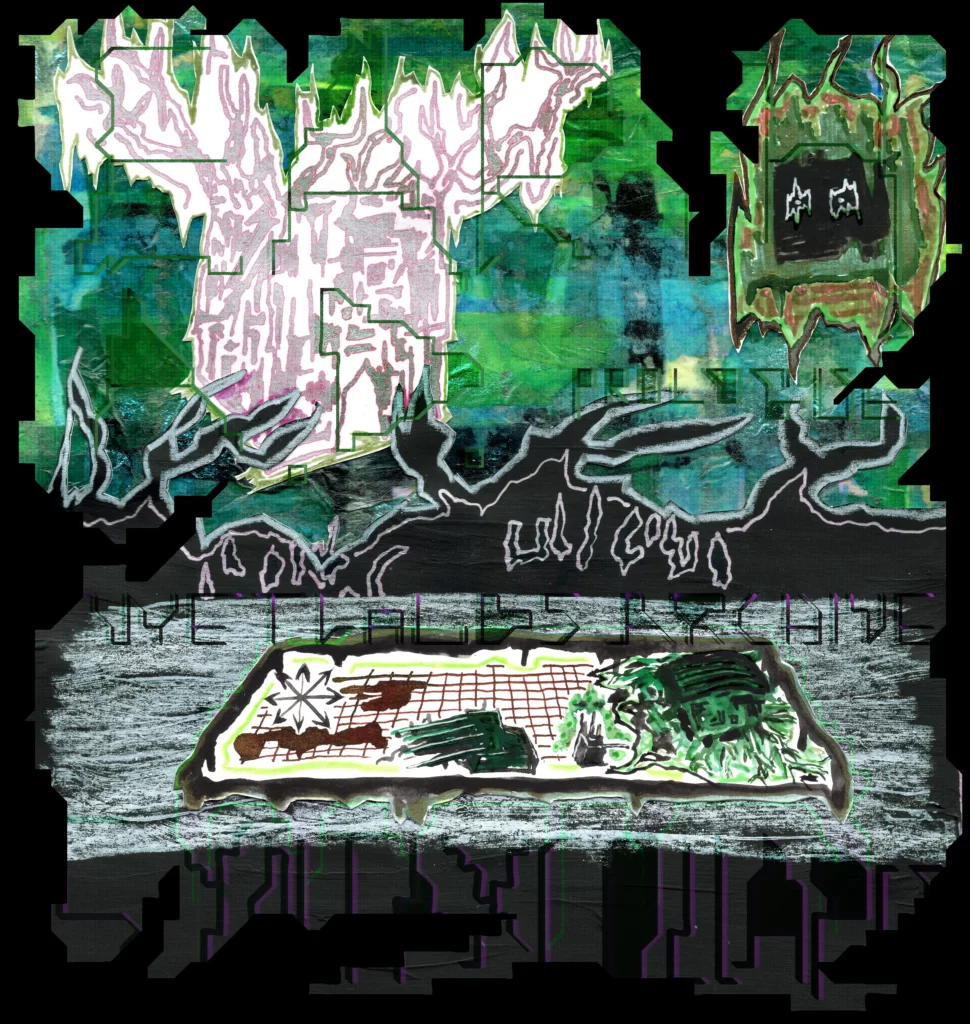 Uma Breakdown's solo exhibition comprises of a multimedia installation at FACT and a playable video game online. Earth A.D. 2 (2023) transforms the gallery into a video game 'save room' whilst online artwork Low Estate (2023) invites players to navigate as the last survivor of a world-changing event.
Inside the gallery, visitors encounter collections of sculptures carefully piled with objects that resemble maps, and projected fragments of video games that drift across the space. Breakdown's multimedia installation plays with the motifs and history of Gothic narratives. Through its explorations of intense emotions and extreme experiences from fear, horror, and violence, to passion, love, and tenderness, this genre offers new understandings of care and intimacy.
Alongside the installation, Breakdown introduces online adventure game, Low Estate (2023). In this game, players must go in search of the Dreadnought, a cyborg from the Warhammer game universe capable of sustaining a pilot housed within. The aim is to locate the entombed oracle and update their database, ensuring that their wisdom is preserved with new knowledge to inform and educate future generations.
Breakdown links these concepts to the important idea of mutual support within the trans* community. They term this concept "radical solidarity," an act of caring for others without needing to know who they are. While elements of our histories can fade away, the exhibition emphasises that collective respect and care ensure that generational knowledge and histories will endure. Co-produced by FACT (Liverpool, UK), Wysing Arts Centre (Cambridge, UK) and QUAD (Derby, UK), Breakdown's body of work will continue to evolve as its tour continues into 2024.
Both exhibitions will be accompanied by a programme of free events including tours, workshops, film screenings selected by the artists, and a night of live durational performances by the cast and crew of van Zyl's Surrender. Breakdown is joined by Joseph Buckley, Dr Karen Di Franco and Dr Alice Rekab for an online talk to discuss the concept of 'relics', while van Zyl has created a new short film that expands on this psychotropic world which will be available to watch in a limousine at the opening party on Saturday 21 October 2023.
Maitreyi Maheshwari, Head of Programme at FACT said:
"Our winter exhibitions are a celebration of the different ways in which FACT centres and supports artists' practice. We first worked with Uma Breakdown on a residency in 2020, and this partnership with Wysing and QUAD has allowed them to develop an iterative show with the time and attention their practice needs. We've also been able to work closely with Jenkin van Zyl to realise an ambitious restaging of their work 'Surrender'. Both artists' works offer timely provocations about individual agency and collective identity, about play and competition, vulnerability and care. As FACT marks 20 years, we also acknowledge the importance of collaboration and the possibilities that open up when we come together."
For more information visit fact.co.uk