Music, quiz nights, renowned chefs and more in store for the Mexican-Inspired Evil Eye Burrito Bar.
Evil Eye Burrito Shack has been a big player on the Smithdown Road scene for a while now, serving up some top notch Mexican-influenced food along with a cosy bar atmosphere which has made it a popular spot with locals and now things are looking even brighter with some positive developments lined up.
In recent months they've had the likes of Dave McPherson from INME performing in the bar, plus touring bands from Portugal, Spain and Iceland as well as local acts from all around Merseyside. Their next big named artist is Mark Morris from the Blue Tones who'll be playing at the venue on 22 December, with the gig being a free entry event it should be an amazing night!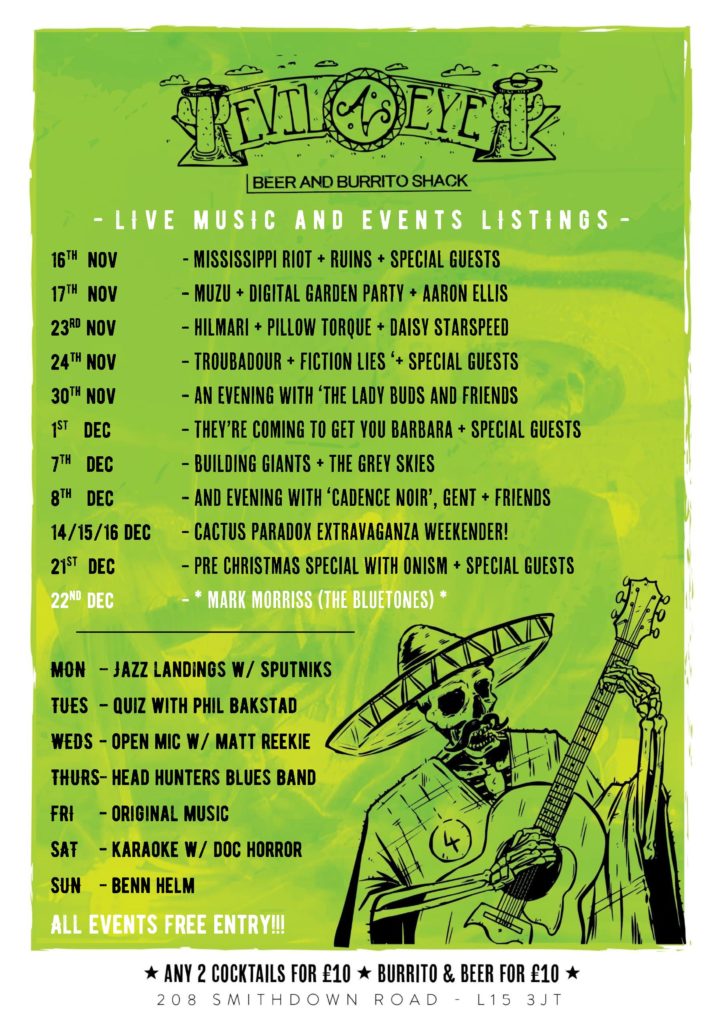 And there's plenty of reason for food lovers to be excited too as a new chef joins the team who helped set up and run some of the biggest names in hospitality industry in Liverpool as well as some top restaurants in London. Heralding from Mexico himself, there's going to be some big changes coming to the food menu over the next few weeks so there's never been a more exciting time for Evil Eye.
With regular weekly Jazz and Blues events about to kick off, Friday and Saturday nights are the home of Original music with between 3 and 5 acts playing each night. Manager Joe Maryanji said "The set up is pretty punk as fuck and all adds to the experience in being in such a cool down to earth venue."
To find out more about Evil Eye visit their Facebook page.