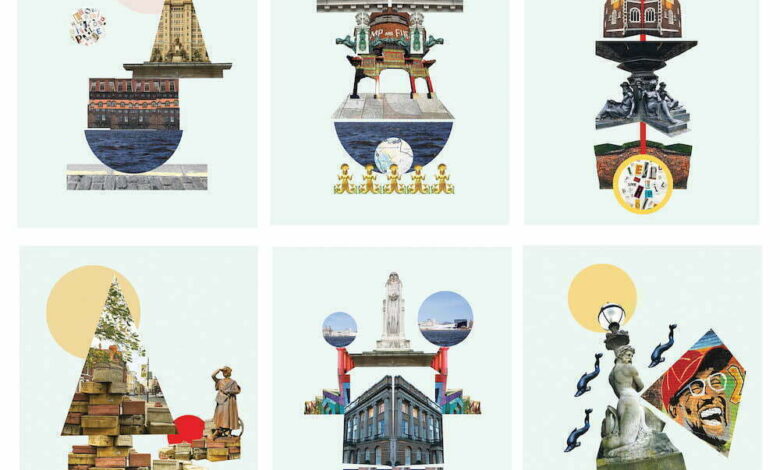 Independent art gallery dot-art have announced their annual festive exhibition, The Liverpool Collection.
This exhibition, running from 12 November 2021 – 20 January 2022, brings together portrayals and celebrations of Liverpool by 17 dot-art Member artists. Visitors will find original works and limited edition prints in an array of media from collage to watercolour to ceramics, with the common theme of portraying Liverpool in all its glory. This winter they look positively to the community and city that has pulled together during a tough 18 months, and celebrate its architecture, music, people, and art.
As an independent gallery in the heart of the city centre, supporting local North West artists, they are proud to show such a display of beautiful, colourful and dazzling references to Liverpool – a city full of art, culture and talent. At dot-art they aim to support the local art scene and collectors; this exhibition includes works to fit all budgets to ensure buying fantastic local art does not break the bank. They hope the show will create a sense of pride in Liverpool and Christmas shoppers can send prints, artworks, and mementos of Liverpool to loved ones near and far this festive season
With prices starting from just £40, this is a great time to invest in independents and collect local artists. This year they are pleased to exhibit for the first time in their Christmas exhibition, experimental ceramic and iron works by Simon Dredge. Dredge has incorporated found iron fragments from the Cast Iron Shore of Liverpool to wash and glaze the ceramic pieces. Using time, washed up materials and adventurous bisque and glazing techniques, Dredge's limited works are not to be missed at £50 each.
For those who enjoy traditional sights and street views of Liverpool, Kathy Dereli's oil paintings capture iconic buildings on a walk around Liverpool. Peering round a corner to the Anglican Cathedral or reaching the peak of Brownlow Hill to spot the Victoria Gallery & Museum filling the sky, these small and delicately hazy paintings feel like a familiar scene to many who wander the city. Prices start at just £150 for these original works.
And for quirky art lovers, they invite you to explore the cartoonish world of Mike Goodwin. These humorous and detailed pen and ink drawings will keep you looking closer, Goodwin's mesmerizing "Lennon" and dystopian Mersey scene "Stop It!" will be available as limited-edition prints. Using the background of Liverpool life to imagine his world, often incorporating text, these works will keep you coming back to the music or the joke. All limited-edition unframed prints are £50.
dot-art are certain the Liverpool Collection will have something for everyone, but if you just can't choose, then their gift vouchers are perfect – they can be used against their online shop or instore artworks. Or for the creative in your life, give the gift of experience with our art classes and courses vouchers; their Winter Course programme features photography, painting and textile practical courses to make their own unique creations and go into the new year with new skills.
The exhibition starts on Friday 12 November and runs to Saturday 20 January. Entry is free, mask wearing is encouraged and numbers are limited.
 The dot-art Gallery can be found at 14 Queen Avenue, Castle Street, Liverpool, L2 4TX (just 5 minutes' walk from Liverpool One). Opening times: Tuesday – Saturday, 10am-6pm.