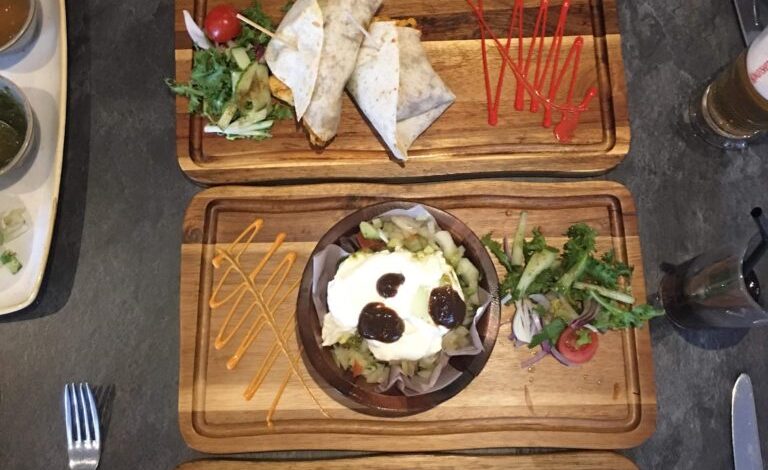 Woolton Village is fast becoming the place to be for food and drink lovers with soon to be Liverpool favourites popping up left, right and centre offering a wide range of exciting cuisine. But nestled in the heart of old Allerton road is something totally different, exciting and nothing other than a definite must visit. Previously known by locals as The Raj, a well-loved, family-run Indian restaurant has, in recent years, transformed into the vibrant, contemporary yet authentic Dostana, a wonderful hub of street food dishes, paying homage to the fresh, full and vibrant tastes of India.
Whilst still family-run and firmly adhering to the traditional flavours curry eaters know and love, Dostana has successfully put a creative spin on their carefully crafted menu, which means not only serving up traditional curry main dishes, but also street food alternatives, aiming to replicate the fantastic hustle and bustle of India's street food markets. The result? Intriguingly different and damn tasty.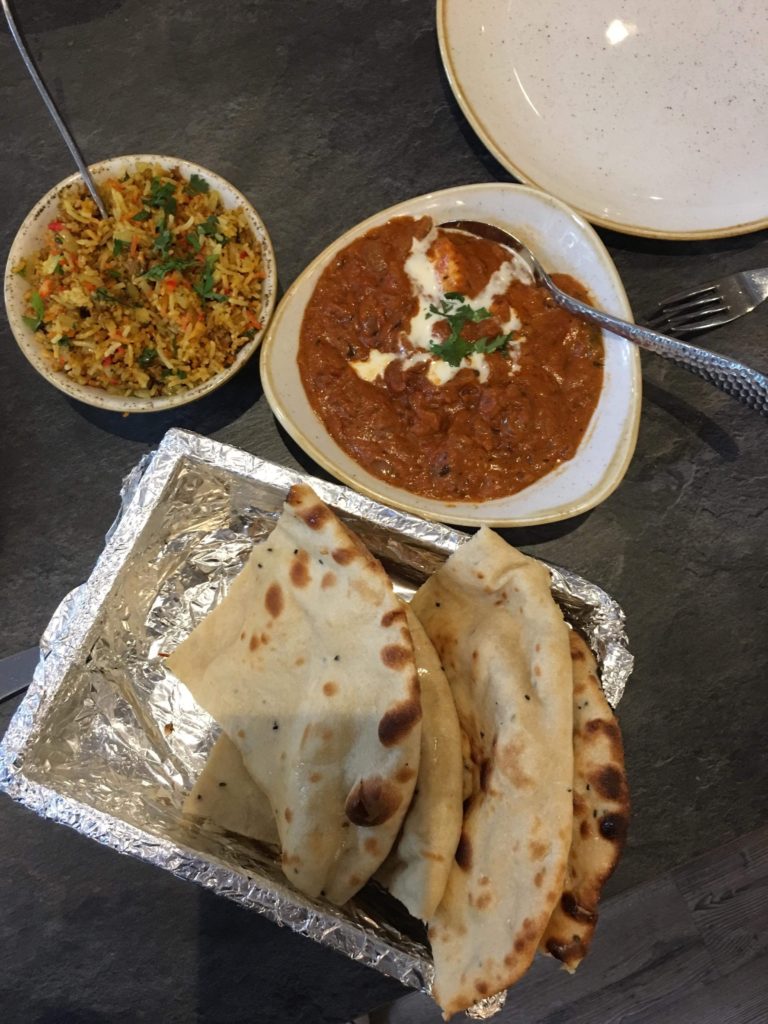 It's clear the owners of Dostana have not only put a lot of work into the menu but also into the interior, with polished wood, bare brick and even a winding staircase. They also hope to have their garden transformed very soon for eating and drinking alfresco. Walking in, we received a warm welcome from owner Mubz he pointed us to our table and took our drinks order. The small bar at one side of the venue is well stocked with everything from Beers to wash down your curry, to pink gin. As is tradition, we were brought a delicious basket of warm Poppadums' and a tray of pickles as we decided on our order.
The menu has bigger dishes which include some well-known curries, a wide range of different rice and of course, Naan breads, but then it is also inundated with interesting street food options, all of which we were keen to try. First up was the chilli cheese toast, which was probably my favourite dish. Traditional grilled dish oozing with cheese but also stuffed full of green chilli's and peppers – it was truly like nothing I'd tasted before. Another totally original was the Keema Pau – a soft brioche bun filled with tender, spicy lamb mince, packed full of totally moreish flavour. We also went for the Chicken Kathi – fiery chicken in a soft tortilla and the samosa chat, which was chopped up vegetable samosa drizzled with yoghurt and spices.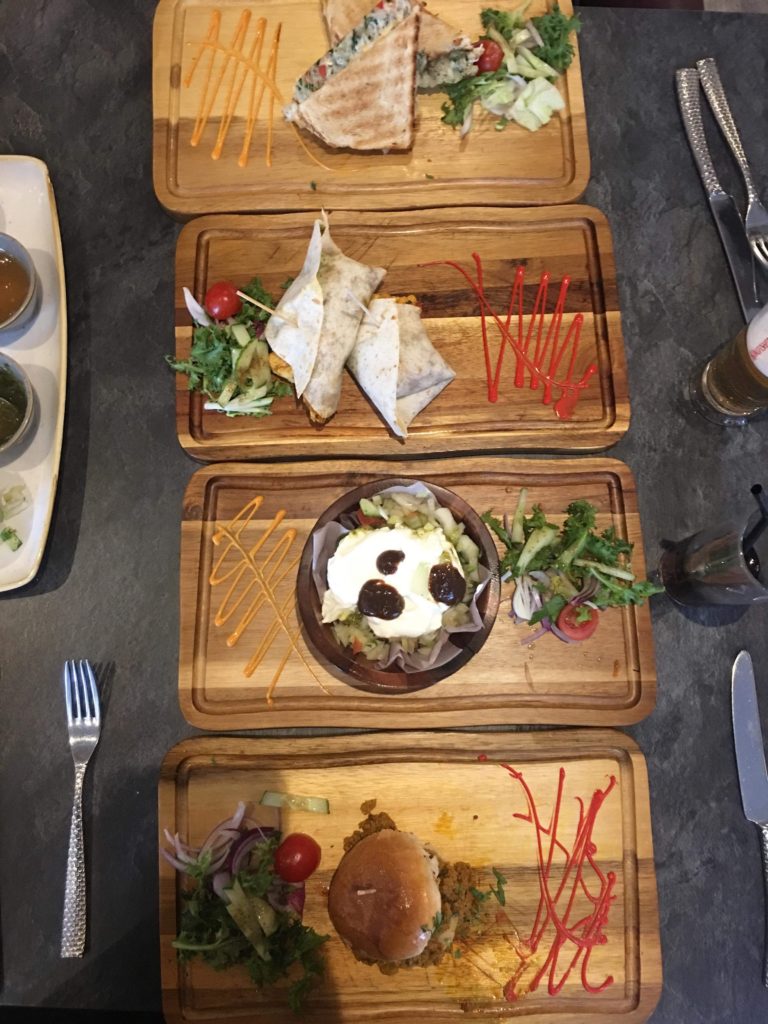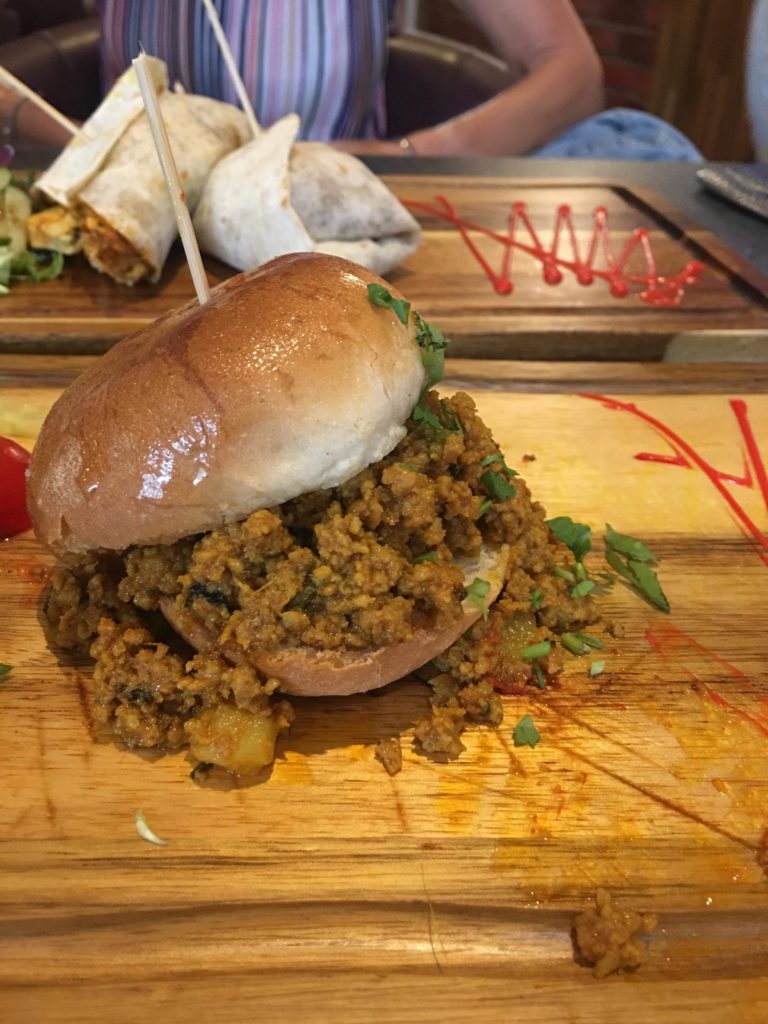 Our street food choices were proof of Dostana using original, bold Indian flavours, but adapting them to the foodie trends of 2018. And it works. Of course, we couldn't go for an Indian meal without sampling one of the fresh, homecooked curries whose smells totally filled the restaurant. We ordered the Paneer Tikka Masala and some egg Pilau rice which was, as expected, absolutely bursting with Indian tastes, huge melt-in-the-mouth chunks of Paneer absorbing the tangy, slightly sweet masala sauce. We were given two different types of bread to mop up the remaining curry, a warm, ridiculously soft Peshawar Naan as well as Malabari Paratha, a traditional Indian flatbread which is nothing but a joy when paired with curry sauce. Soft and flaky yet slightly denser than a regular Naan bread, I can't believe it was my first time trying it.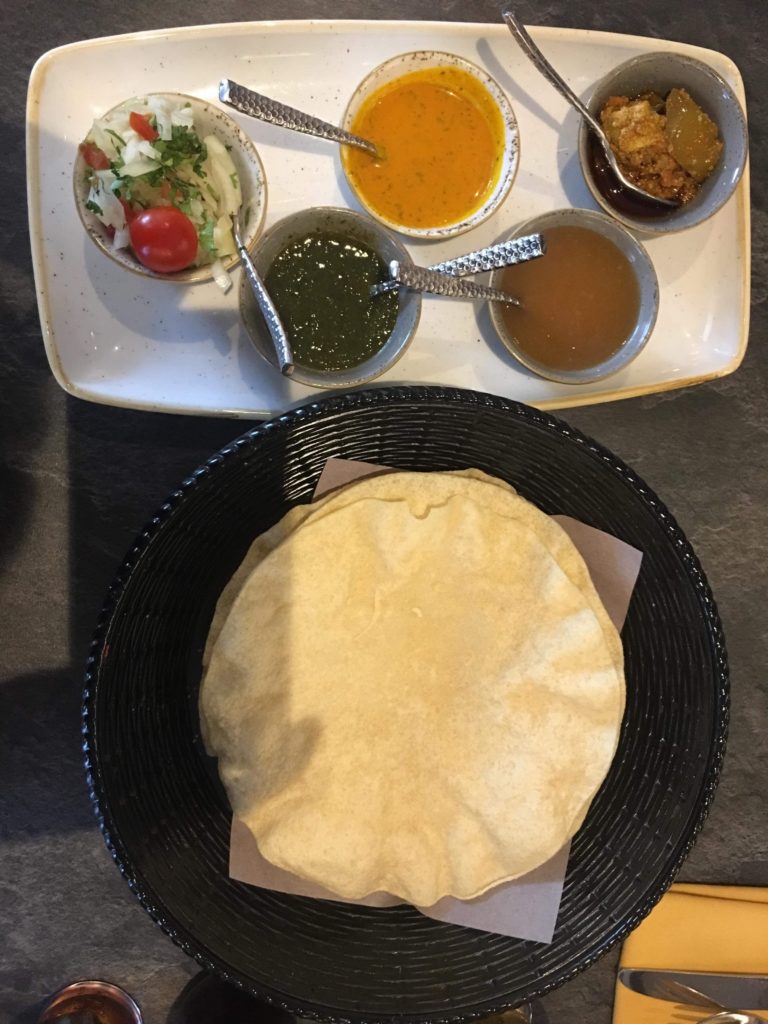 After eating like kings, we chatted more to Mubz about his plans for Dostana in the near future. As of Saturday 11th August, Dostana are showcasing an Indian breakfast on Saturday and Sunday mornings. This exciting concept will be the first time you can find spiced scrambled eggs and masala baked beans on a menu in Liverpool. Although the Indian breakfast offerings will be an absolute treat to the senses, if you prefer a good old full English or even a Vegan breakfast, you will also be able to eat these here. The breakfast offerings will be washed down with unlimited, I repeat, unlimited tea and coffee and I couldn't think of a better way to while away a weekend morning. Totally worth a try.
Thank you Dostana for showing us how imaginative, artistic and amazingly tasty cuisine is done.
Laura Nicholson