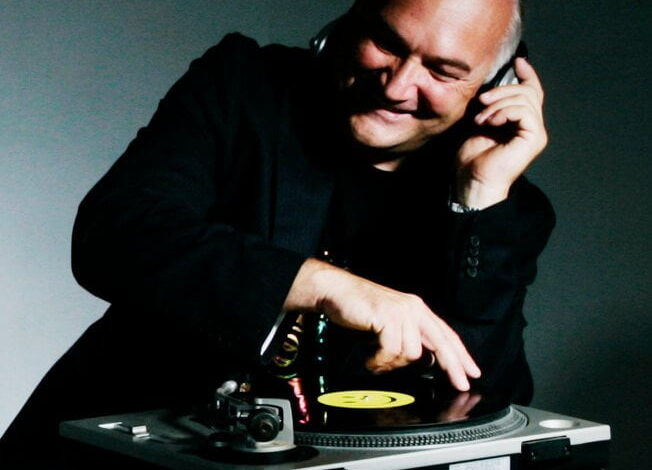 Chris Currie has been the backbone to the Merseyside music scene for ages…infact, he is our very own John Peel. His regular radio show is essential listening for those people interested in the local music scene. We caught up with Chris for a chat, and talked about 16 Tambourines, The Real People, getting your gig ticket early and some sage advice for new musicians dipping their toes into creative waters….
Liverpool Noise: Promoting Merseyside bands via your radio show is certainly a passion, probably an obsession. What is your background in the local music scene and when did you start broadcasting?

Chris Currie: I think my passion for music started when my dad gave me a homemade record player when I was around 4 years old. That was the start of my musical journey. I got invited to a lot of parties while I was at school thanks to my record collection.
When I was about 14 or 15 having tried unsuccessfully to master the guitar I bought a White Pearl Premier Drum kit and ended up playing drums for art school band Hitlerz Underpantz, that was a band that included Andy McCluskey and Paul Humphries in the line-up. After that I was in a couple of covers band but I got a very disillusioned with the politics of trying to manage four or five people in a band so decided to push forward with my passion for vinyl and became a DJ presenting successful Alternative Nights at The Chelsea Reach and The Grand in New Brighton. 
During that time I put on live bands at the venues including 16 Tambourines, Candy Opera and The Persuaders. I also did some work for Radio City with their events team doing outside broadcasts and events like the Wirral Show, I then moved over to MFM in Birkenhead to produce a weekly radio show. A very brief spell followed after that with KCR in Prescot. After KCR my dalliance in radio took a hiatus for a f ew years before I joined Wirral Radio, initially as a sound editor, but it didn't take long before I was back behind the microphone thanks to a presenter calling in sick at the last minute. 
Wirral Radio was where my passion for local bands was given the chance to blossom with a weekly three hour show and I am forever thankful for the eight years I spent there and to the many bands and musicians I have met along the way. Wirral Radio sadly is no more but my show continues on merseyradio.co.uk every Monday night from 8-11pm.
LN: How has the Merseyside music scene changed over the years?

CC: The Merseyside music scene has always re-invented itself and continues to do so. From the days of Merseybeat to the Post Punk Eric's Scene to Brit Pop and beyond. (The Real People and Rain were contenders to make it big in Brit Pop but due to label incompetence got overlooked). 
LN: Any advice for young bands / musicians starting out?
CC:
Become a musician because you love music.

Make music that gratifies your own mind and soul; if it is appreciated by others then

it's a bonus.

Never become a musician with the expectation that fame and fortune will follow.

Never stop learning your trade and practise often. 

Try and play with as many different and diverse musicians as possible. Play outside

of your comfort zone.

Always give 110% especially when playing live, regardless of the size of your

audience.

Never undersell yourself.

Never upset the sound engineer.
LN: Here is a contentious question. LIPA – a force for musicality good, or just a local economic benefit and a CV associated with a Beatle?
CC: Personally, I believe that LIPA is a good thing as it brings a lot of diverse musicians into the city and there is a lot of cross-pollination with our home grown bands. And some great artists have come out of LIPA too including The Wombats, Natalie McCool, Kalandra, and Mutant Vinyl.
LN: There have been many Liverpool labels over the years. How do see Probe Plus Records, under the stewardship of the legendary Geoff Davis, with regard to the contribution they have made?

CC: Without a doubt Geoff Davis and Probe Plus Records played a pivotal role in helping many bands get their music into the marketplace and doubtless the biggest asset for the label was Half Man Half Biscuit. Geoff was never one to be scared to dip a toe into unchartered waters and released product because he liked it not because he thought it would sell a million copies. Geoff should definitely write a book about it all. 
LN: Favourite Merseyside band / artist who achieved commercial and critical acclaim?

CC: Shack, although I don't know so much about commercial success but certainly they have achieved legendary status despite a background story that would make a great movie, what, with studio fires, lost DAT masters, re-found DAT Masters, record labels going bust and the many rock'n'roll excesses that ensued.

LN: Favourite Merseyside band / artist who you would have bet on "making it", but didn't?
CC: There are quite a few in this category.  16 Tambourines (shameless plug! they are reforming for a 25th Anniversary Performance of their album 'How Green Is Your Valley' at 81 Renshaw on Saturday 9th November!)

The Aeroplanes, The Real People, Rain, Afraid Of Mice, Dick Smith Band, Fly With Vampires. But we all know that talent doesn't always equate to success, and that bands and record labels can also sometimes be their own nemesis.
LN: How do you see the music scene in Merseyside now?

CC: There has been a lot of venue upheaval in the last few years with the closure of The Kazimier and Mello Mello, etc but as venues have closed new ones have opened and we are blessed with some great little intimate venues in the area and music is always best in a small venue. I, for one, do not like stadium gigs. So we have some great niche venues and plenty of talented and passionate musicians turning out great songs so that part is all perfect. The hard bit of the equation is finding audiences and making those advanced ticket sales. Let's face it promoters like to know they are at least going to break even. So my advice to punters is make the effort to buy an advance ticket, don't leave it till the last minute and expect to pay on the door and when you buy a ticket which says 7pm start, get there promptly and watch the other acts as you might find another band or artist you really like. Buy merchandise if the band has any – they all need to cover their running costs. 
LN: What musicians are you listening to at the moment? 
CC: Most of my listening is local band stuff so that pile of 'other music' to listen to is getting quite high. This week's musical treats are Liverpool Arts Lab – The Unconscious Collective, Professor Yaffle, Megan Dixon Hood and Una Quinn plus the retrospective double CD compilation release 'Three Decades – An Independent Collection From Audio Visual Records Covering The 80's, 90's and 00's'. And I'm looking forward to hearing the new album from The Sums…
LN: The Wild Swans or Pete Wylie?

CC: Really, as a question that's… SINFUL… PURE EVIL…I love them both for different reasons and everybody should have a little Wild Swans and Wah! in their collection!!

You can listen to the Chris Currie on Mersey Radio every Monday night 8-11pm – Listen at: merseyradio.co.uk
Listen again at: mixcloud.com/ChrisCurriepresents
Steve Kinrade