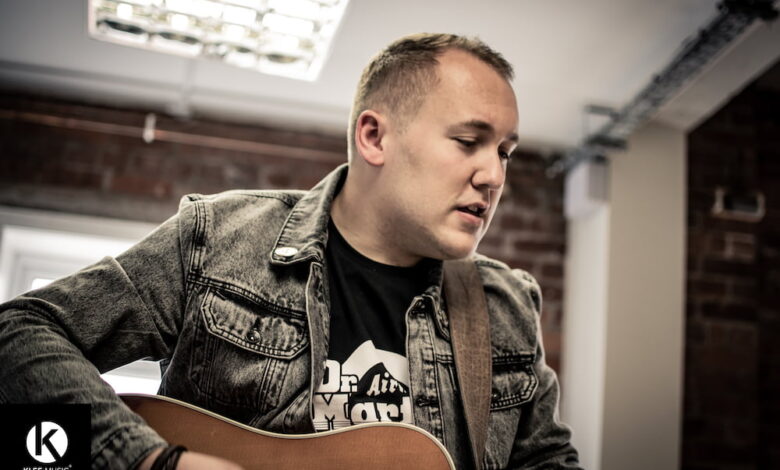 During 2021, in between Covid lockdowns, Klee Music managed to wrangle a bunch of musicians into performing a five-song set live at Liverpool's 3rd Planet Recording Studios. Under the watchful eye of rising Liverpool musician / producer Jose Ibanez, each set was filmed by Scott Mealey, the end product for each artiste being released each month during 2022. These were the Klee Music EdenHurst Sessions.
Cal Ruddy kicks off the 2022 programme, and we caught up with him to discuss his involvement in this new and fresh musical project.
Liverpool Noise: A new five track EP, recorded live at Third Planet Recording studios in Liverpool… This sounds exciting! What was it that made you want to be involved with this Klee Music project?
Cal Ruddy: The Klee Music team approached me about this project at the end of 2020. I liked the concept of releasing a live and acoustic record. The thought of stripping my own songs back to a very minimalistic acoustic arrangement really intrigued me. The challenge of interpreting another artists song in my own style also greatly appealed to me.
LN: The format of the live session sounds daunting…was it?
CR: I pride myself on my live performance abilities so rather than being daunted by the prospect it really excited me. I treated the session as if I was onstage at a show. This helped me to get into the zone and deliver some really emotive performances. Jose Ibanez was great behind the desk, he's a talented guy and really nice to work with so we got into a really good creative stride. Scott Mealey was also great to work with. He filmed the whole session and it looks mega. Having the cameras in the live room really helped me record some solid vocal and guitar performances. The control room audience AKA Steve and Sean from Klee Music also helped me to get the best out of the day. Big thank you lads!
LN: What influenced the choice of songs that you performed?
CR: Two of the songs on this EP : Been Here Before and Mine Is were originally tracks on my debut album : Elliston Place. I wrote these songs in Nashville, USA during writing sessions for that album back in September 2017. Both of these songs are great to play live so it was fun to strip them back to an acoustic arrangement for this project.
Been Here Before was co-written with the late, great Blue Miller a legendary Nashville songwriter, producer and musician. Mine Is was a collaboration with Allen McKendree Palmer and Corey Lee Barker from Palmer Global Ink ( A Nashville based collective of songwriters and producers) Buying Time featured on Elliston Place but I felt like it really suited the vibe of the Edenhurst Sessions so I chose to record a new acoustic version. This song is very personal to me.
Breaking Your Little Heart from my 2016 debut EP, Communication, is a live favourite and has been in my setlist since it was written. I'm glad I chose to include it in the track-list for this EP.
LN: As part of the session, you have to perform a song from the KMPUK catalogue. You chose Visions of Albion's You're Not Alone, and completely did this fantastic song justice. What was it that attracted you to learn and perform this song live?
CR: As part of the initial briefing for The Edenhurst Sessions I was sent a playlist of tracks selected from the Klee Music catalogue of previous releases. I am a big fan of Visions of Albion so it was a natural choice to have a go at interpreting You're Not Alone. It was a lot of fun to work on and I hope I've done the song justice with my version of it. In contrast to the rest of the EP, I fingerpick this song instead of strumming the chords as with the other tracks. I think this will allow listeners to hear another side of my sound.
LN: We have just started 2022…What's your plans for the rest of the year?
CR: I'm currently working on new music so keep an eye on my social media for updates on that as we progress through the year. Ultimately, I just want to keep on growing and developing as a Singer/Songwriter and a performing artist. I'm looking forward to playing live as much as I can across the UK in 2022. I'd like to say a big thank you to the team at Klee Music for all the support with this new project. 2022 is going to be a great year!
Cal Ruddy's EdenHurst Session is available via the Klee Music website www.kmpuk.co.uk on Friday 28 January 2022. Subsequent releases will be released on the last Friday of each month throughout 2022.
Steve Kinrade