Whilst it's great that our foodie scene is evolving constantly, with innovative menus, exotic ingredients and food rarely served on an actual plate, sometimes we can forget about the traditional menus that we as a nation once knew and loved. It seems that the modern yet traditional Bay Horse Tavern, in Manchester, may have just found a solution if you, like me, have found yourself torn between a dish so inventive it's topped with a flavoured foam and a good ole plate of fish, chips and Tartare sauce.
Whilst their menu is based on everyone's favourite pub grub flavours (think giant scotch eggs and Yorkshire puds) they adhere to the popular small plate trend, which not only means you can try a little bit of everything on the menu, the meal itself becomes a lot more sociable, with diners sharing out what they have ordered for others to try.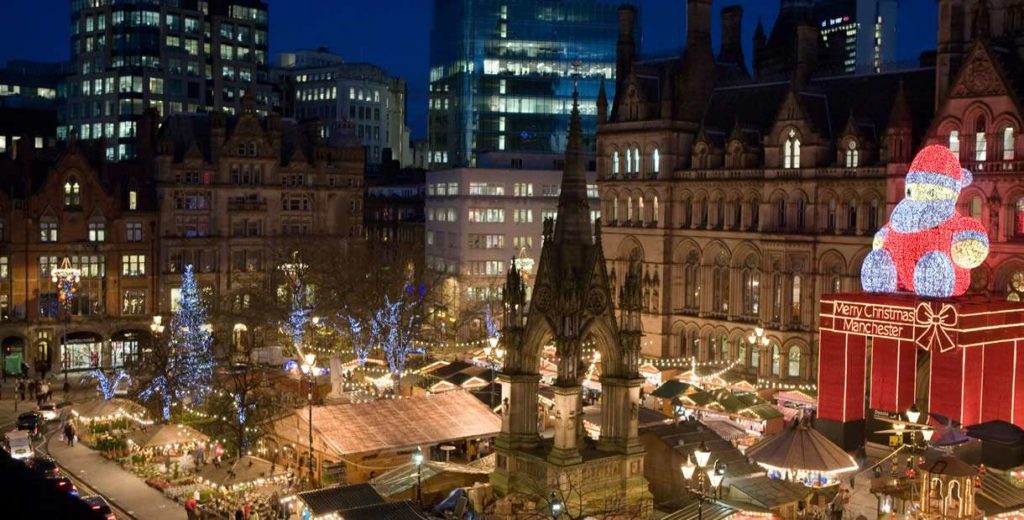 When it comes to Christmas time, Manchester absolutely owns it every year with their epic Christmas market display full of Christmas decorations, knitwear, gadgets you don't really need (but must have) alcohol and of course, food. After a day of trudging around in the cold (I genuinely had to check my toes were still functioning) and probably overdoing the mulled wine, a tummy-warming, hearty meal is exactly what the doctor ordered.
We headed to the Bay Horse just as it was getting dark and almost missed it due to its understated outer appearance. A dimly lit building with no obvious sign or name above the door, The Bay Horse is intriguing from the get go and when you step inside the bustling pub-like atmosphere is unmistakeable. From the friendly welcome at the door, the heating on and the smell of cooking, it was more like stepping into a friend's home than a restaurant and I couldn't wait to taste what was on offer.
Despite copious mugs of hot mulled wine, we ordered from the Bay Horses's 'Fancy Drinks' section on their wine list  – it is Christmas after all – and went for the Gimlet cocktail which was Portobello road gin, rosemary & grapefruit cordial with Angostura orange bitters. Small but mighty, the delicious gin packed a punch and just a few sips later we'd completely forgotten just how cold we'd been outside.  Other cocktails included an old fashioned, an Irish coffee and everyone's salty hangover favourite – The Bloody Mary.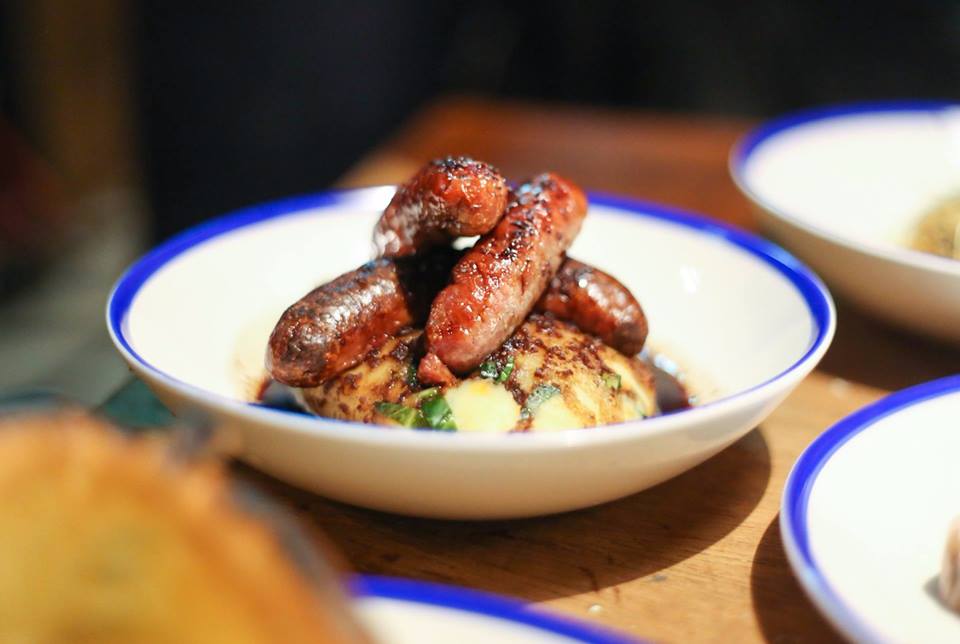 The menu is fairly simple but centres around the beauty of good, honest food – exactly what you want from a pub. The small plates were priced at around £6 each and we were advised to choose between two and three each, along with a couple sides. We ordered a range of dishes which included the fish and chips plate, the bubble and squeak with sausages, the homemade scotch egg and the cheese and onion pasty. We also included a side of cauliflower cheese and a side of broccoli with almonds. Their unbelievable thrice cooked chips are also available as a side as well cream of spinach and everyone's favourite – mash potato.
As is usually the way with small plates, everything arrived as it when it was ready. First out was the cheese and onion pasty – no frills, just delicious buttery pastry, a velvety filling and a side of rich cheese sauce. This was swiftly followed by gravy soaked bubble and squeak topped with mini sausages, creamy mushrooms on toast and their fish n chips plate. A proper British classic, the fish was lightly battered and after being cooked thrice, the chips had a crispy bite with a perfect fluffy centre (the exact type you can't help but eat a lot more of than you should).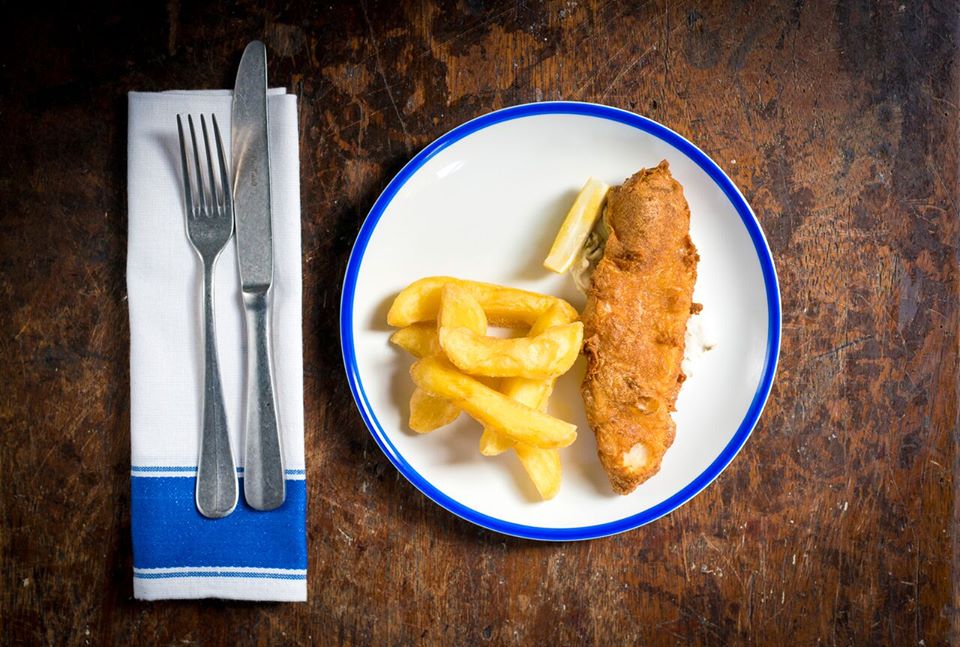 It's safe to say that we devoured and thoroughly enjoyed all of the small plates but, in my opinion, the homemade scotch egg was a clear winner. Served in an egg cup, the seamlessly boiled egg was encased in juicy pork meat and covered in a thin layer of crispy breadcrumbs this plate was the epitome of delicious British pub food – only downside being that it ended (I could have eaten at least four). Having dessert was a no brainer, and sticking to the theme of the main menu, the desserts were a small list of delicious classic puddings; sticky toffee pudding, berry crumble and an apple tart. We chose to share the crumble – tart, sour berries with a crispy, sugary crumble topping, served in a skillet and drowned in steaming hot vanilla custard. Need I say more?
Modern versions of traditional British ale houses are popping up on Britain's quirkiest food scenes, with micro pubs serving bizarrely flavoured craft ale left right and centre. However, The Bay Horse takes it that one step further, with a menu that uses traditional British ingredients to produce proper honest food of the highest quality. Whilst the old Bay Horse that was known and loved by many a Mancunian has had a makeover, it hasn't been totally reinvented. It still manages to capture the beauty of an age old English pub, but brings elements of 2017's trends with it. And it works. A total must visit this Christmas!
Laura Nicholson