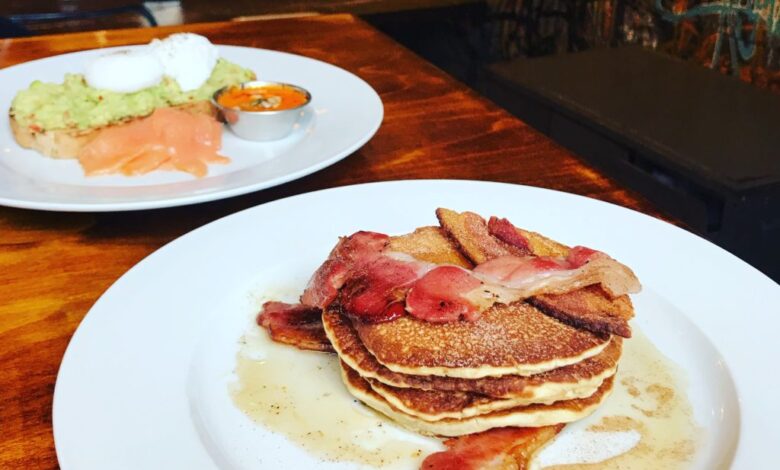 Bold Street Coffee branch out with Castle Street Coffee venue at Maluco….
It's safe to assume that any self-respecting coffee lover in this city of ours will have already made themselves familiar with the caffeinated/brunch delights of Bold Street Coffee over the past 8 years.. So it was a pretty heavy blow to the throngs of loyal fans when one of our favourite spots was unexpectedly forced out of their homestead at 89 Bold Street, due to unforeseen landlord issues last year.
Enter Santa Maluco! Thankfully, the guys at Graffiti Spirits welcomed the Bold Street Coffee team with open arms to their Castle Street venue, with a collaborative plan to make Maluco their new temporary home. Thousands of flat whites and countless plates of smashed avo on toast later, it seemed the guys from BSC had left their unfading mark on the venue, and after a while it became impossible to fathom the idea of them ever leaving…
Then the amazing happened. Not only did Bold Street Coffee reopen their original revamped spot, thanks to a hugely successful Kickstarter campaign (#Backin89) – they also hatched a plan to open a permanent sister venue within Santa Maluco. And thus, Castle Street Coffee was born! *Hallelujah*. Same great brunch and coffee – on both sides of town. We were lucky enough to sample their brunch menu last weekend, and it certainly didn't disappoint.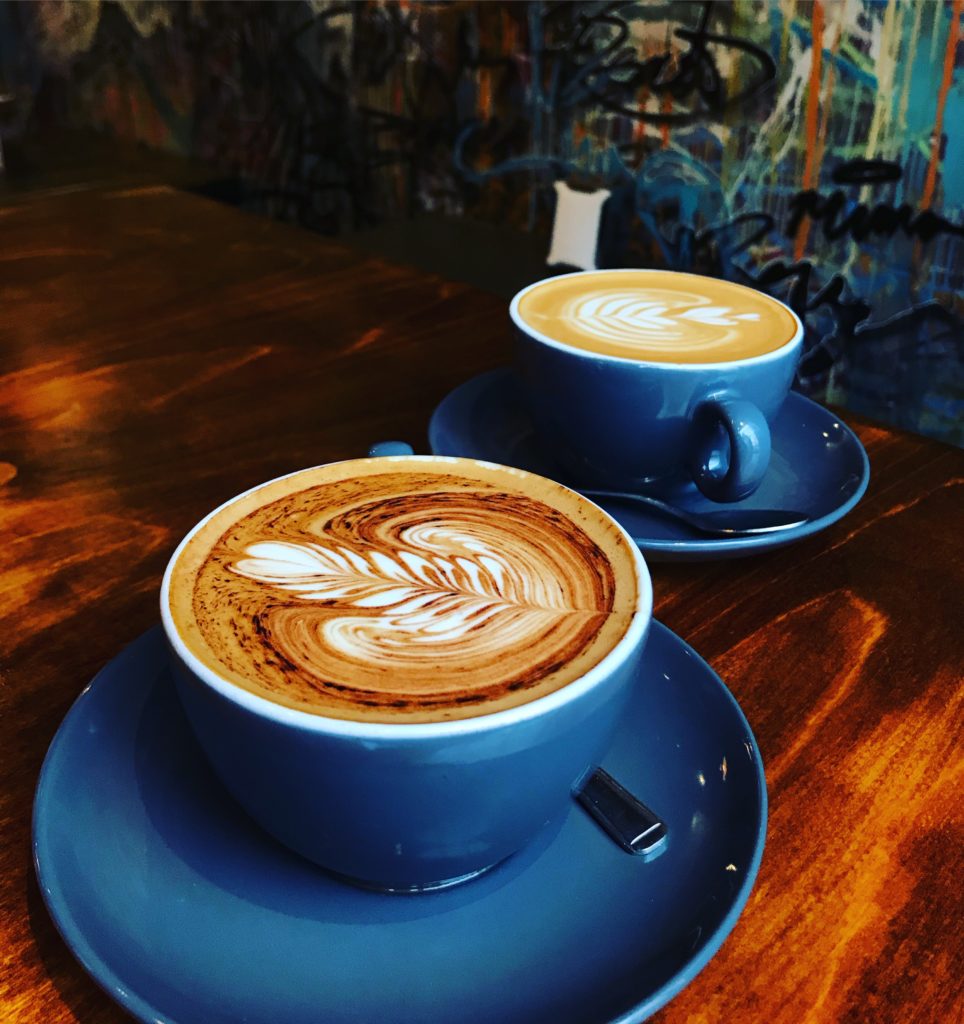 Having spent more Saturday nights than we'd care to admit propping up the bar at Santa's and ordering too many Bella Donna cocktails – we were completely curious as to how the venue would feel playing host to a much more civilised occasion: the early (and sober) Sunday brunch. We soon realised that we felt every bit as at home curled up in those same snug bay window seats at breakfast time, as we did in the small hours. Same lovely staff, same great tunes – big change of menu. Forget pizza for a minute, Castle Street Coffee is all about brilliant brunching and unbeatable coffee – both of which they certainly have down to a fine art.
First stop on our Sunday 10am order was a latte and a mocha to kick-start the day. As the name gives away, these guys know their coffee. Just like on Bold Street, it really is perfect. Suitibley caffeinated, we went straight in with our food order. One plate of smashed avocado and chilli, with poached eggs and salmon (£8.45) and a stack of American pancakes with streaky bacon, cinnamon sugar and maple syrup (£6.25) – can you tell that one of us isn't on health kick!?!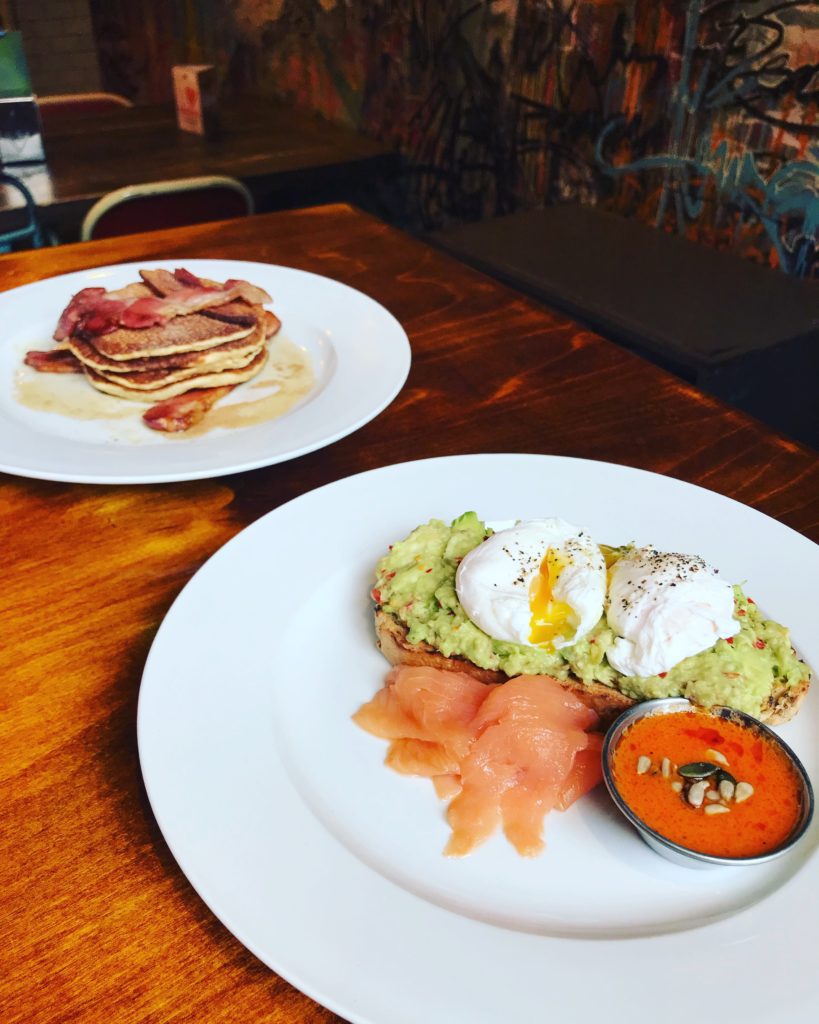 Every forkful hit the spot. The pancake stack: perfectly fluffy, with just the right amount of wonderful stickiness, and the bacon nice and thick. No half measures here. The cinnamon dusting was a lovely touch too, and that's coming from a none cinnamon fan… The avocado, salmon and eggs came on a crunchy, thick slice of toasted bloomer and accompanied by a tasty Tabasco like dip to offer up an extra kick. We also appreciated the spring onion infused smashed avo, a little detail that came as a tasty surprise. Poached eggs were spot on, with the all-important gooey yolk totally on point – making this dish tasty enough to escape total food envy, as my dining companion demolished a stack of sugary pancakes in front of me…
All in all a total brunch success! Having studied the menu with hungry meticulousness, we've already picked our next dishes on our return. Plates full of sausage and bacon sandwiches (or 'buoys' as they're affectionately known here) moved past us onto other tables, as well as some pretty amazing looking baked egg dishes, which fellow dinners were certainly enjoying. As well as its food, the all-round vibe and laid back feel of Castle Street Coffee makes it the perfect place to enjoy a lazy weekend brunch – either with mates or alone doing a bit of work. The staff are ace, and you can even bring your pooch along for the occasion – does it get any better?!
Castle Street Coffee are serving up a storm right now between the hours of 7:30am-3:30pm Monday to Friday, 8:30am – 3:30pm on a Saturday, and 9am-3:30pm on Sundays. You can have a gander at their full menu here. Get yourselves down there.
Jemma Owens