What does a Scouser love more than Cilla Black and curly blows? Salt 'n' pepper food, that's what. Or so I'm told anyway. I mean, me and mine love a salt 'n' pepper scran as much as the next northerner but I didn't realise it was synonymously Scouse until now. You learn something new everyday I suppose and it's thanks to the brand new menu at Almost Famous Liverpool that I'm now much better acquainted with the culinary preferences of my motherland.
Before I start gushing about the new menu which launched last week, I feel like I need to clear a couple of things up first. I'm concerned that I might have lost your attention as panic takes over you, terrified that your old faithful Triple Nom burger and Winning Fries are no more so let me set some things straight before I continue… Most (if not all) of the classic Almost Famous favourites are still in tact and yes that includes the River Phoenix double cheeseburger and those mouthwatering Mac Balls, and of course the illustrious Bitch Juice cocktail is going nowhere. So calm down, calm down – your faves are still available, there are just a few newcomers on the menu and I've got a hunch you're gonna really like 'em.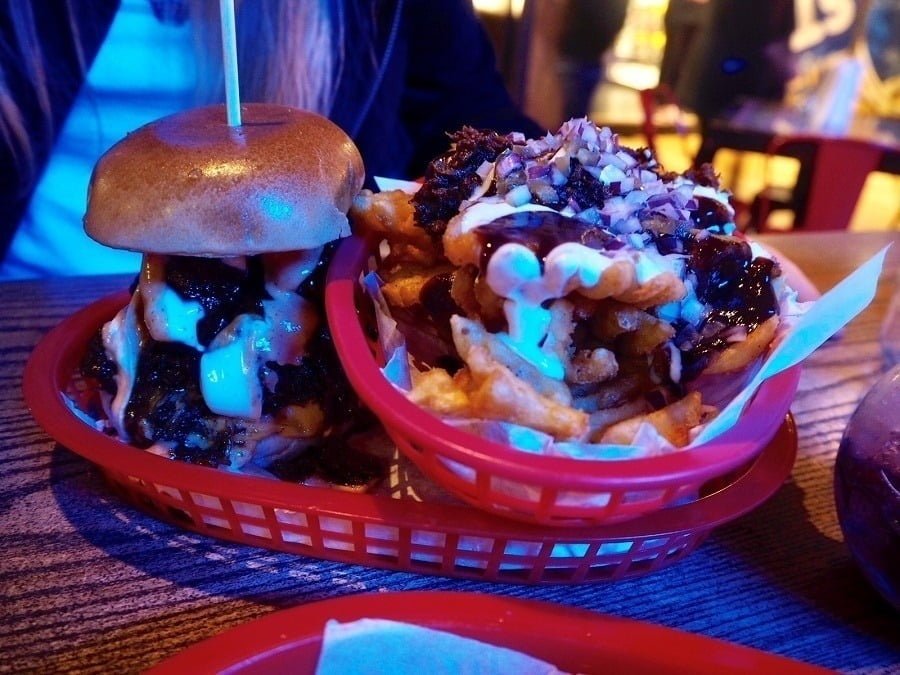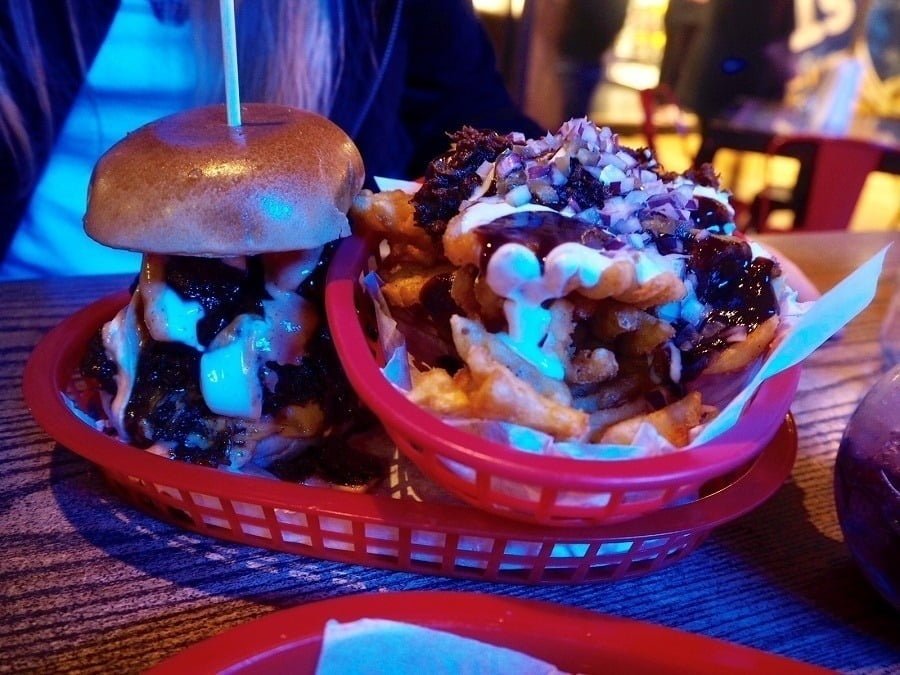 The latest additions that the whole entire city seems most excited about is the This Is Liverpool burger and the Boss Chips – both of which are aptly named as they will be exclusive only to the Parr Street restaurant. Soz, Manchester. The This Is Liverpool burger is an impressive tower of double cheeseburger, salt 'n' pepper chicken, salt 'n' pepper chips (see!), chip shop curry sauce, onions, peppers, chillies, iceberg and peppered mayo. Try saying that without taking a breath – jeez. The regional patty is essentially your Saturday night takeaway slapped on top of two tasty burgers and wedged between two toasty brioche buns. Dreamy.
It's potato-based counterpart – the Boss Chips – is a generous portion of salt 'n' pepper chips, onions, peppers, chillies, chip shop curry and chipotle mayo all served up in a diner-style basket. The burger comes in at £11 and a side order of Boss Chips will set you back £4.50 so it does cost more than your local chippy but with the uber cool venue and legendary cocktail bar considered, I reckon you're getting plenty of bang for your buck.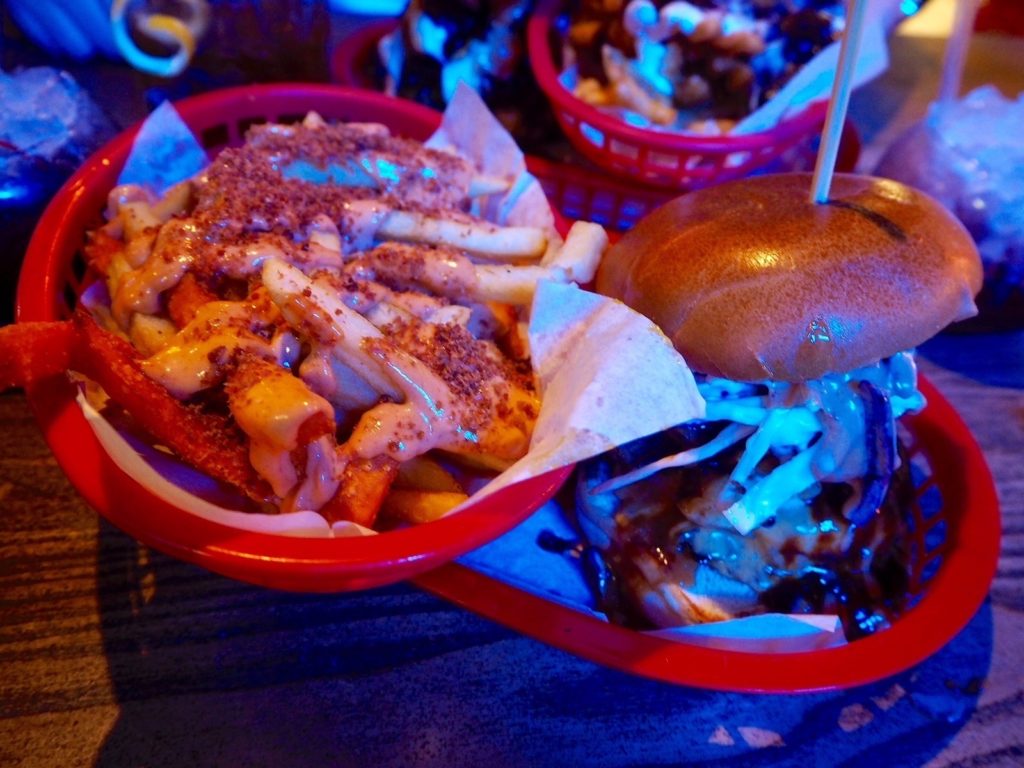 In terms of verdict on the new recipe, there are no spoilers here. I'll leave you to run on down to the city's most bad ass burger joint to sample the salt 'n' pepper goods for yourself but in the meantime, here's a little rundown on what we did devour. I went for the Awesome HQ – a whopping deck of double cheeseburger, buttermilk fried chicken, halloumi, slaw, peri peri BBQ and bacon bacon mayo. What a combination and yes, it tasted every bit as good as it sounds. My taste-bud went for the Chicken N Coke burger which again, embellished a double cheeseburger/brioche bun combo with BBQ pulled pork, buttermilk fried chicken cola BBQ, peppered mayo and bacon bacon mayo. Being the greedy little gremlin I am, I did manage to sink my teeth into that one too and can vouch for how bloody delicious it was.
As if that wasn't enough, we also ordered a side of Bacon Bacon Fries (skin-on fries, sweet potato fries, bacon bacon mayo and 'bacon rain) and some Pig & Waffle Fries (waffle fries, pulled pork, jalapeno, onion, redneck BBQ and bleu cheese sauce. Obviously these were divine but I would recommend sharing a side between you unless you're Bruce Bogtrotter or feeling particularly hungry. We washed ours down with a Cherry Bomb cocktail and a couple of Lock Stocks, both of which were perfectly mixed and presented as any great cocktail should be.
For any veggies, vegans or flexitarians who have managed to get this far through this meat feast of an article – props to you and apologies for my salivation over bacon in quite literally every form. Don't despair yet either because the Almost Famous Liverpool menu isn't exclusive only to so-called meat sluts – there is also a pretty mean Altered Reality menu on offer. This list includes dishes that are sans burger and totally appropriate for non-meat-eaters. Highlights include the Phok-Meat – deep fried halloumi, teriyaki sauce, iceberg, red onion, jalapeño, smashed avo and two kinds of mayo. Something I might actually be very tempted by on my next visit to Almost Famous which I'm currently trying to cram in at the very next available opportunity.