For a while now, the amazing, historic Old Blind School building has been closed for refurbishment after the gastro-pub style eatery shut down and finally, this week, something amazing is opening in its place. The Florist was first launched in Bristol and in a quest to further charm the senses of its customers, it has now come to Liverpool to allow us Scousers to appreciate the beautiful interiors, amazing food and slightly too easy to drink cocktails (complete with edible flowers). The Florist officially opens this week but at the weekend we were lucky enough to be invited down to the launch events to see exactly what we can expect from Liverpool's newest social hangout….and boy were we impressed.
There is no mistaking the time and effort into making the Florist what it is, the minute you step through their doors. The Florist explains the thought behind its name by claiming follow the fundamental principles of Floristry and charm each and every one of the senses – I can definitely vouch for their success. Ask anyone who visited over the weekend to describe what they saw and they will say flowers. Flowers. Everywhere.
But by some inexplicable miracle it wasn't overkill (unless you're a hayfever sufferer maybe) and instead it worked so beautifully that you were actually a little speechless. From blossom trees draped in fairy lights to flower walls, hanging baskets, floral covered chairs and pastel pink window frames there was absolutely no denying that the Florist was totally mesmerising and to make our entrance even better, we were handed an ice cold coconut and poppy mojito from their expertly created, floral inspired cocktail menu. Delicious.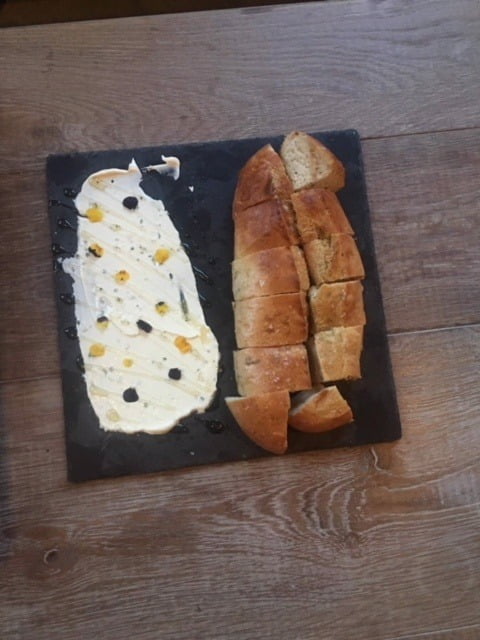 After a quick tour of the downstairs bar area, the private rooms available to hire for events and the upstairs restaurant (and separate bar for diners) we were shown the activities that were to take place during the evening (recipe workshops, mixology classes and even floristry itself) and then pretty much left to our own devices. First things first was to grab another cocktail from the bar and sit on the terrace to make the most of the warm night. Second on the cocktail agenda was the Rhubarb in Bloom.
Served in a balloon style glass with ribbons of rhubarb, the drink was a concoction of rhubarb gin, rhubarb and ginger liqueur, apple liqueuer, raspberry syrup, ginger ale and was my favourite cocktail of the night. If you're big into sweet and sour flavours this will definitely be a winner – the only catch being it is literally so easy to drink, which when you have a floristry workshop coming up, isn't always a wise idea.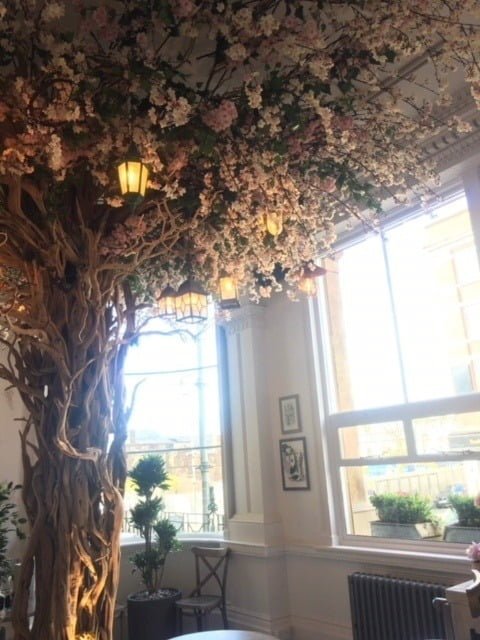 First up on the events list was the recipe workshop, which, being a food blogger and having already checked out their Bristol menu, I was probably most excited for. One of the chefs talked us through how some of their most popular dishes were made, including the absolutely to die for whipped goats cheese butter, drizzled with lavender infused honey, topped with edible flowers and accompanied with huge, warm chunks of the softest, crispiest sunflower loaf.
Other nibbles included salty mussel popcorn, harissa and sweet potato fries, olives, edamame beans and deliciously sweet crispy kale. Not only were we surrounded by the most Instagrammable interiors in Liverpool, it seemed we had also entered foodie heaven as well. The night continued with a DJ and Saxophonist, a mixology class of some of Liverpool's best gin combinations and even a floristry course by the fabulous Joseph Massie Florists. Each guest was asked to put together an arrangement of vibrant, spring time flowers in a glass jar accompanied with bow and name tag. It was like a nursery craft class, but for adults. And with booze. I ended a night with a full belly, a goodie bag of yet more gin and enough flowers to start my own allotment. I couldn't wait for day two.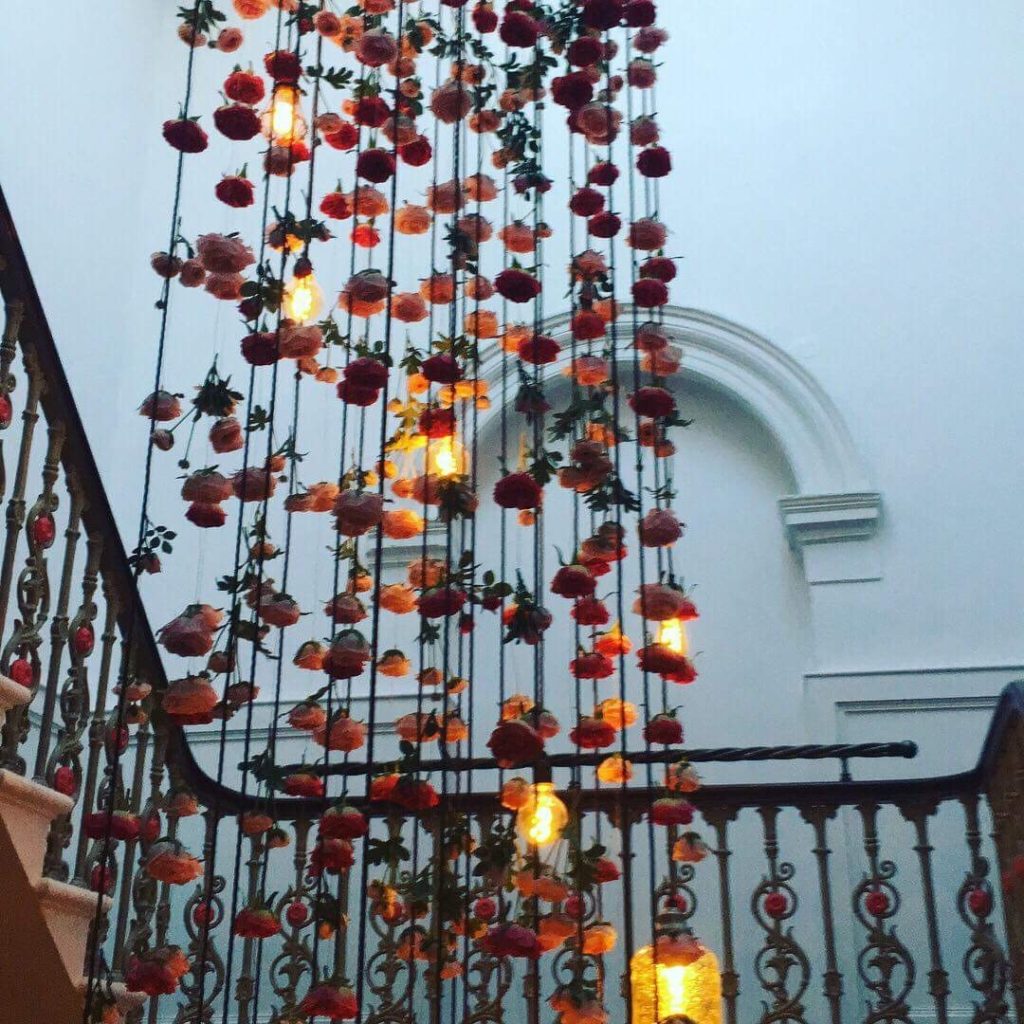 Not going to lie, things were a little hazy on Sunday morning (Rhubarb in Bloom I'm lookin' at you) but once we got going we couldn't wait for want round two's festivities had to offer. Described on the invite as a 'roast dinner with all the trimmings', it was hard to wait until 2.15pm to dig in.
Arriving again at the venue (still as breath-taking the second time around), we were given a chance to put together a much needed Bloody Mary, led upstairs to the stunning dining area and shown the roast dinner menu. We were able to choose from five different options including roast chicken, beef and horseradish cream, lamb with a homemade mint sauce, pork with sticky Bramley apple or a delicious sounding nut roast including mushrooms, lentils and stilton. I chose my all- time favourite (roast beef and horseradish) and accompanied it with all four side options; courgette, sage and apricot stuffing, Lancashire cauliflower cheese, creamy kale and leeks flavoured with garlic and a chunky carrot and parsnip mash.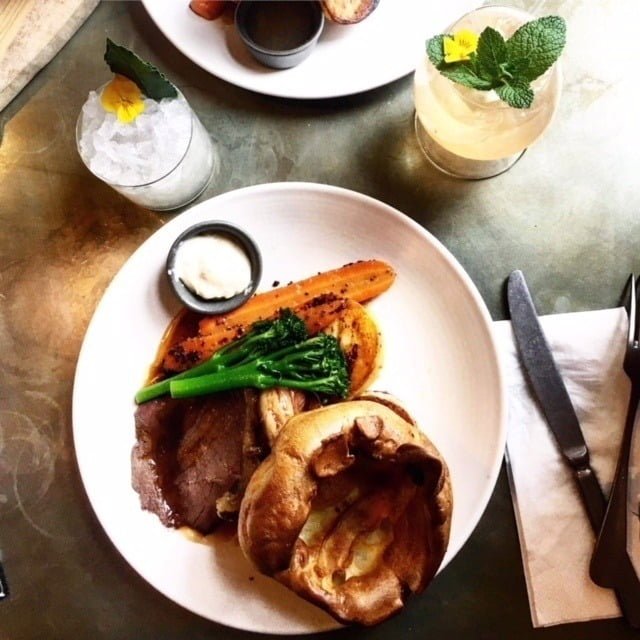 A feast fit for a hangover. The portion size was everything a roast dinner should be, hearty and even included a crispy, homemade giant Yorkshire pudding that sat on top of gravy covered meat, fluffy roast potatoes and sweet, crunchy veg. Throw in the cauliflower cheese and fruity stuffing balls and I was in my absolute element – the whole thing was demolished in five minutes and swiftly followed by toffee apple, pear and almond crumble, drenched in steaming hot, creamy vanilla custard. Sunday absolutely smashed.
After an unbelievable launch event and the potential for an absolute Instagram money shot, we predict HUGE things for The Florist in spring/summer 2018. Whether you plan to work your way through the cocktail menu, sit down for an evening feast with friends or need somewhere new for date night, don't hesitate to head to The Florist and #letitbloom.
For more information visit The Florist Facebook page here or follow them on Twitter here. 
Laura Nicholson