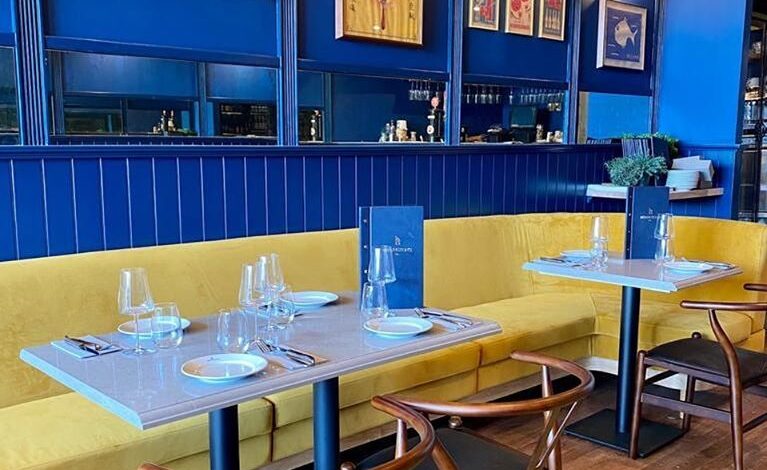 Berrington's – a bistro hangout specialising in wood fired cooking, off Penny Lane will reopen and formally launch on Saturday 4 July at 9.30am for brunch.
Friday 20 March marked the launch of Berrington's the former Neon Jamon, off Smithdown Road. It was short-lived, as lockdown happened shortly after and just a few nights of wood fired dining teased the residents of Allerton. 
The rich interior palette of navy blue and mustard complements the brunch menu which includes Cornish Crab Benedict (£10) or Steak & Eggs (£17) accompanied by a glass of Laurent Perrier la cuvee Champagne (£10). Starting the weekend right with the girls or family get together. 
Dinner is served at a reduced capacity of 44 covers over 2 floors, in line with Government guidelines of 1m+ and a rigorous cleaning regime keeping both guests and staff safe. 
Berrington's signature cooking concept incorporates using a dry oak wood, allowing the chefs to grill ingredients at an optimum temperature to create dishes brimming with flavour and just a hint of smokiness. The menu will offer the finest fresh fish, succulent grilled meats, and charred vegetable sides, along with an extensive menu of fine wines and creative cocktails. Vegetarian and vegan diners can enjoy a range of dishes, including blood orange Burrata, smoked salt baked celeriac, and even the vegan-friendly Seitan steak. 
Founder, Dom Levi, commented, "Berrington's is a bistro for the community with an incredible menu and cooking style. Closing due to Covid-19 was devastating, after opening for just one week. We go again! We can't wait to welcome Smithdown Road residents to our new restaurant. We know you'll love it." 
Brunch is served daily from 9.30am – 2pm and the evening menu runs 5-9.30pm, Tuesday – Sunday. 
View the menu and book a table via 12berringtons.com