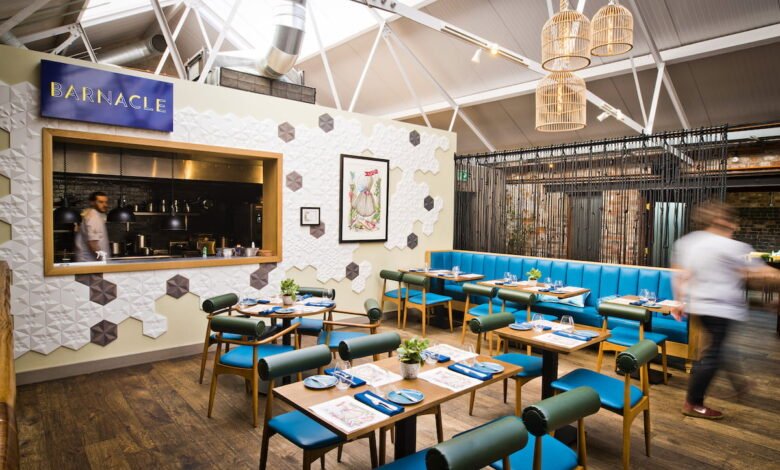 As December 2022 opens into the last few weeks toward Christmas, it will mark Barnacle's remarkable first year in Liverpool.
The intimate Scouse brasserie has already established itself in a unique gastronomic sweet-spot – casual fine-dining whose ethos is embedded in sustainability, provenance and seasonality. Nestled in the mezzanine of Duke Street Market, Barnacle has already been garlanded with inclusion into the Michelin Guide.
This Christmas, their brand-new two and three course festive menus are complimented by special Christmas Eve and New Year's dining experiences. Saturday 24 December includes a lunch and evening service and Saturday December 31 is a 6-course menu with two evening services. In addition to the food, Barnacle offers a range of classic cocktails and their wine list caters from affordable delights to celebratory vintages. Adjacent to the restaurant is a second space available for private hire – for businesses, family and festive get togethers during the winter period.
The quartet of chefs who founded Barnacle – The Art School's Paul Askew, Bone and Block's Harry Marquart and local kitchen stars Kieran Gill and Jake Lewis – tell the story of Liverpool's culinary odyssey, from its seafaring port days and the global ingredients which came to the city on great ships, to the cuisines and inspirations which have made the city the gastronomic destination it is now. Next to the bar on one wall is the beautifully rendered map of the region's independent suppliers, created by The Nest's Katherine Caldwell, which lovingly details what grows around the city in a 35-mile radius.
Paul Askew explains: "We all considered how our collective principles and ethos would form the foundations of Barnacle. Our aim from day one has been to embody the gastronomic soul of Liverpool, charting its historic maritime origins right to the present-day. We continue to do this with our new manager, Declan McGuiness, who has recently joined to help lead us forward. Declan came to The Art School as an apprentice when he was just 17 and it's a privilege to see his career develop and for us to work together again at Barnacle.
"As the summer now starts to fade, we're gearing up for autumn and our first full Christmas season. This is going to be wonderful. Liverpool is a beautiful city at any time of the year and it really comes to life during the later months; bronzed leaves scattered across the parks, the nights drawing closer and the festivities really begin. Christmas is such an important season for everyone in the city, and our brand-new menu will feature our signature Barnacle flourishes and attention to detail. We can't welcome everyone for our first full Christmas season in Duke Street Market."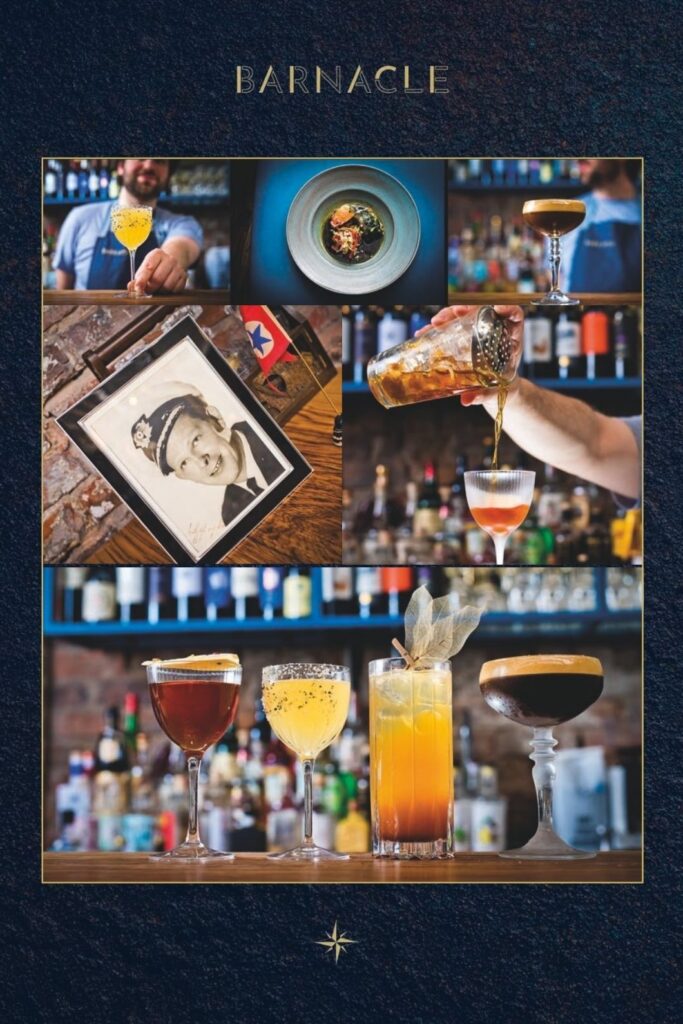 Barnacle Christmas Two & Three Course Menus
Chef's Snacks
– Gordal olives £3.50
– Oyster, buttermilk £3.50
– 'Chips and cheese' artichokes, roasted garlic, Connage gouda £5.00
Amuse Bouche Starter
– Venison, sloe, endive, preserved lemon
– Old Spot Pork, pear, parsnip, butcher's wife's black pudding
– New Liverpool chowder, smoked haddock, cockles, dill, kohlrabi, oyster leaf Carrots, 92 Degrees Coffee, goat's curd, hazelnut (V)
Main Course
– Rhug Estate organic turkey, Southport smoked pork, cranberry, savoy, chestnut Cumbrian ox cheek, mash, Growing Fields' roscoff onion, cavolo nero
– Spiced Peterhead hake, salsify, Jerusalem artichokes, Growing Fields' rainbow chard, dashi Celeriac, Ormskirk leeks, Connage gouda, Smithy's Mushrooms (V)
Dessert
– 78% Guanaja, Cherry, Kirsch
– 'Xmas Down Under' Pavlova, winter berries, Morton's Double Cream Treacle tart, creme fraiche
– Celtic cheese board of 5 cheeses (+£13.50)
Petit Fours
– Yuzu miso fudge (+£2.50)
Christmas bookings are now open from Tuesday 29 November to Friday 30 December, in addition to the Christmas Eve and New Year's Eve specials. Barnacle is closed Christmas Day and Boxing Day. Book here: https://barnacleliverpool.co.uk/#xmas