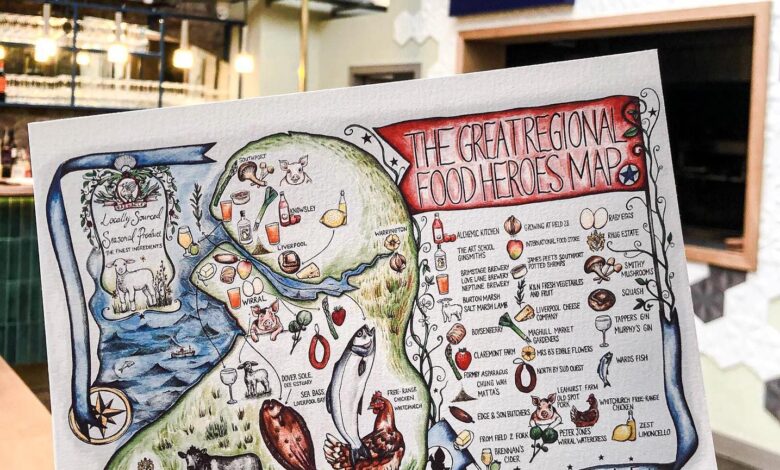 The team at Barnacle are very proud to reveal their brand-new Brunch service is launching on Saturday 9 July and will run every weekend from 10am – midday.
The intimate Scouse brasserie nestled in the upper floor of Duke Street Market has already made an impact on the city's dining scene; fresh with a Michelin Guide inclusion to superlative reviews for its casual fine-dining ethos, Barnacle has fashioned its unique space in Liverpool's gastronomic scene, helmed by four chefs with a shared vision around seasonality, sustainability and provenance.
Saturday 9 July sees Barnacle and Duke Street Market launching brunch across the whole venue, and the top floor team have created an elegantly pared down menu with a range of cocktails, coffees and fizz.
Harry Marquart, one of the founding chefs, explains: "Brunch has been something we've wanted to do for a long time, and now is the perfect moment to launch along with all of Duke Street Market. Of course we're putting our Barnacle signature on this, with a handful of key dishes, cocktails, fizz, coffees and juices. We're building our menu around the iconic classics rather than pages and pages of choice and the kitchen are excited to get stuck into this. We of course will be embodying our founding principals in using local suppliers where possible, because there's an abundance of wonderful produce all around us and we want to champion and celebrate what comes from the fields, farms and seas to our plates here." 
The quartet of chefs who founded Barnacle – The Art School's Paul Askew, Bone and Block's Harry Marquart and local kitchen stars Kieran Gill and Jake Lewis – embody the gastronomic soul of Liverpool, charting its historic maritime origins right to the present-day.
Brunch at Barnacle – Menu – Saturdays and Sundays each weekend
Brunch mains
Liverpool breakfast, Southport smoked bacon, Edge & Sons Merguez sausages potato cake, butcher's wife black pudding, Raby eggs, Growing Fields' tomato, Smithy's mushrooms £13.50
Kedgeree, Mr Wards' natural smoked haddock, wild rice, curried hollandaise, spring onion, fresh coriander £9.50
Smithy's mushrooms on sourdough toast, confit egg yolk £9.00
Raby egg omelette of Peter Jones' tomato & trio of Celtic cheeses £8
Buttermilk Pancakes £7.50
(Southport smoked streaky bacon & maple syrup OR fresh local berries and whipped Morton dairy cream)
Side Orders
Sourdough toast with Barnacle preserves £3.50
Southport smoked streaky bacon £3.50
Barnacle
Duke Street Market, 46 Duke St, Liverpool, L1 5AS
Brunch every Saturday and Sunday – 10am – midday
For more information about Barnacle visit https://barnacleliverpool.co.uk/