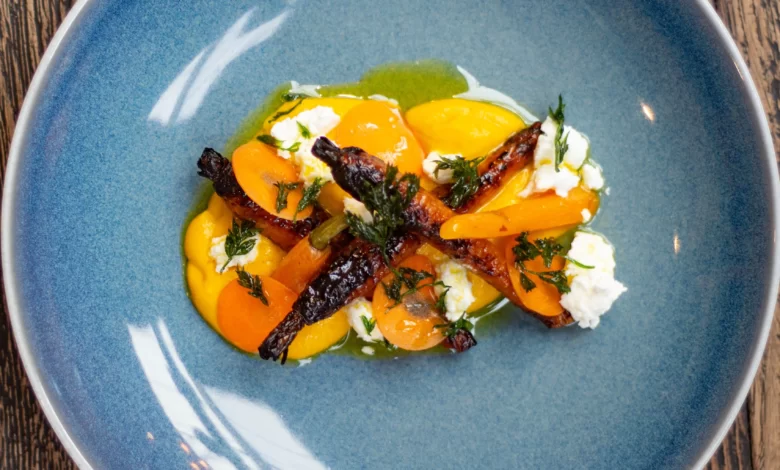 Barnacle is fast approaching its 1st birthday. Almost a year in and the Scouse brasserie has established itself in its own sweet-spot of casual fine-dining. It's an intimate space to while away the hours for lunch, dinner or languorous Sunday roasts, whilst served some of the finest food and drink inspired by the seasons and independent suppliers around the city region. Thursday 1 December features a unique tasting menu with 5 paired wines and also heralds the start of the festive season at Barnacle.
With its ethos to work with as many farms, cultivators and artisans within a 35-mile radius of the restaurant as possible, Barnacle celebrates Liverpool's gastronomic present whilst also looking back to the styles and inspirations which have found their way here over the decades as part of the city's storied past. Provenance is key as the menus and individual dishes help tell myriad stories about the city's ever evolving food and drink culture.
Head chef Kieran Gill explains: "We've had a brilliant almost first year at Barnacle so far and the team are getting ready for our 1st birthday tasting menu on Thursday 1st December which will bring together the heart and soul of our vision. We keep things simple, with a handful of dishes across the menu and guests can choose 2 or 3 courses. We've spent a lot of time refining what works in the kitchen through to the bar and our cocktails, beers and wider selection of drinks – everything has a reason and a story for being part of what we serve at Barnacle. And straight after our 1st birthday we're into the festive season which is going to be great, too – Liverpool really comes to life during Christmas and at Barnacle we can't wait to welcome returning guests and many brand new ones who have already booked."
The quartet of chefs who founded Barnacle – The Art School's Paul Askew, Bone and Block's Harry Marquart and local kitchen stars Kieran Gill and Jake Lewis – continue to tell the story of Liverpool's culinary odyssey in Duke Street Market's mezzanine.
Bookings are being taken for the 1st birthday tasting menu and for Christmas – full info and reservations can be found here: https://barnacleliverpool.co.uk/