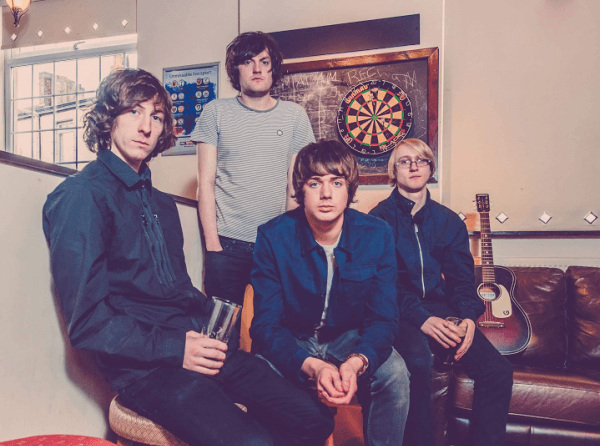 Music
Band Feature; The Racket – Rebelling With Maximum Effort
The buzz continues apace about this four-piece from Widnes, who in a short period of time have bagged some very nice profile support slots, and who have been quietly honing their stage craft with a series of unannounced gigs and the occasional appearances at the Cavern's Monday Club.
The band got together in August 2015, and as guitarist and backing vocalist Mikey states, the group was born out of boredom and frustration. He had been made redundant, Colby (bass guitar) was signing on, Callum (Guitar, vocals) was pulling pints in his local boozer, and Dom (drums), was kicking his heels whilst worshiping at the shrine of his hero, John Henry Bonham. Once together, they quickly started assembling a set of powerful, muscular songs which name-checked as influences the likes of The Sex Pistols, The Stone Roses, The Stooges and The Libertines.
Their songs are about the everyday life that they and their friends lead – dead end jobs, working for buttons, but being creative and practical enough to have "a top night out" – all on those same hard earned buttons. They articulate the voices of the Brexit Generation, who feel alienated and disenchanted about where they find themselves, solely on the decision of others. Or, as Callum puts it, their songs are stories of "teen angst and social commentary" and as a line from their anthemic Faded Days states, they are fed up of "bending over backwards for a man who's in a suit".
Dom opines:  "The lyrics deal with being stuck in a dead end, low paid job and hating it and wanting to get away. The chorus goes "Minimum wage and minimum effort/ We're not alone in this desert". It's our slogan, it's our rallying cry". As Mikey continues…."The band for me is based on escaping from the mundane 9-5, minimum wage, paying bills, to feeling positive and that things are going to get better".
The Racket's constituency is the people who want to have a good time at weekends and forget about the Monday morning that's fast approaching – even if that's just for an hour or so at their gigs.
Another track, Don't Know What To Say is a prime example of their musical muscularity. It's a huge sonic forearm smash to the senses, which references one of their musical heroes, The Sex Pistols.  It's also a call- to-arms shout out that The Clash would absolutely sign up for, and one that catches the zeitgeist of their particular demographic. The Racket give musical expression to these social, political and economic frustrations in a very powerful way.
Live, the band is a swirling, frenetic, cascade of energy, more speed than weed, typified by Dom's dervish drumming, the solid anchoring of Colby's bass, and the dual guitar attack of Callum and Mikey. They own any stage they set foot on – totally – and bristle with power- chord confidence, guitar-god riffs and attitude that would make Gallagher Jnr take notice. When they gig, you just know that it's just going to be on. If The Racket are giving a 100%, the audience at the gigs I've seen are topping one-fifty, being pulled in by the band's creative drive and energy.
Having just recorded tracks with Jose Ibanez at 3rd Planet Studios, which were mixed and mastered by Jon Withnail, who's CV includes Coldplay and Louis Berry, the future looks very bright for our four Haltonian's. More gigs are planned, hopefully to support a release, something which everyone at The Racket HQ is being extremely coy about….But one thing is for sure, whatever they do next, it's going to be interesting. And that Summer Spirit of '76 will soon be upon us once more.  And it's going to be even better second time around.
You can now find The Racket on Facebook & Twitter.
Photo Credit: John Johnson
Steve Kinrade