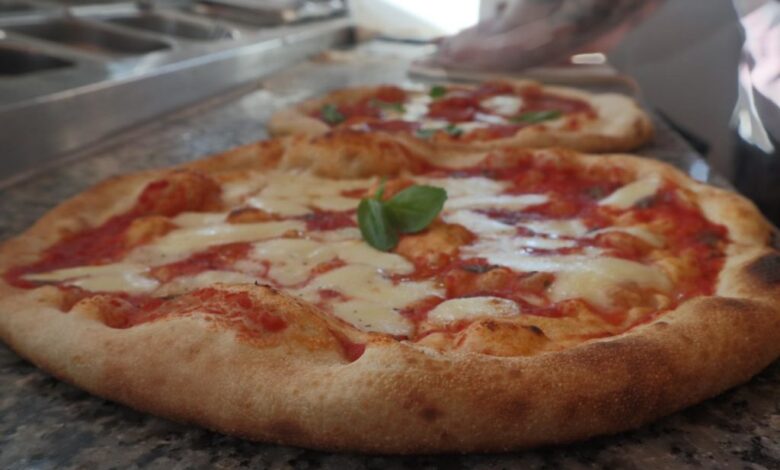 The Baltic Pizza Company has opened its doors at the Kiosk in Cains Brewery Village, offering an authentic Neapolitan pizza experience in the heart of the Baltic Triangle.
The Kiosk is set in the old Cains Brewery Village site, housed in what was once the security hut, and welcomes everyone as they enter the sprawling location. 
It's a wonderfully quirky and intimate space which captures the spirit of the entire area of the city, and one which has now launched with its new identity: the Baltic Pizza Company.
This new venture, from the team behind Dockleaf, is a fully Neapolitan pizza experience, with all ingredients sourced directly from Italy. The ethos is simple: to provide delicious authentic food as good as found on the streets of Naples, Milan, Roma – perfect for lunch or dinner – to feast on in the Kiosk cabin or take home for tea. There is a delivery option with Deliveroo, too.
There are six classic pizzas on offer at the cosy hangout: Margherita with tomato, mozzarella, fresh basil, parmesan; Napoli with tomato, mozzarella, fresh basil, black olives, anchovies and caper pesto; Pepperoni with tomato, mozzarella, fresh basil and pepperoni; Formaggio di capra with tomato, mozzarella, fresh basil, roasted red onions, cherry tomato and goat's cheese; Salcion with tomato, mozzarella, salami, red and green chillies; and Funghi with tomato, mozzarella, mushrooms, ricotta cheese and pine nuts.  There is also a sumptuous lasagne, delicious garlic bread, a range of dips and drinks available. Plus, there's a vegan mozzarella available.
The Baltic Pizza Company are also launching pizza parties for up to groups of 12. This will include lessons on which ingredients to use and how to use them, through to everyone having the chance to make their own pizza – and, more importantly, being able to eat it, too. It's a great option for anyone looking for a different kind of party or celebration, especially for anyone who loves artisanal food. 
Baltic Pizza Company opening times: Mon – Wed – closed / Thurs – Fri – 5pm – 12am / Sat – Sun – 12pm – 12am
For more information visit the Baltic Pizza Company Facebook page.