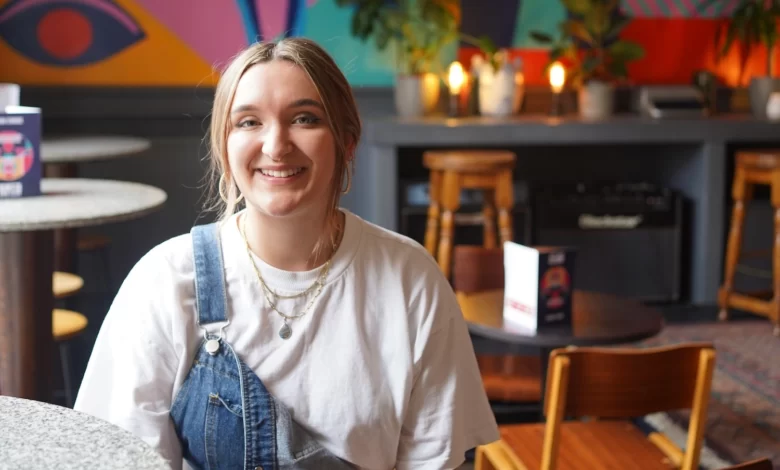 This year Arts Bar Hope Street committed to hosting more visual art exhibitions but as their curator Laura McCann explains, "there's more to this project than just supporting local artists. The venue prides itself on being inclusive and we want to maximise every opportunity to highlight matters we feel passionately about". This is certainly the case for their Wellness Weekend, being held on the 20 – 21 May, which marks the end of Mental Health Awareness Week.
When asked about the event Laura said, "Every artist I know says that art has a positive impact on their mental wellbeing, so it makes sense that we celebrate that connection as part of wellbeing weekend".
The event will be a collaborative one featuring three very different visual artists, Amy Cummings, Kathleen Charters and Alisha Friday.
Amy Cummings (feature image) is a freelance illustrator from Cardiff who's currently based in Liverpool. Her main body of work consists of abstract illustration using geometric shapes, bright colours and patterns. Amy says her pieces for this event are "loosely based on representations of mental states but that they primarily designed to bring joy to the viewer". Amy hand paints each of her designs and describes her practice as "a very therapeutic process".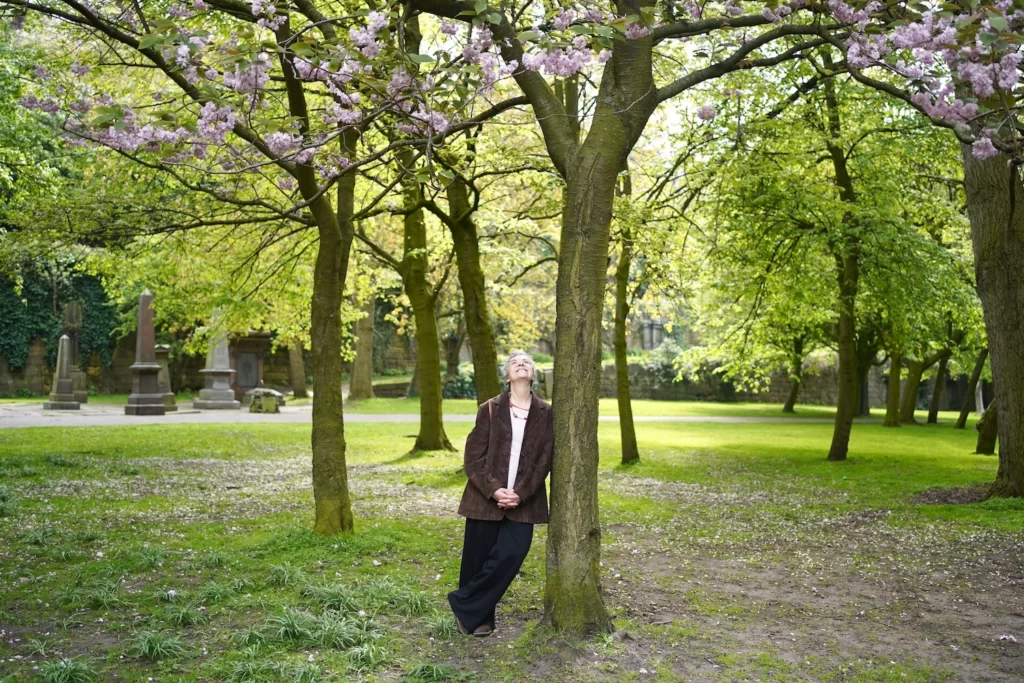 For the last 35 years Kathleen Charters has worked in Liverpool for a health and wellbeing charity, with a focus on HIV. During that time Kathleen has experienced a lot of loss but thankfully she's found ways of processing that. Traveling and discovering art and culture around the world was a big part of Kath's life, which gave her a lot of comfort but when the pandemic hit she suddenly alone in her flat alone, so she decided to start creating her own art. From that point a new world opened up to her.
Eventually Kath shared work online and found people were really supportive, as she explains, "Where there was enforced separation, I was finding community". Kath talks openly about how her artistic practice helps her mental wellbeing stating, "it helps me figure out frustration, to celebrate the simple things and mostly, to be quiet".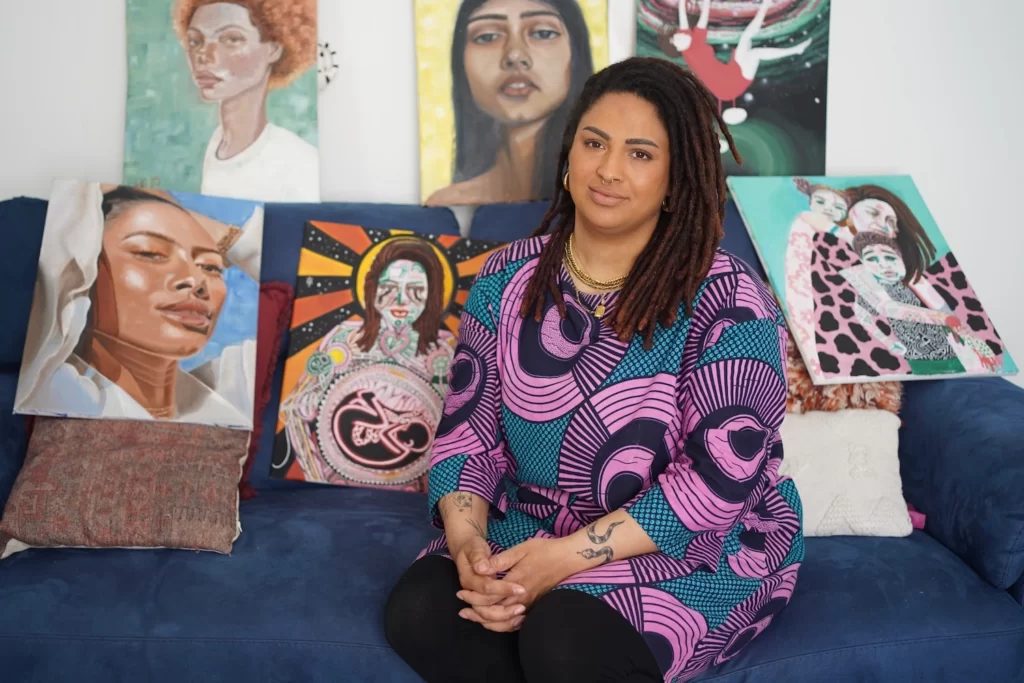 Alisha Friday first moved to Liverpool to study Fine Art at LJMU. Since graduating in 2016 she's worked as a community artist, running events and workshops for vulnerable and marginalised people, as well as producing her own projects. Alisha's work has always been informed by race, identity and mental health but the latter became even more important after facing her own personal experiences with psychosis, which arose during her first pregnancy in 2020. Alisha gave birth prematurely at 32 weeks, Alisha's baby was taken to intensive care for a month. As hard as that was, the situation became even more intense when three months later Alisha and her husband were shocked to discover they were pregnant again.
The psychosis returned but by that point Alisha's husband had returned to work, so she had to manage her symptoms and care for a poorly baby, almost single-handedly. As her first child turned one, her second arrived, along with post-natal depression. Whilst Alisha has always known art has been beneficial to her mental wellbeing, the last few years have really proven that theory. Alisha says her tastes and style has completely changed and since becoming a mum and explains that now her time is far more limited she focuses less on the outcome, "I experiment more with colour and composition, playing and working more intuitively".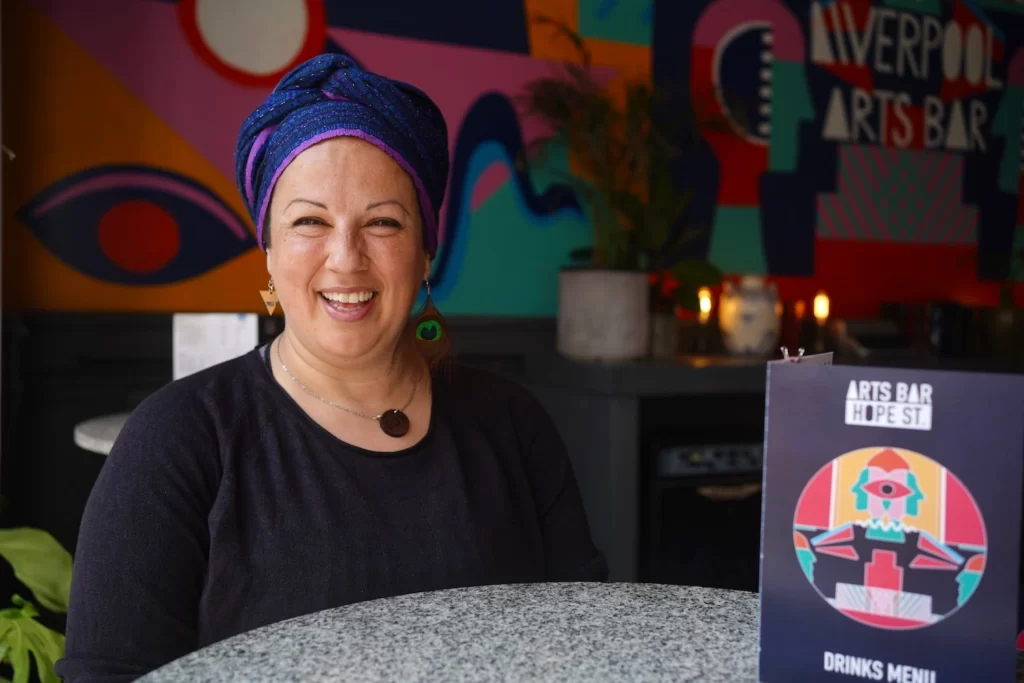 Curator Laura, hopes that people will engage with the artists, who'll be at the event in person. However, she's also added other elements to the weekend; "I've invited Steph from Foru Plants back, she worked with us on our Earth Day event and people loved her edible plants. There's no doubt that being in nature helps our mental health, so it seemed like a natural fit for the event."
Something Arts Bar Hope Street is already known for is incredible music and Laura is delighted to be able to promise a great Sunday soundtrack for the afternoon of the 21 May revealing, "Joe Dillon, guitarist with "Hushtones" is going to be bringing along his decks and vinyl collection. He's a great advocate for music being beneficial to mental wellbeing and I couldn't be happier to have him involved in this project".
If you follow the Liverpool music scene, chances are you'll have seen Joe Dillon play. As guitarist in the band, "Hushtones", he's graced stages around the country, including recently playing on the main stage at the Eurovision Village, which he described as, "a surreal experience because you're playing to people from around the world but in your home city".
Joe loves performing live but he's a huge fan of music in all its guises, which is probably why he's such a fan of Arts Bar Hope Street. So it won't come as a shock to anyone that Joe will be appearing at the venue on the 21 May, however it might surprise some people to hear that he's going to be appearing at an arts exhibition.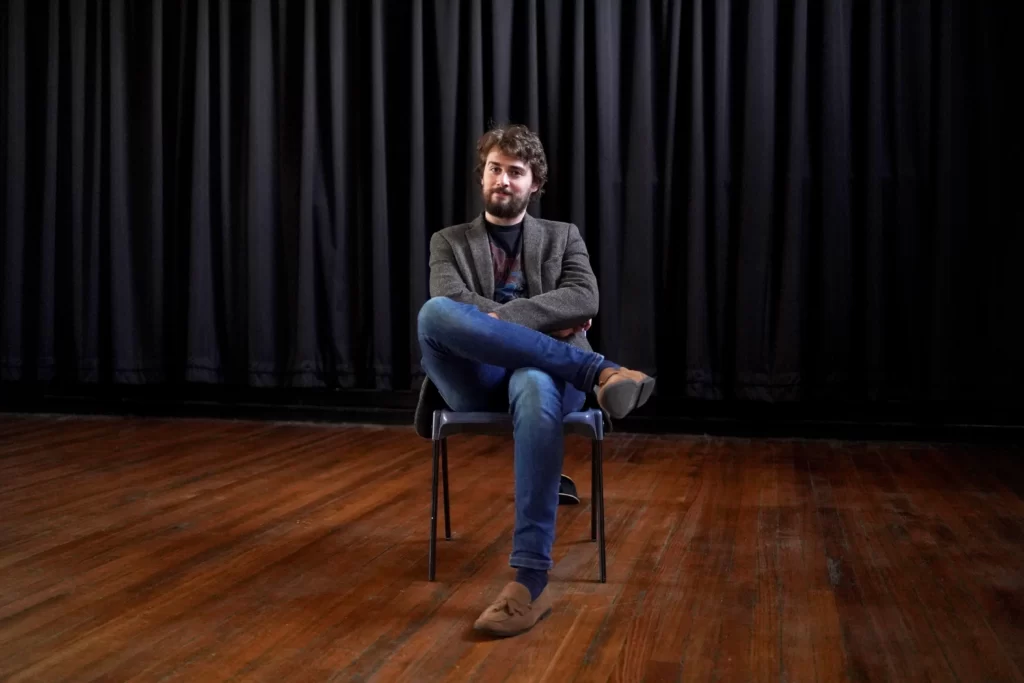 We asked curator Laura McCann of the venue what prompted her to get Joe involved and she explained, "The next exhibition marks the end of Mental Health Awareness Week and whilst I see every day how art can improve mental health, I also believe that music plays a big part too. Joe is a great advocate for promoting the benefits of music and I'm delighted to say he'll be providing the perfect Sunday soundtrack for the event, playing some of his favourite vinyl".
Joe remembers the first time he ever walked in to a record shop, he was aged around 16 and describes it as a kind of "magic place". He soon discovered there were others who felt the same way and he began organising events to celebrate the music he was discovering in vinyl form. Initially the gatherings were small, mostly consisting of friends but now Joe plays at public events. Joe, who says the vinyl gigs are, "a joyous experience" recognises the positive impact that music can have on people's mental state and when Laura asked him to play at this event he was keen to be involved.
Joe has openly talked about times when he's struggled with his own mental wellbeing and said, "Absorbing myself in things I enjoy and sharing my love of music has been instrumental in my recovery. Creating a safe and positive environment for others to join in, is something I am very proud of".  
The Wellness Weekend is completely free and takes place Saturday 20 and Sunday 21 May from 12-5pm at Arts Bar Hope Street. For more information go to lauramccannphotos.com.
Photos by Laura McCann.