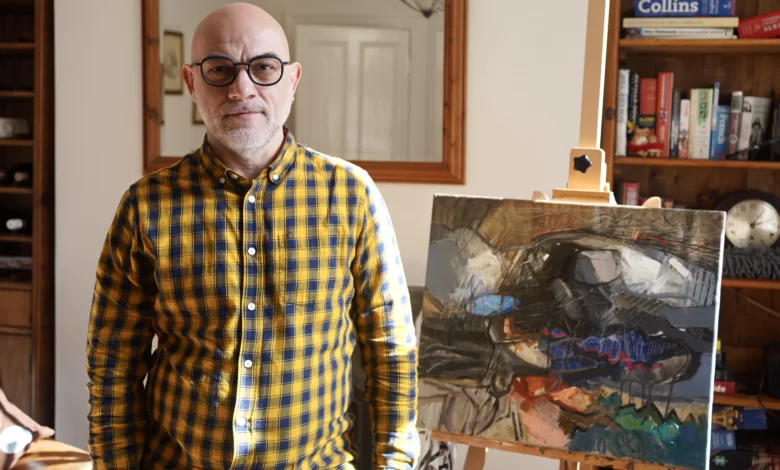 Eurovision is everywhere in Liverpool, no matter where you look, somebody is doing something to mark the fact that the city is hosting the event. However, rather than focusing only on the contest itself, Arts Bar Hope Street is hoping to remind us all why Eurovision is here in the first place.
When Russia invaded Ukraine in 2022 thousands fled the country as enemy troops advanced. One of the people who had to leave his home was, Aram Manukyan.
Born in 1964 in Tbilisi, the capital city of Georgia Aram was encouraged to pursue his love for art from an early age. His father Alexander was a metal artist and took great pride is nurturing his son's talent, teaching him all he could before Aram heading off to study art formally. Aram first attended the Academy of Arts in Tbilisi, then the Stieglitz Academy in St. Petersburg, where he lived for seven years.
Aram's worked hard, practicing with different mediums and styles, in and out of the studio, as he explains, "I often worked outside, as I think observation and study of nature teaches the artist a lot".
The visionary film maker Sergei Parajanov, who is still widely considered a visual genius, was at the centre of Aram's small social circle and Aram became a close friend of the painter and poet, Gayane Khachaturyan. Aram describes her fondly saying, "She thought creatively and was a very strong artist of that time and the most famous in our region. Friendship with her greatly influenced my work, she opened up to me a kind of painting that is not taught anywhere, a very individual approach".
In 2011 Aram moved to the Ukraine, after many of his friends told him it was a wonderful place it was to be an artist. He was still living and working there very happily in 2022 when Russia invaded and his entire world was suddenly turned upside down. Aram thankfully managed to get out of Ukraine and is now settled in the Wirral with his wife, who also had to leave everything behind.
Aram has previously enjoyed much success during his career and exhibited all over the world, including Naples and Rome. His work is featured in private collections the Ukraine, USA, Belgium, Germany, Italy, Austria, Israel, Georgia, and Armenia.
Laura McCann, the curator at Arts Bar Hope Street said, "It's a huge honour to be showing Aram's work" and went on to explain why the timing of this exhibition is so crucial, "we always want to support artists we believe in but I think timing Aram's exhibition with Eurovision is a good reminder of why the contest is here and how important it is to champion artists who have gone through life changing experiences".    
Aram, who has been creating new work especially for this event says, "The main feature of my experimental painting now, focuses on the abstract form". He goes on to describe what motivates his work, "Colour and shape are always inspiring, but sudden ideas are what inspire me the most".
Aram's latest solo exhibition will take place in Arts Bar Hope Street from Friday May 5 until Sunday 7, opening daily 12-5pm, with a launch event on the Friday 5th between 5pm – 6.30pm. Entry is free and all are welcome.
For more information go to lauramccannphotos.com