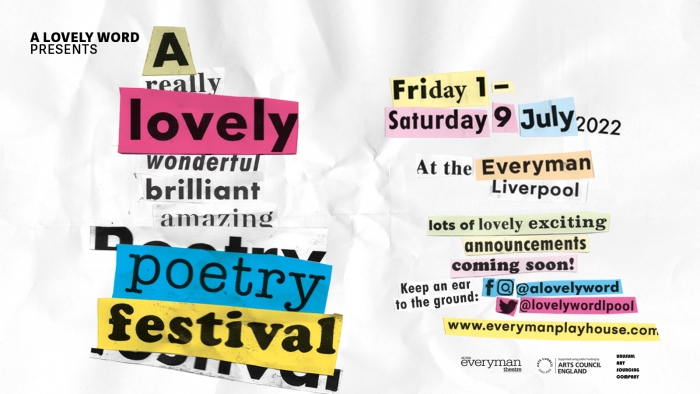 This summer, A Lovely Word in association with Liverpool Everyman & Playhouse bring a brand new poetry festival to the city for everyone. A Lovely Poetry Festival features some of the UK's top talent, from Liverpool and around the country.
At the Everyman Theatre from 1 – 9 July, it will celebrate writing, different voices and showcase the wonderful creative community of Liverpool.
Liverpool is a poetry city. A Lovely Poetry Festival celebrates this, uniting, inspiring and galvanising the spoken word scene and creativity of the city through a week of headline poetry events, industry talks, a poetry slam, radio poetry competitions and a poetry factory.
The festival will also include working with local poets such as Lyndsay Price, Gerry Clarkson and Olive Yoxall, as well as A Lovely Word artist-in-residence Amina Atiq. Together with nationally recognised "Poet Factory" Beth Calverley, the festival will gather and build a body of poetry on the ground floor of the Everyman, as local residents and visitors are encouraged to simply walk up and write a poem.
A Lovely Poetry Festival Lineup
Friday 1 July – Bistro
A Lovely Poetry Slam
Come and watch the first Poetry Slam from A Lovely Word, with £300 up for grabs, expect the best of Merseyside up and coming poetry talent, all with just 3 minutes on the mic!
Saturday 2 July
2pm – 4pm – Amina Atiq Workshop – Ev1
Artist-in-Residence Amina Atiq leads a fab performance workshop.
Tuesday 5 July
10am-7pm – The Poetry Factory! – Street Café
7.30pm – Hollie McNish and Michael Pedersen – Main Stage
The poetry factory opens, for everyone to come along and be able to write a poem, and display it in the street café! The sensational Hollie and Michael take it away with a rip roaring set in the evening.
Wednesday 6 July
10am-7pm – The Poetry Factory! – Street Café
6.30pm – Panel Discussion: Publishing Poetry – Bistro
Write poems in the day, and come and learn all about the publishing industry in the evening, with expert panelists who know their stuff.
Thursday 7 July
10am-7pm – The Poetry Factory! – Street Café
5.30pm – 7pm – Workshop with Gerry & Lyndsay – Ev1
7.30pm – Cheeky Poetry Bingo – Bistro
More poetry writing for all, with Beth Calverley's Poetry Machine arriving to generate poems for eagerly awaiting 'customers'. Learn all about writing and performing with Lyndsay and Gerry, and then in the evening settle down to some cheeky bingo, with all sorts of whacky poetry games and prizes.
Friday 8 July
10am-7pm – The Poetry Factory! – Street Café
5.30pm – 7pm – Workshop with Queer Bodies – Ev1
7.30pm – Lemn Sissay: My Name Is Why – Main Stage
Following more poetry writing in the café, there's a workshop with famous QueerBodies and a headline slot by 2012 Olympic Poet Laurette Lemn Sissay with a fab array of local support.
Saturday 9 July
10am-7pm – The Poetry Factory! – Street Café
11am – 12am – Family Poetry Workshop – Bistro
11am – 4.30pm – Young Person's Poetry School – Ev1
3pm – Liverpool Arab Arts Festival x A Lovely Word – Bistro (details TBA)
7.30pm – Nymphs & Thugs: LIVEwire – Main Stage
A busy, day with loads of workshops for young people taking over, a collab events with LAAF, and settle in for an evening of 4 mindblowing poets plus music, presented by record label Nymphs & Thugs.