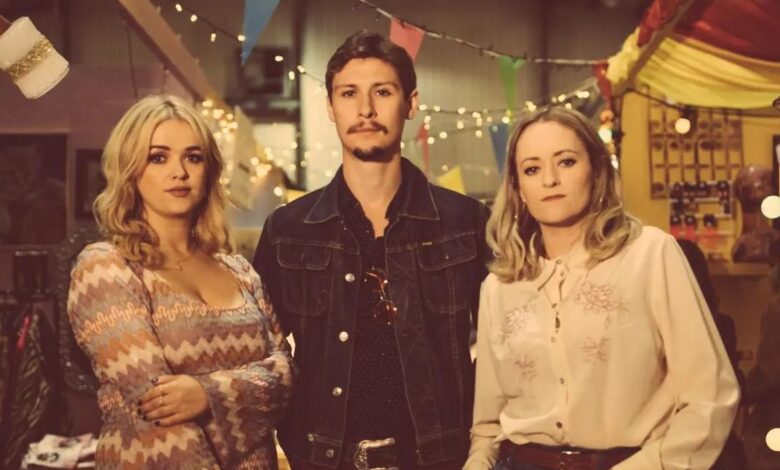 If You Were Listening is the debut album from Liverpool-based trio Motel Sundown (consisting of singer-songwriters Karen Turley, Naomi Campbell and Rob Johnson). Released on 15 July under Sunday Market Records, the album's release follows a string of single releases through 2019 to 2020. The album is a fusion of the band members' diverse influences, ranging from Americana, Country, Blues and Folk-rock, and artists including Tom Petty, Emmylou Harris, Sheryl Crow and James Taylor.
The band makes use of layered acoustic, electric and pedal steel guitar, as well as lush three-part harmonies, surrounding song-writing rich with storytelling. Referencing Crosby, Stills and Nash as an inspiration for their collaborative and three-way song writing process, all band members call upon their different influences, resulting in a unique musical fusion.
The opener, Brake Lights, is a beautiful start to the album, and easily a stand-out track. Three-part harmonies back introspective lyrics. Wailing pedal steel guitar saturates the track with a feeling of warmth and nostalgia, before it concludes with a soft piano section, setting the tone for the album perfectly. The following track, Perfect Eyes is more upbeat. The song, as well as various other cuts throughout the album, features Steel guitarist Gerry Hogan (Albert Lee, Emmylou Harris) of Hogan's Heroes, well-known within the UK country music scene.
The title track If You Were Listening is an acoustic number, with lyrical content exploring missing loved ones, backed by a beautifully melancholic chord progression and dreamy harmonies. According to the band, the song was written explicitly about their personal experiences of lockdown. Subdued finger-picked guitar is joined by a restrained electric guitar solo in the bridge, before the track reaches a final chorus, covered in a haze of harmonies. One More for the Road served as the lead single for the album release. An upbeat, soft-rock track, Karen's melodic lead vocals allude to the feeling of being torn between two places and being scared to let one's defences down.
Rob's vocals take the lead on Shopping, another standout track. Accompanied by the bright tone of strummed acoustic guitar, a clear soft-rock and Bob Dylan influence is channelled. The lead vocals are joined by harmonies in the choruses, bringing a soulful punch to honest, revealing lyrics. Building progressively, the song reaches a wailing guitar solo in the final chorus, aside swelling organ chords and a dynamic rhythm section.
The influence of Emmylou Harris is evident across the album, such as in the acapella intro to Night Owl, whilst the steady beat and electric piano recalls Fleetwood Mac's Mirage. The album's closer, Wild Atlantic Way begins as a stripped-back song, with strummed guitar and vocals. The song quickly picks up pace into what is an upbeat, uplifting end to the album, with lyrics providing a sense of finality and resolution: "There's nowhere else I'd rather be".
The album was truly an enjoyable listen which left me with a smile on my face and intrigued enough to check out their previous releases. The release of this album will surely please their growing fanbase as well as appeal to fans of Americana, Country and Folk music alike and those with an appreciation for storytelling. As a young British band operating within the Americana scene, Motel Sundown bring a fresh slant to the genre, spearheading what feels to be a natural progression upon Liverpool's long-held embrace of country music.
Motel Sundown's If You Were Listening is out now and available to stream on all major platforms now.
Follow Motel Sundown on Facebook, Twitter and Instagram for updates.
Featured Image Credit: @debbieellis_photography
Jude Bankier