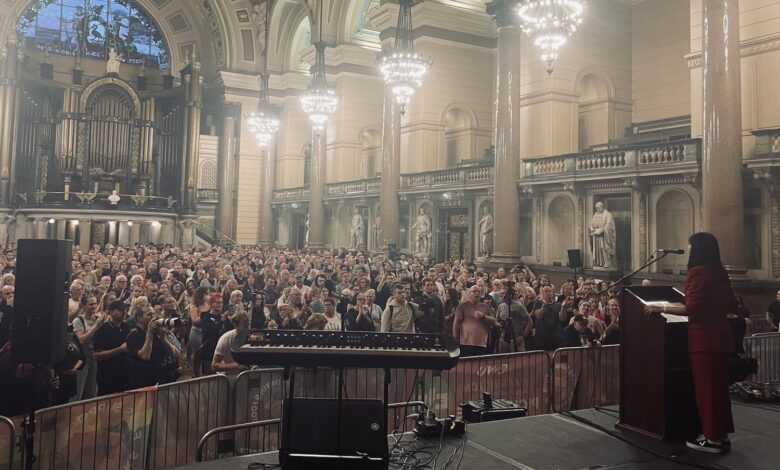 Liverpool News
Liverpool Says Enough Is Enough With Huge Rally At St George's Hall
Masses gathered inside and outside of Liverpool's St George's Hall on Friday to support the new Enough is Enough campaign, the movement that has risen amidst the cost of living crisis in the UK.
The campaign was founded by trade unions and community organisations to push back against the misery forced on millions and is gaining momentum each day, with rallies across the country spreading the word. It was Liverpool's turn on Friday night, welcoming the Rail, Maritime and Transport (RMT) union's Eddie Dempsey and the Communication Workers' Union's (CWU) Dave Ward as well as Zarah Sultana, Labour MP for Coventry South.
They joined local West Derby Labour MP and co-founder of Fans Supporting Foodbanks, Ian Byrne, who hosted an event that included speakers and musicians in front of a packed Friday night crowd.
The solidarity and eagerness to unite against the crises the UK is facing was palpable in St George's Hall, with rapturous applause and responses to Zarah Sultana's pitch-perfect speech, calling out a political class that is "bullshitting us".
Paul Fleming of the Equity union mentioned local hero Ricky Thomlinson when talking about members he represents who are seeing careers in the arts become less and less viable. Dave Kelly, co-founder of Fans Supporting Foodbanks with Byrne and Robbie Daniels, spoke about the solidarity shown between football fans fighting food poverty and reminding us all that hunger has no colour.
Speakers were interluded by music from the poetic She Drew The Gun and the rousing Matty Laughlin-Day and Danny Lee of The Shipbuilders after Mel Bowen and The Original Series had kicked things off.
Elise Lally, the youngest of the speakers, represented the PCS union and spoke of unity between, "barristers and baristas," while Dave Critchey of Lu Ban restaurant spoke to give a bleak indication of the impact of the cost of living crisis on hospitality.
Eddie Dempsey has become a huge figure in leading the defence of industrial action over recent weeks, and he was met with an incredible response as he declared: "We have got a government, some of the biggest corporations on the planet, a hostile media, all lined up against our members, ordinary workers. And our members have said, you know what, bring it on, we're not frightened of you."
The key message that all speakers were keen to get across, though, was that the action can't end at rallies like this. We can do more and must do more to unite and fight for each other. On nights like this one, the future feels somewhat brighter.
Future Enough is Enough rallies are scheduled in Norwich (6 Sept), Glasgow (7 Sept), Bristol (9 Sept), Brighton (13 Sept) and Leeds (17 Sept).
Lewis Ridley