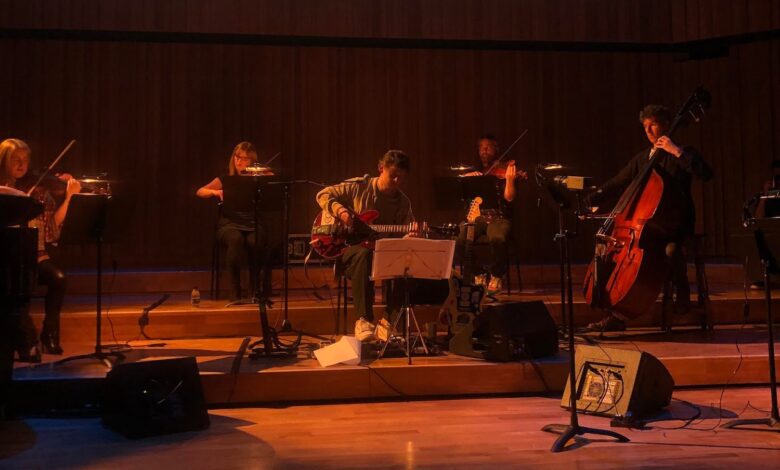 Bill Ryder-Jones played a special set at the brand new Tung Auditorium on Saturday night (9 April) as part of the first run of concerts to open the University of Liverpool's Yoko Ono Centre.
Bill was joined by the Liverpool String Quartet to perform a reimagined version of his 2019 album Yawny Yawn, itself a reworking of his album Yawn from the previous year. 
Those familiar with Bill will be aware of the way in which he candidly and delicately works his way through a performance, but this beautiful new space created a sort of intimacy rarely seen for a truly memorable night. 
From the opening track, There's Something On Your Mind, the energy in the Tung Auditorium was magical – Bill and his arranger and pianist for the evening Jacob Downs immediately spellbound a sold-out audience.
Visuals from James Slater (who has recently worked Yard Act) were projected onto a screen above the performers, a cinematic experience for each track, whilst even just the titles of said tracks were enough to stir emotion.
Last night was very special. @BRyderJones you were fantastic. So much emotion expressed in music. I felt and loved every note. Incredible ⭐️🥰 pic.twitter.com/XPpS1B7Q6E

— Mark Liptrott (@markemoon) April 10, 2022
Many of those in attendance would agree that this is Bill Ryder-Jones at his best, though it shouldn't be forgotten that musicians who create such personal work on a regular basis must experience nerves ahead of a performance like this. Between tracks and sips of water, tea, wine and whiskey, Bill spoke about what has inspired him to pen songs like the sensational Mither and the gentle and honest There Are Worse Things I Could Do. 
He was also eager to shine a light on the talent of his peers for the evening; agreeing with us in the audience that the talent circled round him on stage was just an absolute pleasure to be in the presence of. There was, of course, a mention of Everton as attention turned temporarily to the Toffees' vital win earlier in the day. Understandable.
Three new tracks ended the set from his forthcoming album and Nothing To Be Done particularly raises hopes that the string players will play a part on it. When Bill swiftly leaves the stage to a much-deserved standing ovation, the remaining musicians are left to enjoy it too. 
It was a performance that will live long in the memory in a stunning new venue that will be an asset to the region – just like Bill.
Lewis Ridley