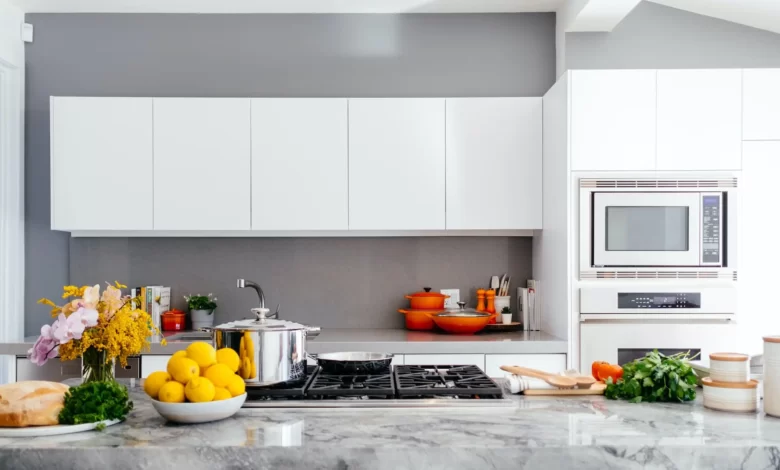 Other
Upgrading Your Kitchen Sustainability On A Budget: Practical Ways To Improve Your Kitchen Without A Full Renovation
Kitchens have become a central part of the home, with many people spending more time in them than in the living room, but they're also enormous energy guzzlers. More people are renovating their homes for sustainability and to make the room feel more inviting. However, a full kitchen renovation is super expensive, which is why it's important to find ways to upgrade without breaking the bank. Fortunately, we've got you covered with this series of practical kitchen-improvement methods. 
Why Is Sustainability Important?
Sustainability in the home is important because it helps reduce your carbon footprint and will decrease your monthly bills. Many people get bogged down installing solar panels or heat recovery systems when they're making sustainable changes, but there's more to it than this. For example, you can make simple cooking method alterations and you'll already be one step closer to sustainability. If you have a small budget, there are still plenty of ways to upgrade your kitchen for sustainability without breaking the bank – you just need to know how. 
Water Efficiency and Energy Usage
Dishwashers and refrigerators are the prime suspects when it comes to kitchen waste, so you should look into upgrading. The best way to save energy with your kitchen appliances is to go smart, which allows you more control and uses AI to operate at the cheapest time of day. As well as being energy efficient, a smart refrigerator will detect when food is going bad, meaning you can use it up to avoid wastage.
Repair or Renew Appliances
Kitchen appliances are energy guzzlers, but the manufacturing process uses significantly more. Therefore, we recommend having your appliances serviced or repaired before investing in brand-new equipment. If you need professional help with repairs, you can easily find a reputable handyman near me by using MyBuilder. 
If your appliances are beyond repair or they're consuming more energy than usual, it may be time for an upgrade. When choosing a new appliance, it's important to choose a model that manages resources efficiently. 
Cupboard Organisation and Waste Reduction
If you're choosing to focus on kitchen cabinets, it's important to factor in waste reduction. You need to ensure that food is stored correctly to get the most out of them. Therefore, your kitchen or pantry needs to have suitable dark, cool, and dry places. You should avoid putting food in items next to the oven, which should be reserved for storing small appliances, pots, pans, and plates.
If you've got the space, you should have multi-level storage solutions installed, which will allow you to arrange food in a "first-in-first-out" style. By this, we mean that your new groceries are stored at the back and your older groceries are at the front, prompting them to use them first. You can take this one step further by having a cupboard for food goods that are very close to their use-by dates. 
Alter Heating and Cooling Methods
Heating and cooling your kitchen doesn't haveto be a high cost each month, especially if you're willing to alter your habits during the upgrade. Geothermal cooling and heating and pellet stoves are excellent methods for reducing resource consumption while keeping your kitchen at an appropriate temperature. Another way to keep cool during the summer and warm in the winter is to use active solar heating or hybrid solar air conditioners, which are the perfect sustainable choice.
To help your kitchen and home be more energy efficient, you can even invest in a smart thermostat as part of the sustainability drive. These smartphone-controlled thermostats allow you to see energy usage in a real-time and let you control the heating remotely. Additionally, the smart heater uses AI to make sure it's consuming minimal resources. 
Use Reclaimed or Eco-Friendly Building Materials
Before turning your nose up at recycled or reclaimed materials, you should note that they're often the most aesthetically pleasing. When materials including metal and wood are repurposed, they've already stood the test of time and they come with a rustic look. Further, flooring options including bamboo and cork will help to fight off stains and deal with heavy foot flow.
The more sustainable materials you can incorporate into your kitchens, the more environmentally friendly your resulting kitchen will be. Not to mention, your upgrade will be cheaper because recycled materials are sold significantly cheaper than brand-new options. 
Get a Compost Bin
Outside of appliances, food waste is the largest contributor to high carbon emissions in the home. Fortunately, you can reduce waste by turning it into compost, which can then be used to grow more vegetables. Investing in a compost bin and putting all of your food scraps and wastage in will prevent it from heading to landfill and releasing methane during decomposition.
Alongside your new compost bin, you can utilise technology to help manage your cupboards. For example, the CozZo app tracks food in your cupboards and allows you to meal plan effectively, creating shopping lists based on what you already have. 
Light Swaps
The type of lightbulbs in your kitchen and the quality of the light fixtures will have a direct impact on the amount of energy you consume, and the cost of your monthly bills. Therefore, we recommend upgrading your fixtures and using LED bulbs, which are much more sustainable because they last around fourteen years and use much less electricity. Further, you can invest in smart bulbs, which will give you more control over energy usage. 
Shop Second-hand
The most sustainable kitchen utensils and appliances are those already in circulation because there's no manufacturing involved between the source and your kitchen. There are plenty of places to get your hands on second-hand appliances including charity stores, loved ones, and social media. If you have a quick search on Facebook, you'll likely find groups with titles that look like "THINGS FOR SALE IN (YOUR LOCATION)".  
Bring In Plants
Plants look fantastic, but they're also great for neutralising the air, which is great for your overall health. The most beneficial plants you can have in the kitchen are:
Jasmine. Jasmine smells fantastic, which can help stave away any potentially unpleasant odours in the kitchen. You should note, Jasmine takes quite a bit of care for it to thrive.
Aloe Vera. You can leave aloe vera alone and it'll survive, making it perfect for people without green fingers. As well as looking fantastic, aloe vera is great for soothing burns and cuts.
Ivy. Ivy is easy to look after and is well known for air purification, which will help to reduce opportunities for mould to grow.
As well as visually pleasing plants, you can put up a vertical garden, which you can use to grow your own herbs in the kitchen.
Sustainability is all about lowering carbon emissions by choosing items/materials for longevity and altering daily habits. Creating a sustainable kitchen doesn't have to mean breaking the bank, and you don't need to complete everything all at once. As long as you're walking towards a sustainable lifestyle, that's the most important part. Even if your budget can only afford a compost bin right now, that's better than nothing.