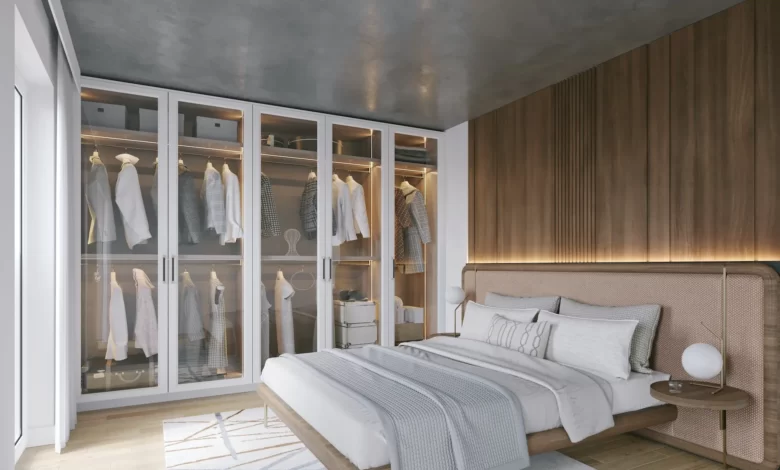 Lifestyle
Top 5 Advantages Of Fitted Wardrobes For Homeowners
Have you recently bought your first home and are looking for a way to optimise the storage space in the main bedroom? If you have a lot of clothes, shoes and hats, chances are that this is exactly what you are looking for.
If you don't have the room to have a walk-in wardrobe built, why not opt for a wardrobe that has been custom-fitted to the room? Fitted wardrobes have become an incredibly popular choice for homes in 2023, as they add a touch of elegance to the bedroom. Unlike free-standing wardrobes, fitted options are adaptable to any bedroom shape or size and seamlessly fit the storage that you need. This offers a range of benefits that go far beyond simply holding some dresses and blazers.
At this point, you may be thinking that this is a lot of money to spend on something that you could have purchased as a simple free-standing option. In this article, you will be guided through the five key benefits of having a fitted wardrobe in your main bedroom.
Maximised Storage Space
One of the most significant advantages of having built in wardrobes in your bedroom is the ability to maximise the storage space.
Unlike the generic free-standing wardrobe that can come in fixed sizes, having fitted wardrobes allows for more custom designs that will fit the dimensions of the room perfectly. This means you are better able to utilise every inch of the available space, even if you have under-sloped ceilings or awkwardly tight corners.
With fitted wardrobes, you are able to choose the width, height, and depth that suits your needs. This tailored approach to storage means you can make the most of the available space, ensuring that the wardrobe is able to fit what it needs to, resulting in a clutter-free bedroom that will be more spacious and organised for whoever occupies it.
Stylish
Have you ever visited a home that had fitted wardrobes?
If you have, you will know that they are not simply functional. They also enhance the overall aesthetic of the bedroom and can be customised to match the interior décor, meaning whether you prefer a minimalist look, a classic look, a traditional one or a modern one, you can find an exterior to the fitted wardrobe that suits the rest of the room. This will allow you to choose from a wide range of materials, finishes and colors, which means that the wardrobe that is fitted to your room matches the theme perfectly.
However, you should be aware at this point that certain materials and finishes will be more expensive than others, so be sure to shop around for the best price.
Another thing to consider is that fitted wardrobes incorporate various design elements, too. You could have mirrored doors, integrated lighting or even decorative handles, which can elevate the visual appeal of your bedroom. The sleek and seamless appearance of the wardrobe will add sophistication to the space and can actually create a focal point that will enhance the overall appeal of your home to buyers in the future.
Better Organisation
Many people who have free-standing wardrobes will have the same layout within the piece of furniture. There is usually a rail to hang clothes from, a space underneath to store other items and, in some cases, drawers.
With a bespoke fitted wardrobe, the storage solutions can be customised to your specific requirements. This means you can have features such as adjustable shelves, pull-out drawers, shoe racks, and hanging rails, which will fit your clothing collection rather than the other way around. This level of customisation will keep your belongings neatly organised and make them easier to access. This means that if you need to get hold of your Prada bag at 6:00 a.m., you don't have to rummage through cluttered shelves to find it!
Higher Property Value
If you are looking to make a wise financial decision for the value of your home long term, investing in fitted wardrobes can be a good one, as the built-in storage solutions usually add value to any property. Indeed, studies have found that potential clients are often attracted to homes that have well-designed and stylish fitted wardrobes simply because they are convenient and aesthetic. Fitted wardrobes are also considered a permanent fixture of the home, and this sense of permanence can contribute positively to the perceived value and overall impression of your home when you put it on the market. So, even though they may seem a bit pricey in the short term, in the long term, they certainly add value.
Just remember that when you are shopping around for somebody to fit your fitted wardrobe, check the reviews. The last thing you want is to spend a fortune on having a fitted wardrobe installed, only for it to be botched and to lower the value of your home. So, make sure you get estimates and check the portfolios of any installers before you book them.
Adaptable
Many people presume that once you have had a fitted wardrobe placed in your bedroom, that is it- you are not able to change it or adapt it in any way. If you are a bit of a fashionista and you require the shape and storage space of your custom-fitted wardrobe to change, then this is easily done. Depending on the extent of the change, you may need to call the initial company or installer, but if you opt for an adaptable fitted wardrobe, you can achieve this yourself. If you are looking to build up your collection of shoes, you can add another rack with ease whilst cutting down on the space used by the coats.
This means that although it can seem pricey to have a fitted wardrobe installed, they are adaptable to your lifestyle, and if you opt for an adjustable fitted wardrobe, should the time come when you put your home on the market, you can revert it back to the original layout making it more appealing to the general public. Great stuff!