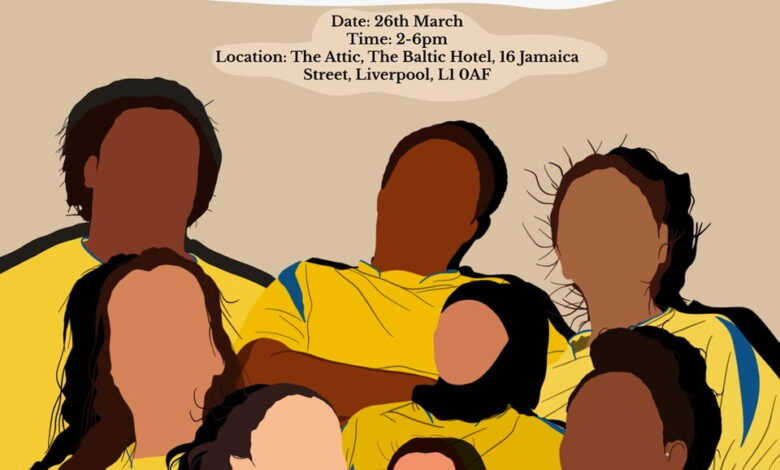 Join shado and Comfort's Anglels for a celebration of the power of football, the power of women, and the strength of community action.
In collaboration with Amnesty International and This Fan Girl, shado has created a documentary short about Comfort's Angels – the football team bringing inclusion and integration for refugees and people seeking asylum in Liverpool.
Join them at The Baltic Hotel on Jamaica Street for the premiere, on Saturday 26 March, where they will screen the documentary (5 mins) and hold a space of welcome and celebration for the football team, their families, and members of the local Liverpool community. They'll also be hearing from Comfort, founder of Comfort's Angels and Stu Carrington, the angels' coach.
At the event they will be bringing together the individuals and organisations working to make Liverpool a welcoming space so they encourage you to stay, chat and celebrate the power of collective action and community!
Doors will open at 2pm and the film (5 minutes long) will be screened at 2.30pm
Food will be provided, along with free juice for children. There will also be a bar for adults.
Artwork design by Sumuyya Khader
About shado: shado mag CIC is a community of activists, artists and journalists working to bring social justice issues into the mainstream. Follow them on instagram here.
About This Fan Girl: This Fan Girl are an award-winning non-profit digital platform powered by a global community of football fans. They capture the faces, voices, stories and opinions of women who love the beautiful game and create space for women and non-binary people in to connect with football.
shado X Amnesty International present: Comfort's Angels
Sat, 26 March 2022
2pm – 6pm
The Baltic Hotel
16 Jamaica Street
Liverpool
L1 0AF
Register for free/donation tickets on Eventbrite.