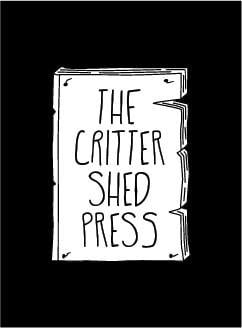 Since their launch back in late 2013 The Critter Shed have produced packs that have celebrated the weird and wonderful world of creatures. Some of the best independent artists from the UK and the rest of the world have contributed to make a unique collection of original artwork that anyone would love and appreciate.
Today they announced their exciting new venture as a creative collective, as they will be producing their our own comics and zines as a printing press, 'The Critter Shed Press'. "Being big fans of indie comics and zines ourselves, we want to produce our own that still follows 'The Critter Shed' theme and what we're about." said The Critter Shed creators Chris & Alex.
Just like the 'Creatures' packs they will feature some of the most talented artists in the field of independent art, as well as some fresh newcomers, all under 'The Critter Shed Press' name.
"We are really excited to finally be able to share this news as it has been in the planning for sometime. Our very first comic will be released in January." This doesn't mean the end of the 'Creatures' pack though.
Continuing as an independent printing collective they are also offering their printing services for small and large organisations. Having many years experience producing hand screen printed material for themselves  and other clients, their high quality results have given us the professionalism people can trust in.
For more info about The Critter Shed, visit their official website here or on Facebook & Twitter.