It seems that the legendary revolution has been around since the beginning of time, always a trusty place to go and get your vodka fix on a night out or enjoy their infamous 2 4 1 happy hour with some of the most inventive but delicious cocktails around featured on a gloriously vast menu. Of course, Revolution is also known for its food offerings, but recently the St Peter's square branch have taken things up a level with their brand spanking new menu which combines great quality, amazing flavour and plenty of choice – all washed down with plenty of cocktails – what's not to love?
Alongside the new food offerings, the inside of Revolution St Peter's is now what can only be described as an Instagram lover's dream, full of rose gold hues complete with marble and even a bath full of multi-coloured balls cos, you know, why not? If you're looking for that perfect Insta shot, the bath is the place to be. Once we had admired the view (and the cocktail selection) we placed our order with one of the fab members of staff who were on hand to help us choose.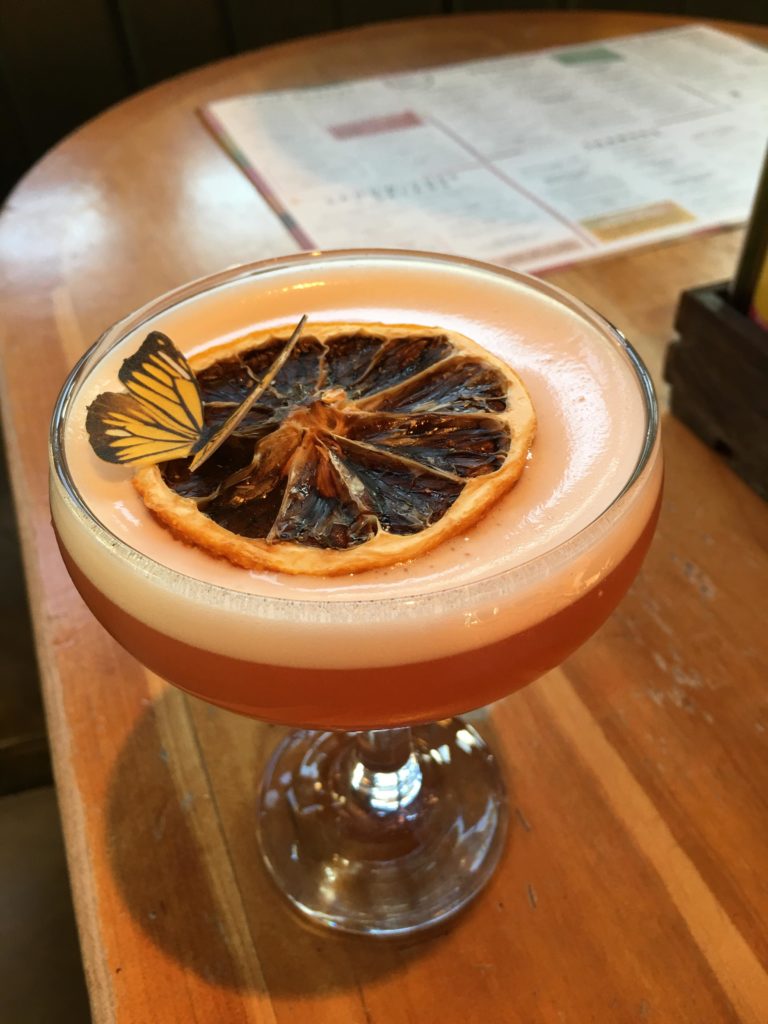 As we were reviewing the menu re-vamp, I wanted to make sure I was trying a new creation. We selected from a number of small dishes in their 'grazer' selection, going for loaded nachos and the humous dipper. For the main i went for the Smoke King, their new triple patty smokey BBQ invention complete with bacon and crispy onions (drool) and swapped my fries for sweet potato. We also went for 'The Beet Goes On' – a herby coriander and mint burger. I was super impressed with the selection on the menu, with plenty available for vegetarians and definitely something to suit all tastes.
Of course, it's not a trip to Revolution without a cocktail or 12 and to start with we went for the most Instagrammable cocktail ever, complete with edible butterfly and the cos who doesn't love a slushie with gin?!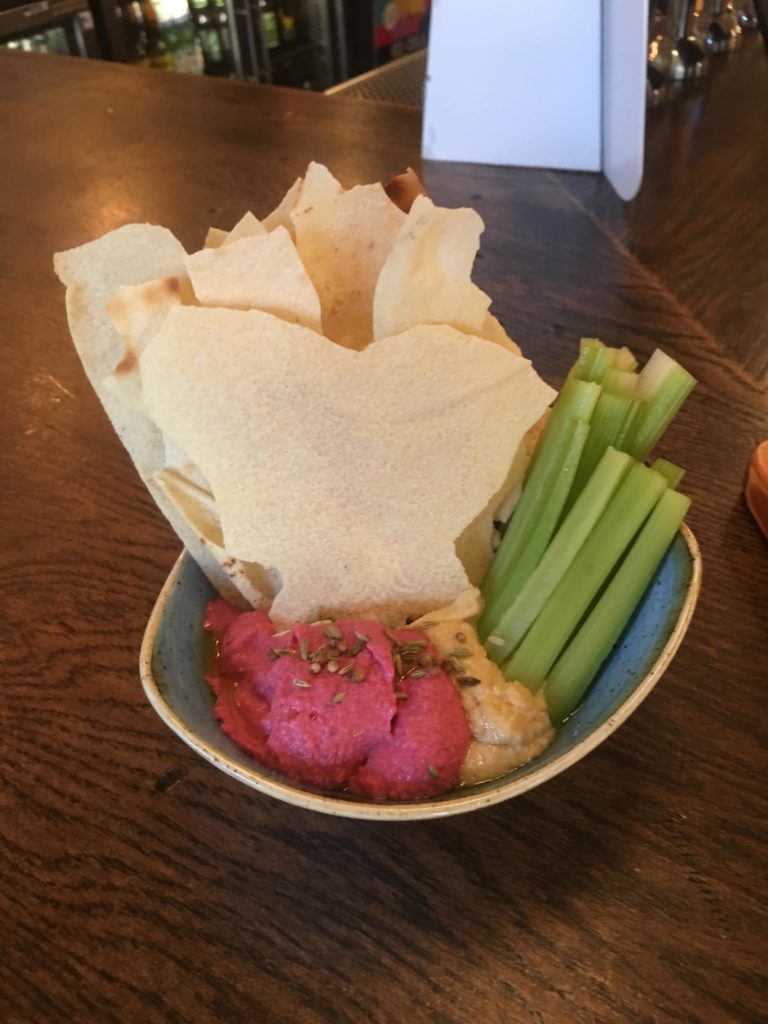 We enjoyed our cocktails and grazer plates (our nachos were topped with the cheesey sauce of dreams) and the beetroot humous was a nice, fresh addition to the table complete with homemade tortillas and mini sticks of celery – the dream set up if you just fancy a few nibbles with your drinks.
Within 10 minutes the main event was brought to our table, with the Smoke King being the show stopper, covered in a glass dome which was removed by our server only to reveal a cloud of smoke surrounding a huge, mouthwatering burger in its wake (cue the Boomerang).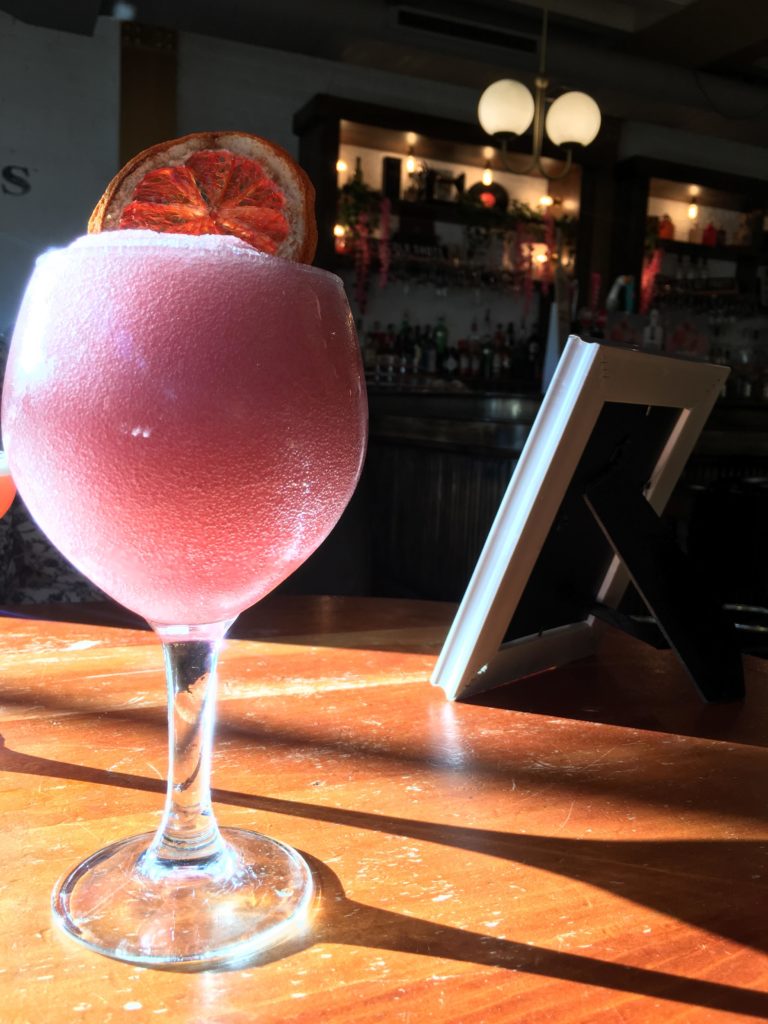 Biting into the cheesy triple patty masterpiece i was hit with a strong smokey flavour followed by the saltiness of beef, bacon and cheese and all brought together with the sweetness of the BBQ sauce and crispy onions. Flavour combination of dreams. The Beet Goes On was also delicious, purple in colour, encased in a soft bun and full of subtle, fresh flavours and topped with a generous helping of zesty smashed avo. Both burgers were accompanied by crisp sweet potato fries. We were in foodie heaven.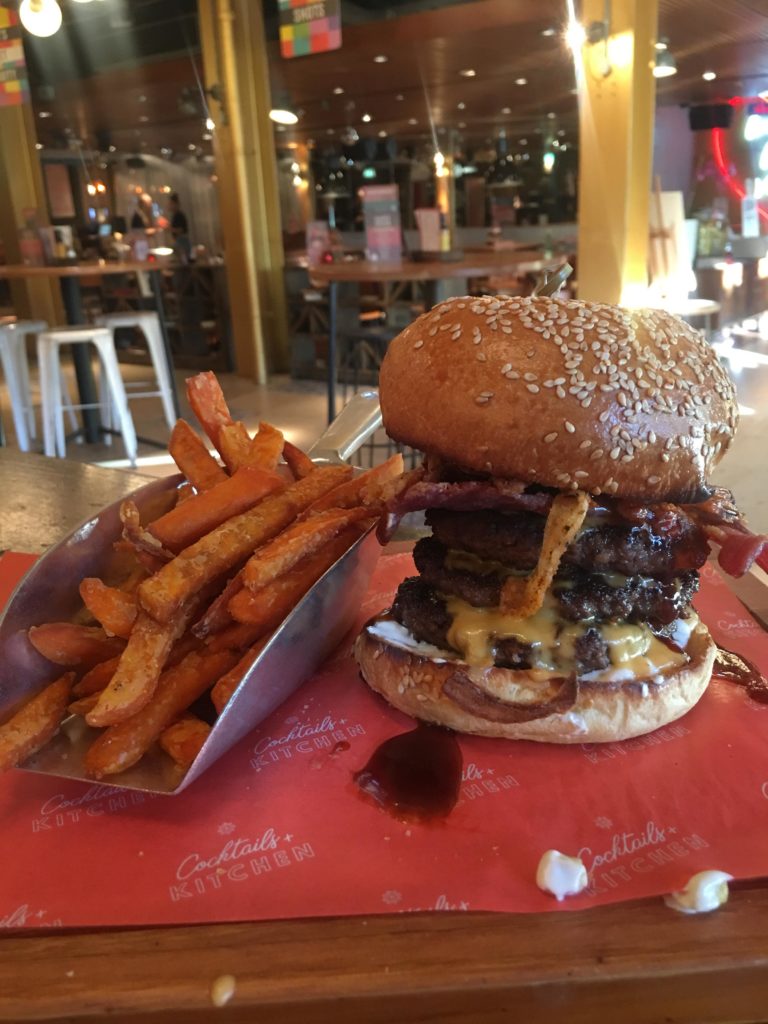 When we'd demolished everything in sight we decided to end the night on one more cocktail. In a bid to live our best lives we went for the 'cereal killer' full of chocolate, vodka and yeah, coco pops. Alcoholic cereal served with a spoon tasting like Baileys and chocolate. ERR YES PLEASE.
If you haven't considered eating at Revolution in a while, or even ever before, pop in and give their new menu a whirl. Whether you're grazing with chips, dips and cocktails or want to go full in with a giant burger and a side of loaded fries, Revs is definitely the answer!
To find out more about Revolution St Peter's Square visit https://www.revolution-bars.co.uk/bar/liverpool-st-peters-square
Laura Nicholson