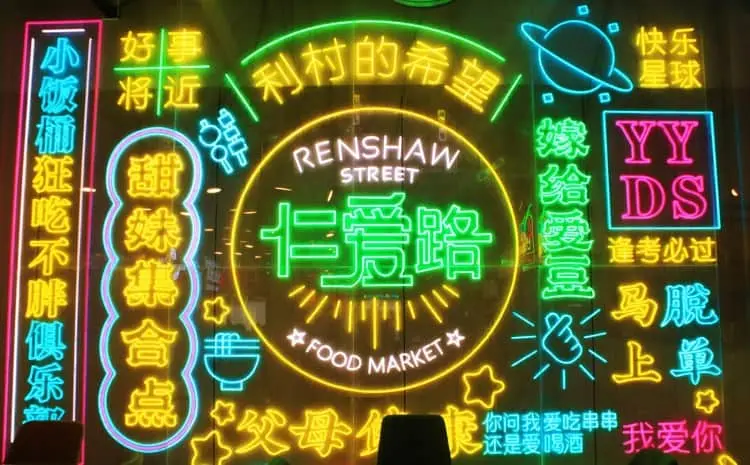 The hugely popular international cuisine location, Renshaw Street Food Market, has proved to be a hit since its launch earlier this year in June. An impressive 450 square metres in size, it is home to a wide range of vendors whose culinary delights cater to every taste. This bright and bustling venue is the ideal location for foodies wanting a laid-back experience with gorgeously fresh dishes. It also has its own dedicated bar area – perfect for a cool drink or a cocktail.
As the city centre prepares for a busy festive trading period, as well as a continuing influx of tourists, the team behind Renshaw Food Market have put together an offer to ensure that visiting customers, as well as those who enjoy the convenience of home delivery service Deliveroo, will be able to enjoy some great discounts on their food and drinks bill. The offer will enable in-house customers and delivery clients to enjoy £10 off their order when they spend over £20.
As well as being the base for its impressive Asian cuisine stalls, Renshaw Street Food Market has won a first-rate reputation, playing host to vendors offering Japanese, Thai and Cantonese dishes. Well-known international brands such as Dagu Rice Noodle, Nduo Sushi and Zhengxin Fried Chicken complement vendors who offer their own specialist Mexican dishes, Italian delights, desserts and gelato. The market is also home to a branch of Jidong Bubble Tea, which has established itself as a popular brand in the city centre.
Hu Jie, Director at Renshaw Street Food Market explains: 'We have had such a wonderful trading period since we first opened, and our customers love the opportunity to sample plates from all over the world. The local student population is an important part of our client base, but we also get visitors to the city, as well as our beloved local customers. They really enjoy the experience of being able to sample different dishes from everything we have on offer in an informal setting – it is much easier to experiment than in a traditional restaurant setting.
Like everyone in our industry, we are really aware that it is a difficult time not just for us in the commercial sector, but also for our clients. Our vendors are really supportive of each other, and because of the success we are enjoying, we decided to put together this offer as a way of offering everyone the very best value for money.
Our clients can redeem the offer either when they visit us or when they order via Deliveroo. £10 off orders over £20 is a really generous discount we feel, and means that whether you are popping in for an casual meal, or ordering from us to enjoy in front of your favourite winter TV or film favourites, we want to ensure everyone gets the same, highest-quality dishes they know us for, but with a great financial saving.
It is also our way of thanking customers who have returned to us many times since we opened. We look forward to welcoming everyone during November, and hope they get to sample something new as well as returning to their favourites.'
In a city bracing itself for a busy time in terms of retail, festive events and entertainment dining, Renshaw Street Food Market is continuing to carve out its own niche, celebrating authentic Asian-based food, as well as a whole host of other options from around the globe, for everyone to share.
Renshaw Street Market is located at 85-97 Renshaw Street, L1 2SP, and is open:
Monday to Thursday 11 am – 10pm
Friday – Saturday 11 am – 11 pm
Please also search Renshaw Street Market on Deliveroo. Each site has a special code, and customers can use the corresponding code when they order in person or online.
The discount codes are detailed below:
ANTONIETTA10 
BAJA-MEXICAN10 
JIDONG10 
RICE-AND-NOODLE10 
TURKISH10 
MONGKOK10 
PESCATO10 
ZX10 
NDUO10 
PAITHAI10
DAGU10 
Renshaw Street Market is also running an additional 25% off orders on Deliveroo until Thursday 10 November 2022.
For more information visit RenshawStMarket.com