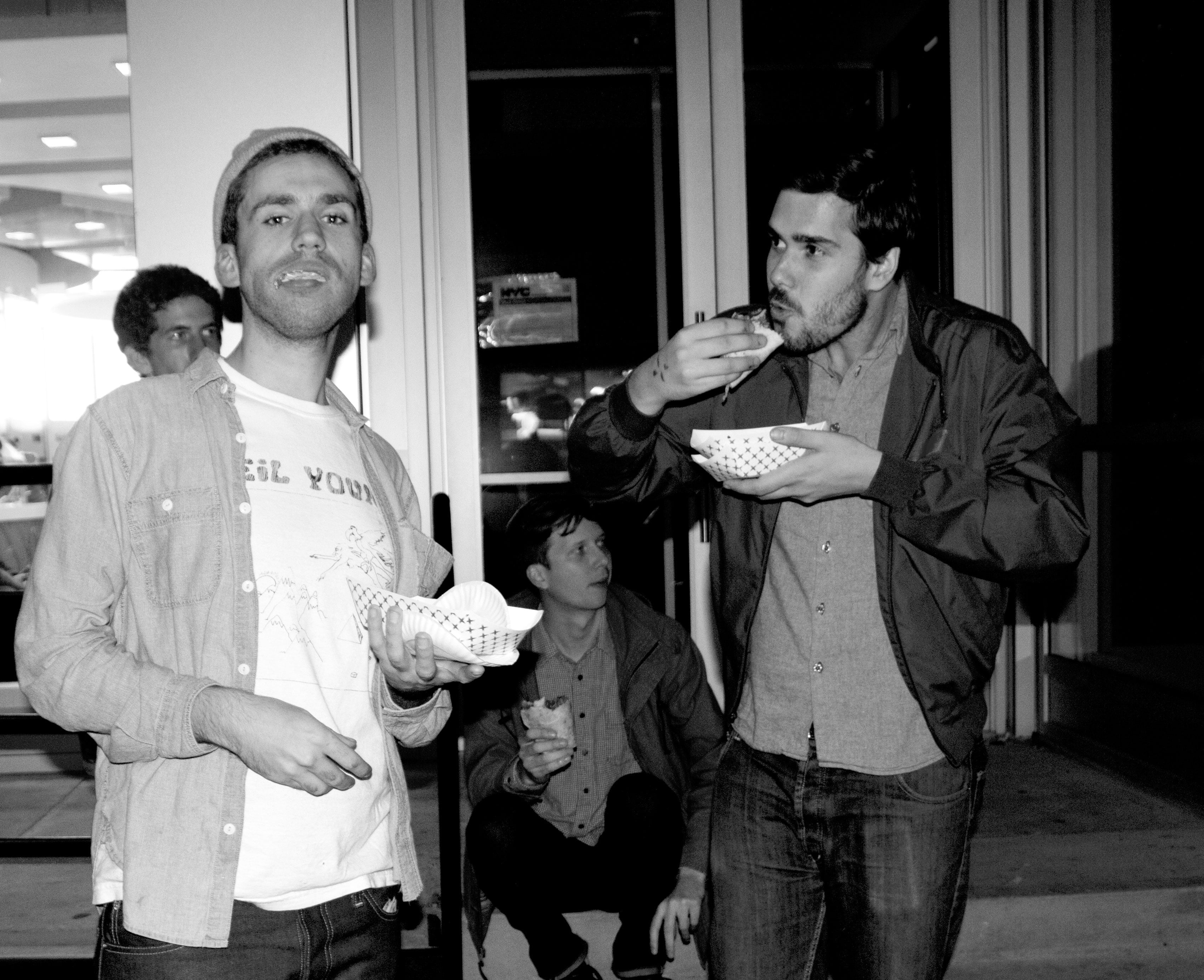 With most people flocking to beer gardens and parks to lap up the sun's rays and bask in its scorching heat, it's a wonder why anyone would want to steal themselves away in the halls of Liverpool's own The Kazimier, with it's rickety décor and fair­ground haunted­ house entrance.
Though the weather was a pleasing spectacle, it's solar might could not distract from another heat seeking creature of mythical proportion, namely, the Sun­Bathing Animal. Not a creature you're likely to see lazing around Chester Zoo wearing sunglasses and a man­kini, but the title of Parquet Courts latest release. With it's glowing, scarlet tiger adorning the cover, Sunday night's performance by the Brooklyn ­based, DIY band promised to be a ferocious experience.
The stage was set for the most intimate of performances and opening support act Ultimate Painting provided the first dose of relief from the soaring temperatures outside. With a cool and cooling session of Velvet Underground style melodies mixed with a Nirvana-esque show of apathetic guitar strumming. Ultimate Painting seemed totally at home in the murky glow of the Kazimier's lighting, and their portrait of songs was a perfectly crafted introduction to proceedings.
A brief interval later and the Kazimier's foundations were to be truly put to the test after the stage spawned nihilistic punk demons, Bad Breeding, whose volume alone was enough to shatter the ear­drums of all present and reverberate throughout the building. Whilst the lead guitarist shredded blistering guitar solos at an insane pace, the vocalist was screaming words about nothingness and dissatisfaction millimetres from the faces of all who attended, briefly pausing to accept a beer from a gig ­goer in a surreal and unexpected display of gratitude. Bad Breeding are a band that need to be seen live, if only so you can learn that some bands don't need a platform to get their point across.
After regaining our hearing and watching as Bad Breeding made way for the headline act, Parquet Courts arrived on stage to raucous cheering and nonsensical whooping. Spending a couple of brief minutes bantering with the crowd they broke into 'Body Made Of' a lo­fi hit straight off their latest album which sees front­man Andrew Savage slurring the words "Bodies made of sluts and guts." in a mocking tone accompanied by Austin Brown's dismissive guitar, raising the bar innumerably after some very strong support.
Already making quick progress through their set­list bass player Sean Yeaton took time out in between tracks to reward himself with a swig from a suspiciously ­coloured liquid that I suspect was not freshly ­squeezed orange juice. The band then proceeded to joke wryly about the wealth of talent local to Liverpool, listing The Smiths and Joy Division as residents in mock ignorance. The joke even extended to mentioning Korn as a Liverpool band and when a brave gig ­goer staged a rebuttle by shouting The Beatles, Andrew Savage simply met this remark with a candid "What's that, tough guy?" Eliciting roars of laughter as Parquet Courts revealed themselves to be bravely unflappable and just as cool as we'd hoped they would be.
The highlight of their performance was definitely in flag­ship track 'Borrowed Time' off their previous album Light Up Gold, a feisty little number that had the crowds pogo­ing, crowd surfing and generally throwing their weight around in time to the start/stop nature of the melody. All the while the crowd sung back in the faces of their post ­punk messiahs a shared sense of discontent declaring "It seems these days we're captured in this borrowed time"
Though not quite possessing the aggression of a full­ blown mosh­pit, the spirited movement during Borrowed Time was exhausting and PQ graciously started into 'Instant Disassembly', a plodding sarcastic melody that the crowd swayed to reverentially, while they caught their breath.
When it came time for us to part ways with the Brooklyn quartet, there was whisper of an encore that never came, though it was unnecessary. Yeaton had emptied his bottle of mysterious liquor and had followed the rest of his band­mates off­stage leaving the crowd fulfilled and ultimately entertained, with ample time to ponder what exactly Yeaton had been drinking.
Daniel Pearce