I've said it before and I'll say it again – the brunch scene in Liverpool is really hotting up. From inventive takes on the traditional fry up, to Vegan friendly options and as many smoothie bowls as your heart desires, Liverpool is doing it best to keep up with the world's new favourite meal time (one avocado at a time) and Naked Lunch on Smithdown Road is one of the best brunch spots in the area.
Naked Lunch opened in Liverpool's famous student capital (Smithdown Road) a few years ago and I decided it was high time I gave one of the items from their highly praised brunch menu a go myself. The venue itself is fairly small which, like most popular hangouts, runs the unthinkable risk of not finding a table – particularly mid-morning on a Saturday – but fortunately we struck lucky and were seated straightaway (hungrily eyeing other diner's breakfasts in the process).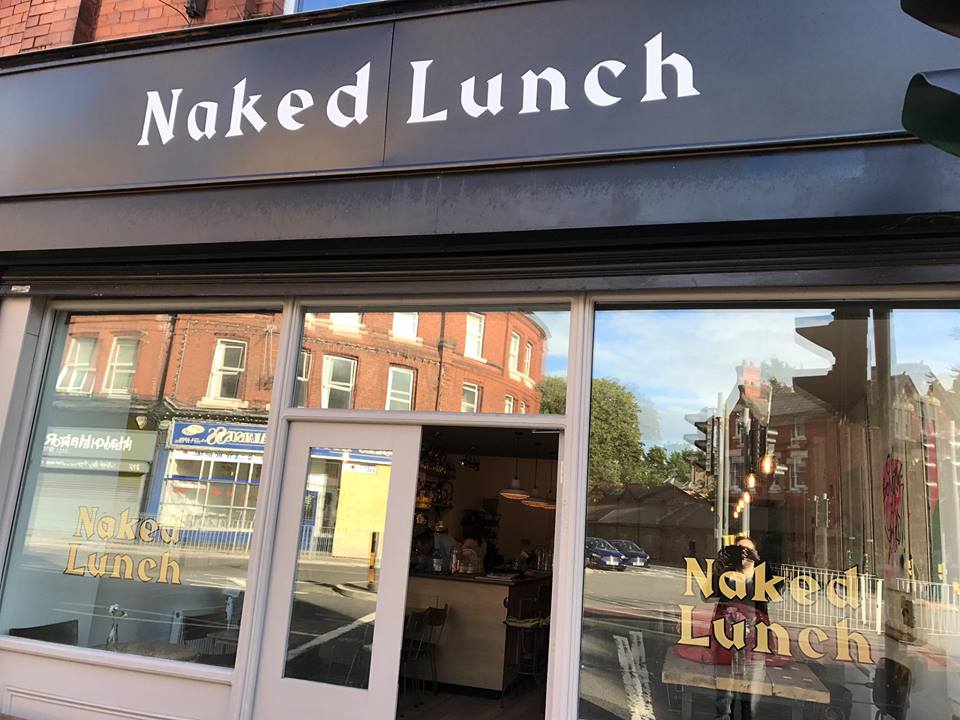 Gasping for a hot drink, I scoured the blackboard for something to warm us up. Despite usually needing a coffee as a matter of urgency with my breakfast, my urge to try something new and exciting, paired with the fact it was the weekend so caffeine wasn't essential, saw me instead order a Turmeric latte. There was something about the golden Mylk mix that sat in a jar on top of the counter that intrigued me and despite hearing a lot of positive things about turmeric lattes I had never tried one for myself. The spices are a mixture of cinnamon, turmeric and nutmeg which are commonly steamed with the sweetness of coconut milk. Although the drink is an extremely strong flavour, I really enjoyed it and was glad of the recommendation by a member of the Naked Lunch team.
Feeling 100% 'health and fitness' after the a mug of Turmeric, I decided to stick to the theme and ditch the bacon and sausages, for the Vegan full English. Now, I'm not Vegan and nor was I taking part in Veganuary (that requires levels of dedication I don't possess) but I'm certainly not opposed to trying new and different dishes, including meat free alternatives. I was already very intrigued by both the sweet potato hash brown, the Vegan black pudding and Naked Lunch's very own homemade baked beans. We also went for the Withnail, a dish that promised two hash browns, avocado, poached eggs, fresh salsa, yoghurt dressing and allll the Sriracha on top of a seeded bloomer. The breakfast/brunch menu also includes sweet choices such as porridge and fresh berries, smoked salmon and scrambled eggs, a fair amount  of Halloumi and of course everyone's guilty pleasure, the eggs benny.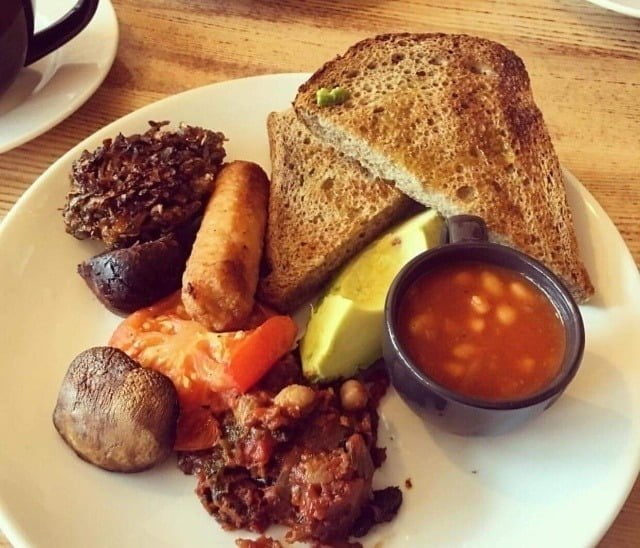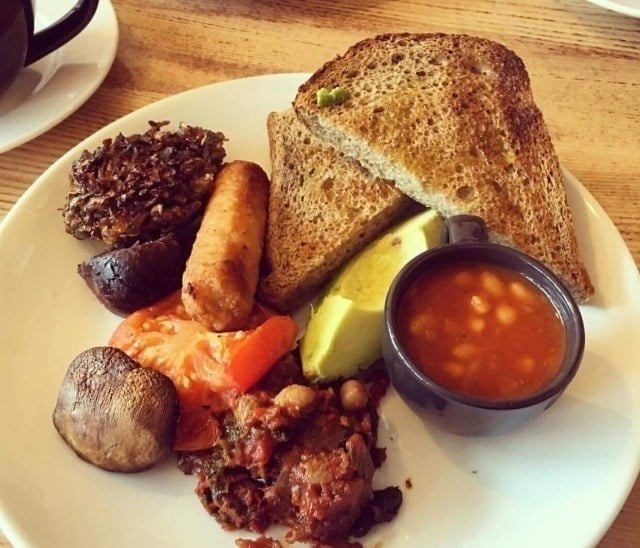 Our food arrived around 20 minutes after we placed our order and you could tell immediately that everything on the plate was made fresh  – both dishes looked as good as they had sounded and the presentation was also a solid 9/10 in the Instagram stakes. Everything about my dish was delicious and was definitely proof that meat isn't always the necessary ingredient for a super tasty (and filling!) plate of food. The Vegan black pudding was a sort of bean patty which had the perfect rich and peppery taste of the meat original and the homemade baked beans left a satisfying, smoky aftertaste which was followed by the familiar, sweet tomato flavour that every baked bean serving should have. The sausages were Linda's which I have always been a fan of (I might even prefer them to the 'real' thing) and the sweet hash brown was perfectly fluffy and crispy in equal measures. Combine them altogether and you have a perfectly satisfying and delicious breakfast.
Our other option was non-vegan as it included perfectly poached eggs, but all of the ingredients together, including the tangy salsa made a really interesting combination of flavours and definitely took poached eggs to a whole new level. The fact they were piled on top of a soft, thick slice of buttered toast made them all the more irresistible.
All in all, we had an amazing breakfast experience at Naked Lunch and it is definitely easy to see why the café was so busy. As well as a breakfast menu, they also create lunch and evening offerings, teasers of which could be seen on blackboards around the shop. As well as nutritious, freshly made meals, Naked Lunch also play host to music nights and various other events which shows just how versatile their little venue is. SO for delicious, nutritious food offerings, a kicked back, relaxed vibe and plenty of decent coffee  – pop into Naked Lunch when you're next passing (fully clothed).
For more information about Naked Lunch visit http://www.nakedlunchcafe.co.uk/
Laura Nicholson