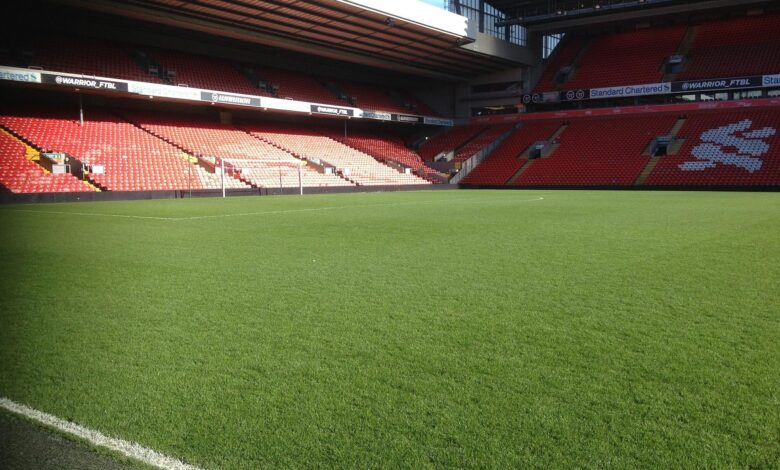 Review
Missed Your Ticket for Anfield? Don't Panic
You can't beat the atmosphere of being at a real soccer game – especially at a stadium like Liverpool's home stadium Anfield, which has a capacity of more than 50,000 people. This number used to be much higher, but changes were made to the stadium in 1994 following the Taylor Report, reducing its capacity by over 10,000 by removing all standing areas and adding several new accessible entrances, corridors, and seating.
But maybe you've been messing with your phone a little too much, ended up over at 32 Red sports betting, and decided you want to go watch the game in person that you've just placed a bet on. The problem is, there are no tickets left at the gate – what do you do? Your luck is in, my friend, as Liverpool boasts some of the best sports bars in the country where you can enjoy the game in a slightly less atmospheric – yet far more lively – setting. Here are our top picks, factoring in elements such as food and drinks selection too!
Shooters Rack n Roll Bar
Shooters Rack n Roll Bar is located within The Bierkeller. They have several locations around the country, but the Liverpool venue is particularly special as shown by its 4.2-star google rating after 335 reviews – now that's hard to pull off! Shooters love to pick impressive sites for their bars and Liverpool is no different, so head down to Liverpool ONE at 6 Thomas Steers Way, Liverpool, L1 8LW. The bar opens at noon each day and doesn't close until midnight at the earliest, with Fridays usually staying open until 1 am and Saturday's taking it all the way through until 2!
The comments left by previous visitors regularly praise the bar for its atmosphere, spacious layout, excellent beer selection, and top-quality food – all at reasonable prices. And who doesn't love to shoot a few games of pool whilst they are out drinking and watching the football?
Punch Tarmey's
Punch Tarmey's is a huge Irish bar and eatery located in the heart of the Baltic Triangle. You'll find plenty of big screens as well as smaller private screens located within the booth seating areas too. So, at Punch Tarmey's you can sit back and relax with great food and drinks and cheer on the reds in a lively atmosphere.
Rileys
There's always a game going on at Riley's – this is a sports bar through and through, showing everything from American Football to Mixed Martial Arts. The crazy three-meter UltraHD screen doesn't do any harm either – it's the biggest one I've ever seen (Yes, that's what she said) and I was initially convinced that the picture must be coming from a projector somewhere!
Like Shooters, Rileys know what sports fans want and there are plenty of pool tables here for you to challenge your mates – or the locals – for a quid or two during halftime. Who doesn't love a friendly bet between friends? There are even full-sized snooker tables here too as well as dartboards, so whatever you're into, you can be sure it's catered for here.
You'll find Riley's inside the Unite Students – Grand Central building on Bolton Street, Liverpool L3 5LX.