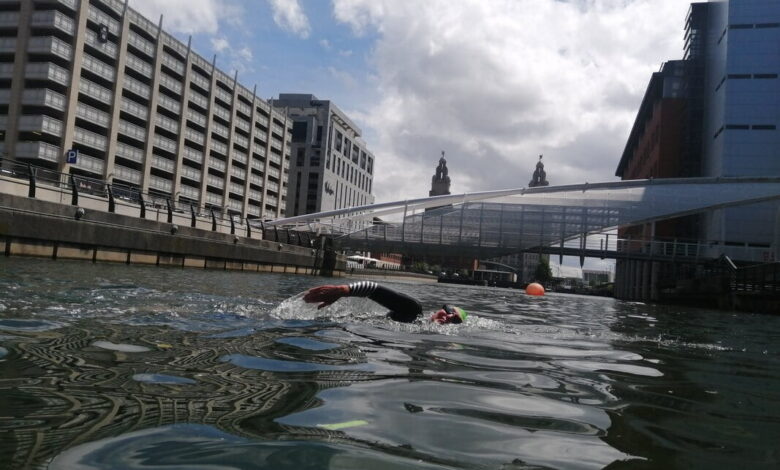 This Liverpool open water swimming facility has opened at Princes Dock for those who want to brave taking a cold dip this summer.
The unique, 500m course is open throughout the month of August, thanks to WeSwimRun, which organises open water swimming and running events across North Wales. They also provide coaching in open water swimming.
The course is clearly marked so swimmers can swim safely in laps around the dock. Additionally, there's a short 100m course, with the impressive backdrop of the world-famous Liverpool skyline and nearby cruise ships.
To use the facility you need to be able to swim 500m in open water competently in order to buy a swimming pass. Introductory courses are available if you want to give it a try. 
The monthly swim pass allows you to swim as much as you like during the published sessions above.
Competent skins (non-wetsuit) swimmers are welcome, however they must be experienced in similar water temperatures, and wear a tow-float. Swim Secure tow floats are available to purchase for £15.
The open water location will be welcomed by many across the city after the recent July heatwave saw a substantial increase of people swimming in open water like the docks and rivers.
The water quality in Princes Dock, which is approximately 40% salt water and 60% fresh water, will be tested regularly and aerated pumps will help to keep the water moving. As well as public swimming sessions, WeSwimRun will host a charity open water swimming event at Princes Dock on August 14, as part of a UK wide fundraising initiative called Lakes For Level Water.
The national event will take place at various open water swimming venues across the UK in aid of Level Water, a charity that teaches disabled children to swim.
Liverpool Open Water Swimming August Swim Pass Details:
The August Swim Pass will cover you for all August sessions:
Mon: 4:30pm to 7:30pm (2nd, 9th, 16th, 23rd, 30th)
Tue:  7am to 10am (3rd, 10th, 17th, 24th, 31st)
Wed: 4:30pm to 7:30pm (4th, 11th, 18th, 25th)
To find out more and to buy a swimming pass visit weswimrun.org/liverpool.html