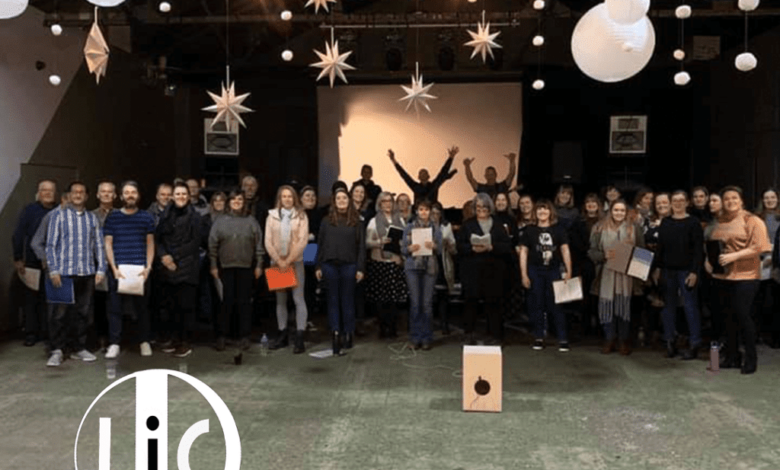 Back in May 2019 we received an email about Liverpool indie Choir which caught our eye. This 21st Century choir wanted people to come along and learn to sing anthems from the likes of Elbow/Foo Fighters/Jimmy Eat World/Radiohead with a member of the Royal Liverpool Philharmonic Choir. It sounded like such a great idea and so we posted the news on Liverpool Noise, encouraging people to go along to the first open session in June.
Liverpool indie Choir (LiC) is now 6 months old. After starting off in June '19 in 24 Kitchen Street by local musician Tim Taylor with the plan to expand the current reach of choir in Liverpool, it's fair to say it's been a success.
LiC has now moved to Constellations, currently has over 40 members and has learned over a dozen classic rock and indie songs. They've held an inaugural performance for family and friends, and are now getting invites to local music events to showcase their unique choir.
"I sometimes forget I'm in the middle of it all." says Founder Tim Taylor. "l listen back in rehearsals and at videos at home and I'm always so impressed with the passion and enthusiasm the choir members show; it's a revelation."
So what's behind the success of LiC? "It's definitely all about the music!!" says Tim, "it can sometimes be a little tricky managing expectations of so many people, all with a musical opinion, but I try my best and it usually works"  Tim continues, "song choice is all important, and I try to pick songs that are well known and fun to sing".
Tim is ably assisted by his partner Sarah, and his brother Colin, who accompanies the choir on guitar. Have there been any interesting things that have arisen with LiC? "Yes!, not long after we first started we were approached by Livewell Liverpool to include LiC in a new service known as social prescribing, which I think is really exciting, because I know well how singing can improve your mood and your overall mental health" 
What's also been a real eye opener for LiC has been the diversity of age of its membership. "We have a lot of younger members which I think is really fantastic, as traditionally, choirs are made up of middle aged and older adults. People come from all walks of life, we have students, teachers, medical professionals and everything in between."
And what does the future hold for LiC? "Definitely more of the same." says Tim, "I love indie and rock, its where my heart is musically, I love meeting people too so its a total win win for me."
LiC will be holding an open evening on February 27th,  and everyone is welcome.
Liverpool indie Choir meet every Thursday at Constellations from 7.30pm – 9.00pm
For more information visit https://www.facebook.com/liverpoolindiechoir/