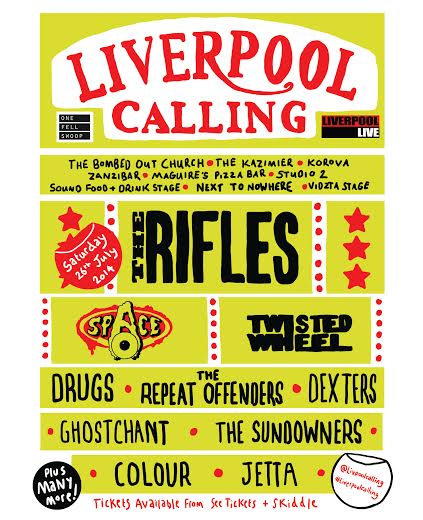 Saturday July 26th, 2014
Locations; The Bombed Out Church, The Kazimier, Korova, Zanzibar, Maguires Pizza Bar, Sound Food & Drink, Next to Nowhere, Studio 2
Anticipation for Liverpool Calling is rising as the final line-up is confirmed and a whole host of top venues and fantastic talent is added.
Amongst all the newly added talent there are also new venues to accommodate them. The Bombed Out Church will host Liverpool Calling for the second year at a most crucial time for the event and the venue. Zanzibar will host a plethora of local talents and will be headed by Twisted Wheel. Uber-cool basement Next to Nowhere will host a punk party that only Antipop could throw. Studio 2, Sound Food & Drink and A Vidzta live stage will also showcase talent too.
Added to the bill are Liverpudlian giants Space. Having released their first album for 9 years 'Attack Of The Mutant 50ft Kebab' earlier this year, Space have rediscovered the form that made them unbelievably popular back in their 90's heyday. Headlining the under threat Bombed Out Church, they are surely going to make Liverpool Calling a landmark event for the city in 2014.
Heading the bill at The Kazimier are everyone's favourite mod-revivalists The Rifles. Having released their fourth and highest charting album 'None the Wiser' back in January The Rifles are still rolling as strong as ever since their 2006 debut. Championed by a whole host of people including king of the mods himself, Paul Weller, The Rifles are bound to thrill audience at Liverpool Calling.
To make sure the rock keeps rolling, Twisted Wheel also join the fray. After a recent tour including sell-out shows in Manchester's Gorilla venue and high expectations of a new album on the horizon, Twisted Wheel are poised for a full on assault on your musical landscape.
Taking Liverpool Calling right through to the early hours will be a host of the finest dance acts around at Korova. Led by D\R\U/G/S one of Manchester's finest purveyors of encapsulating beats.
To find out more on Liverpool Calling go to;
Facebook; Liverpool Calling – – Twitter; @LivpoolCalling, #LiverpoolCalling
Tickets available on Skiddle and Seetickets