Let's face it; we're all often guilty of wanting our food FAST. Whether this be speeding through a takeout drive through, or impatiently tapping our fingers on the restaurant table waiting for our starters to arrive… Sometimes it can feel as if we've forgotten the joy of waiting for our food, as well as the gratification that preparing it from scratch gives us. Enter Flour Will Fly.
If you haven't already heard of these guys (um, where have you been?) – it's time you were introduced to these local pasta making whizzes… Headed up by the delightful Paola Paulucci, the team at FWF are a tightknit family unit native of Italy, and expertly versed in the wonderful art of making fresh pasta dishes from scratch. Since last autumn, their sought after classes have been taking the city by storm – hosted at some of the loveliest independent spots about town, including Olive Restaurant and Ropes and Twines. Paola has well and truly opened the family vault when it comes to her recipes and methods, and her classes are a real window into the world of simple, authentic and utterly delicious Mediterranean cuisine.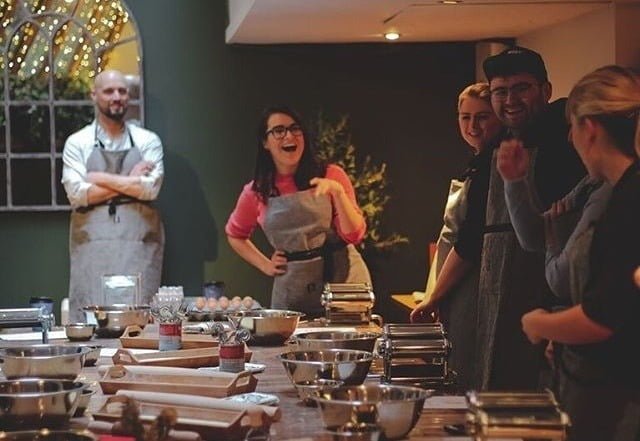 We were lucky enough to attend one of these classes ourselves recently, and it felt as if a little slice of Italy had landed in our very own city. The class of around 15 of us assembled around an open table in the lovely Olive Restaurant – laden with flour, eggs, rolling pins and every other bit of pasta making collateral you could imagine. We then spent the next two hours observing our teacher and crafting our own lovingly made tagliatelle and cheese filled ravioli, completely from scratch! To put the experience plainly, we entered the room total pasta novices, and left basically feeling like Gino D'Acampo…
The team's love and enthusiasm for the pasta making process means the sessions feel less like a class, and much more like messy play (with the added upshot of gaining your very own fresh pasta to devour when you get home!).  We left feeling surprisingly enlightened, intrigued and totally educated on not only the origins of one of our favourite foods – but the process of crafting it ourselves, instead of just reaching for the dry supermarket stuff.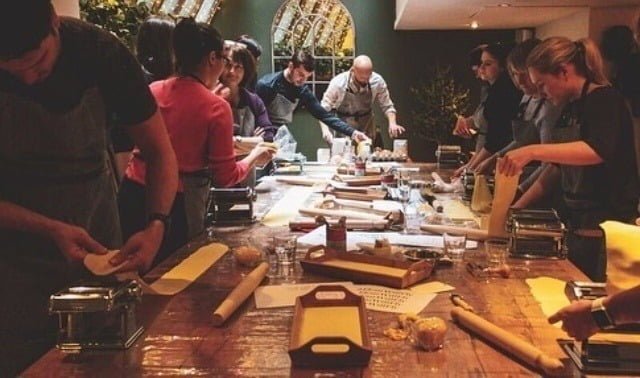 Paola has managed to create a warm and laid back vibe about the class, offering complimentary drinks to boot, making this the perfect weekend activity to take along a group of friends or partner. You'll laugh, you'll learn and ultimately – you'll EAT! Can you ask for any more!? We highly recommend getting yourself down to one of Flour Will Fly's classes, and suggest you book pronto too, as classes are selling out like hot cakes – (or hot tortas should we say)…  
Prices:
£35 per adult class
£10 per child class
For more details on Flour Will Fly classes and gift vouchers, visit their Instagram page or click here!
Jemma Owens